Buy here your exercise bikes for indoor cycling or spinning bikes. Equip the cardio room of your gym with the best bikes. The spinning bikes that you will find in this section are for professional use. Valid for equipping indoor cycling / spinning rooms in commercial gyms, hotels, sports centers, etc.. The professional spinning bikes have greater durability and are prepared for intensive and super intensive use. In addition, we offer warranty if they are installed in a public center.
why buy professional spinning bikes and which model should you choose?
Why a professional spinning bike (or indoor cycling bike) - 10 reasons to buy a spinning bike from gym.
1) It takes up less space than other cardio equipment such as an elliptical, rower or treadmill.

2) The professional spinning bike is much quieter than the cardio machines you may use.

3) It's a great way to get your heart rate up using the large muscle groups in your body.

4) Much better than running, as it is a great exercise for the knees and back and has very limited impact on the joints.

5) Of all the fitness equipment you buy, the spinning bike is the lowest maintenance of all the cardio equipment out there. A good professional spin bike can last a lifetime of exercise with very little maintenance.

6) You can easily control your level of output and challenge yourself with less risk of injury (no outside debris or uneven pavement, etc. that you encounter on the street)

7) You can enjoy it year round without weather getting in the way.

8) It's an excellent workout. Research has shown that an average 40 minute workout of cycle professional indoor cycle will burn about 500 calories. The amount of calories burned by each individual will vary, depending on the intensity and duration of the workout.

9) It is easy to learn: professional indoor cycling does not require the participant to learn any complicated dance steps, as with other aerobic exercises. This eliminates the "intimidation factor" that is part of certain aerobic workouts.

10) It is appropriate for adults of all fitness levels - you control the resistance levels.
*Note: There are no programs on the bike consoles at indoor cycle yet, but there are many great DVDs that put you in a class to do your workout.

What you should look at when buying a professional spinning bike online:
1) Professional spinning bikes are designed to be quiet, but this is only the case if it has a belt drive instead of a chain drive. Chain drive bikes are noisy and require maintenance. Professional belt drive bikes make very little noise and require no maintenance.

2) A console display is a great idea for a spin bike from gym. Knowing what you are doing while pedaling is the best way to get your result. The display should have RPM, speed, distance, level and heart rate. This heart rate should work with a telemetry strap.

3) It should have a spare parts warranty of more than one year.

4) The professional spinning bike to buy should have an adjustable saddle and headset and should be able to move both options forward and backward and up and down for adjustment.

5) The bike should be comfortable to start.
*Note: Bike seats are comfortable, but take about a month to get used to. The bike seat does not fit your butt, your butt fits the seat. That's why it takes longer. Remember if you spin bike 3 times a week it will take longer to get comfortable with the seat. The recommendation is to buy cyclingshorts anyway, as the comfort will allow you to spend more time pedaling.
Here are professional spinning bikes at a good price and cheap:
BH Professional Spinning Bike BH Professional Spinning Bike
The BH Professional SpinningBike is a great beginner and intermediate bike that will give you a great selling workout and will last you a long time. This bike comes standard with all the options of all high-end bikes and at a great price. These features include:
- Bike computer that measures time, distance, RPM, level reading and heart rate that works with a telemetry strap.
- SPD compatible options and cleats for pedals.
- Comfortable split seat to allow blood flow for men. Gotta keep swimmers swimming.
- Seat belt.
- Adjustable handlebars and seat forward and backward, and up and down.
- 2 years warranty on parts.
- Wide base for stability.
- Heavy-duty adjustment knobs for longer use.
Life Fitness Professional Spinning Bike
Buying this professional spinning bike is great because Life Fitness has designed it with the intention that all levels of users, from beginners to Tour de France riders, anyone can use this bike and it will last. This is a mid to high-end bike built for comfort and durability in mind:
A Life Fitness Professional Bike comes with the following features:
- Heavy duty frame designed for commercial use gyms.
- Very soft strap.
- Quick adjustments on the seat and handlebars.
- Large console with all the essential information you need to get a good workout.
- Integrated stretch pads on the back of the bike.
- Flywheel of about 20 kg.
Check out the best professional indoor bikes.
Body Tone Professional Spinning Bike
This is the bike of choice for gym. The Body Tone has the lightest flywheel of the bikes on the list, as the tension is created by magnetic force, so you don't need a heavy flywheel for smooth tension. Our favorite part of this bike is the shifter for modifying the resistance. Everything is right in front of you, so you don't have to move to make changes. Everything on this cheap professional spinning bike is where it's supposed to be.
Keiser
Body Tone professional indoor bike features:
- Handlebar tension changer.
- Magnetic resistance bike.
- Great console that has a sensor to backlight the screen in the dark if you are watching movies. Console also works with telemetry strap.
- Gravity bottle holder that fits any water bottle.
- Adjustable seat and head forward and backward, and up and down.
- Seat is spring loaded for comfort.
- SPD compatible pedals.
LifeCycle GX Professional Indoor Cycle Bike by Life Fitness
The LifeCycle GXL starts with a quickhistory of Life Fitness. For many years they used to sell Lemond spinning bikes under their banner, then switched to Keiser spinning bikes. Then 2 years ago, after taking the best elements of the Lemond bike and the best of the Keiser, they created the Life cycle GX.
They combined heavy-duty cranks with the magnetic resistance of the rear flywheel to create the Life Cycle GX with Life Fitness signature styling. The custom forged cranks smoothly transfer power from the pedal stroke to the bike. The Life Cycle GX features substantially adjustable handlebars with dual water bottle holders. The smooth, slightly rounded surface reduces places where sweat collects and can corrode the bike. The LifeCycle Gx also has a narrow Q-factor - it's narrower than the spinning Keiser bike, but not as narrow as the Lemond - giving it more of a road bike feel. The integrated red wheel guard protects the rear mag wheel and creates a distinctive look. The rear frame also has two stretch pads to allow you to incorporate warm-up and cool-down into your spinning workout, all without adding other equipment.
Buying the professional spinning bikes is a great way to get a great workout, ideal for exercising without beating up your body. If you have any additional questions you can call or go to Depor Trainer and our fitness equipment experts will be happy to find the right fit for you.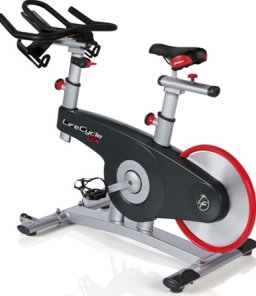 The Life Fitness bike is an example of a bike with the flywheel in the rear. Which is a substantial improvement in performance and design.
buying a used professional spinning bike, x5, Max-Fun, Matrix, Xstrong or Power Active?
You will see that on Milanuncios there is a wide variety of spinning bikes for professional use that you could buy second hand. However, our personal recommendation is that you buy them new. The reason is that an indoor cycling bike is a product that is subjected to a lot of wear and tear and intensive work. This means that elements such as the flywheel, the friction pads or the pedals can suffer great deterioration if the bike has several years of use. In pages where there are spinning bikes for sale such as Milanuncios you really do not know who you are buying from nor do they offer guarantees.
Our recommendation, before buying second hand professional spinning bikes is that you take a look at Amazon's spinning bikes catalog. Here we have a great selection of bikes for you. And you will see that there are many cheap professional spinning bikes for a price that can even start from 400 €, or reach at most 800 €.
Do not hesitate and always choose professional quality. Remember also to watch some video spinning classes to learn. A 40 minutes session is more than recommended. Here is an example of a class with a professional spinning bike.