CATEGORIES:
PROFESSIONAL ELLIPTICALSHOME ELLIPTICALSPROFESSIONAL TREADMILLS
HOME TREADMILLSSTEP - PROFESSIONAL ROWINGSTEP - DOMESTIC ROWING
PROFESSIONAL EXERCISE BIKESHOME EXERCISE BIKESSPINNING - INDOOR CYCLING
AEROBICS AND BODY PUMPCARDIO SUPPLEMENTSCARDIO POOLSWIRELESS AUDIO - SPARE PARTS
BACK TO STORE: FITNESS MACHINES
Online Store with catalog of cardio machines for gym y fitness.
Sale of machines gym for exercise cardiovascular, both professionals like domestic.
Equipment and machines for gym to make cardio.
Here you can buy elliptical bikes, rowing machines, step machines, ski simulators, exercise bikes, treadmills, etc.
SALE OF CARDIO EQUIPMENT TO BURN CALORIES FAST
Cardiovascular exercise is one of the best ways to burn calories quickly. If you are looking to improve your cardiovascular fitness or lose weight, then a cardio machine is the perfect choice. In our exercise machines category, you will find a variety of options to choose from depending on your fitness goals fitness.
When it comes to burning calories quickly, running in atreadmill is an obvious choice. If you have bad knees or prefer to run outdoors and you want something different at home, then you can opt for a cardiovascular exercise machine that has a gentler impact on your legs, such as a cross trainer or a stationary bicycle. For a full body workout, you can't go wrong with a rowing machine. Measure the space you have in your home and choose the right ones home cardio machinesaccording to your needs.
Buy cardio machines at home
These are the classic home or inexpensive cardio machines. They can be a small exercise bike or a folding style treadmill. The main function of a home cardio machine is to provide performance commensurate with moderate use and not take up too much space.
You can place the home cardio machines in your bedroom, in the living room, in the garage or in a room you set up for exercise. If you are setting up your own gym at home, remember that it is not only important to gain strength with weights; you will also want to strengthen the heartwith a suitable cardio equipment.
By the way, thehome cardio equipment do not necessarily have to be of lower quality. The main brands offer high-end domestic machines. Sometimes, these are semi-professional machines that offer the same guarantees as those you would find in a gym what to buy for your home? We recommend thesmall cardio machines, which in addition to being well priced, are the best for space issues. We are referring to exercise bikes and folding treadmills, for example. Atreadmill page is also very fashionable lately, and you can keep it under the bed.
Cardio machines gym or professional
The professional cardio machines are those that are prepared for intensive and continuous use. Especially if your gym is large and has a greater influx of people, we do not recommend you to take a gamble by installing semi-professional ones. Opt for a goodtreadmill professional that will last 10 to 15 years. Or a heavy-duty elliptical and professional spinning bikes that can withstand hours and hours of class without breaking down. This is the best investment. Please note that the professional cardio equipment for gym must have the following characteristics:
Its structure must be robust.
They have to support enough weight (for the heaviest people). 150 to 200 kg is ideal.
The manufacturer or storehas to be reliable. It must always provide you with the parts and spare parts, so that you can have your gym up to date in case any problems occur. In addition, it should offer you a good warranty. Some manufacturers even give a 5-year warranty for your treadmill professional. Some examples of the best cardio machine manufacturers in the world gym are BH Fitness, Tunturi, Life Fitness, Body Tone, Body Solid and thedecathlon cardio machines.
Other features, such as foldability or small size are not as important when it comes to professional cardio machines to buy. The truth is that we will not have to move these devices too much and we will not have to put them away when the clients finish training. As we have said, what we need to look at is the quality, durability, robustness and warranties.
Semi-professional cardio equipment
The cardio equipment for semi-professional use are halfway between the two previous ones (domestic and professional). They are cheapest cardio machines than the professional ones, but they offer better performance than those of home cardio. These types are suitable for installation in a gym small, neighborhood, police or fire department, for village sports centers, medium-sized hotels, etc.
Are you going to do home cardio? In that case, you can also opt for a semi-professional treadmill or exercise bike. It is sure to last you longer than the typical domestic one. In addition, you can expect a much more comfortable and ergonomic device. Some of the semi-professional treadmills have nothing to envy to thecardio equipment in the gym. Take a look at our offers.
Second hand cardio machines
Prefer used cardio equipment? You have to be extremely careful when buying. Keep in mind that, for this type of machines, it is not so advisable to buy second hand. They are devices with electronic circuits and many elements of wear and tear. Whether it is worth it or not will depend on the time of use, which you will not be able to know for sure. It is better to verify that they are from a reliable store that guarantees their real time of use and offers the 6 months warranty for second hand products. For buy cardio machinessecond-hand, you can look in our second hand section.
Buy thebest cardio equipment andcardio weight loss machines at Depor Trainer
With sleek designs and complete reliability, our range of cardiovascular machines offers a high level of performance for both domestic and commercial use. From the treadmills to rowing machines, we have a range of exercise equipment from the most important brands in the world of fitness fitness, that provide aeasy way to get in shape and lose weight.
Cardio machines for weight loss at the best price
For many people, the idea of buy machinesof cardiofills them with dread. However, they can provide one of the most effective exercises for your overall health, weight loss and stress relief. Just 20 minutes in the treadmill can improve your mood, the use of a rowing machine, or the use of a rowing machine, will give you all the benefits of a cardio machine while also strengthening your body the main muscle groups. Whether you like or dislike cardio, it is a key element to any workout routine. You need to perform a routine that increases your heart rate and blood circulation.
Whether you're looking for commercial exercise equipment or for use at home, our professional range of cardio machines offers you an easy way to get fit and reach your goals. All of our machines are built to last, which means that when you buy cardio machines from us, you can be sure you're getting the most value for your money. If you're looking for a full-body, low-impact workout, check out our range of crosstrainers. If you're training for an event or trying to lose weight, try one of our treadmills. You could try to improve lower body injuries with an exercise bike, or you might want to increase lower body strength with a stepper cardio. Whatever your requirements, we are sure we have something to suit you.
ALL TYPES OF CARDIOVASCULAR EXERCISE MACHINES AND EQUIPMENT YOU CAN BUY ONLINE
Go tofor almost any gym and you're likely to see a steady parade of guys walking through the main entrance and heading straight for the weight room. Thesection of the cardio equipment, with its rows of running belts and cardio stair climber, (Note: It tends to have a much less unpleasant odor, too).
Yesyouare among those who still think in terms of the cardio machines as pre-lifting warm-up tools-or, worse, as instruments of self-inflicted punishment to be avoided at all costs-you may be inadvertently limiting the gains you're aiming for. Studies indicate that doing 45 minutes of cardiovascular exercise moderate to severe during four days a week can lead to a five to six percent increase in leg muscle size. It also strengthens your heart, increases endurance, keeps your mind sharp, and helps you live longer. And while there are many gadgets that promise benefits like these, not all deliver. To help you in your decision making process, we've broken down the cardiovascular options most popularin the gym and what you need to know about each of them before pressing "START".
The treadmill cardiovascular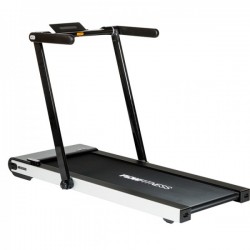 For whom?:For the personwho has a plan.
Why use this cardio machine?: Because if you don't have a plan, the treadmill will earn that "terror tape" nickname quickly. Use it for a direct long-term career works to burn calories, but it can also be (to borrow a term from exercise physiology) boring as hell. If the thought of sweating for an hour stresses you out, tackle the treadmill with an interval mentality; so suggests Rich Velázquez,trainer and director of operations for the Mile High Run Club, agym from treadmills in New York City. "You can easily control andup the speeds within the measured distances," he says. "And if you're pushing too hard and need to slow down, you can do it without getting lost in the middle of nowhere."
The best adviceAvoid running too close to the console, because if you stay a foot away, you will have a wide range of motion in both arm swing and knee drive. Try not to lift your chin up, because that willcould strain your neck. And while TV can be entertaining, the last thing you want to do is let your form go to shit while you're immersed in an old episode of Law and order. Velazquez suggests saving your Netflix binge for after your workout.
Spinning bike, inexpensive cardio machines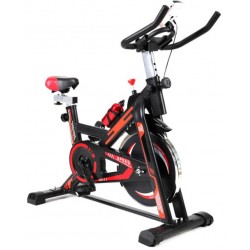 For whom?:For the guy who's not so concerned about burning calories.
Why buy this cardio equipment?: The spinning bikes tend to strengthen the quadriceps, thehamstrings, glutes and hip flexors (in that order), with some help from the calves. "The greatest use of thehamstrings here gives them more work than they would get from a run, and a good balance of strength between the quads and the hamstringshamstrings is key to preventing injury," says Jonathan Amato, DPT, of Bethpage Physical Therapy. The only issue? If you're not crushing the intervals or tackling a max-effort spin class, energy demand is not so high as for running. This means that -comparably- you will burn fewer calories during the course of your training with thiscardiovascular equipment.
The best advice: Avoid slouching over thehandlebarwhen you get on your bike, Amato suggests. "If you're someone with a lower back problem, the extended forward-bending position may not be very comfortable." Instead, make sure thehandlebaris higher than the saddle, and that you are pushing and pulling on the pedals throughout your ride, keeping your muscles engaged at all times.
Elliptical trainer, the best cardio at home for rehabilitation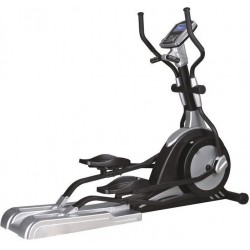 For whom?The one who is wounded!
Why buy a cardio elliptical?The elliptical mimics the mechanics of running, but is designed to be easier on the hips and knees. It offers a... decent workout. "Like cycling, the elliptical requires less energy than running, so you burn fewer calories for a workout of the same duration," Amato says.
The best advice: To make this worthwhile, you have to be willing to increase both resistance and ramp angle; going for 45 minutes with both factors set to 1 isn't going to do much of anything. It may look like you're working hard, but your output is close to zero. With running, even on your down days, the effort required is much, much greater. Just as with the treadmill, if you're looking for a cardiovascular machine, it's good to approach this machine with an interval mentality. Good news: "Most of the machines offer preset programs to work different muscles based on the incline of the ramp," says Amato.
Ladder cardio machine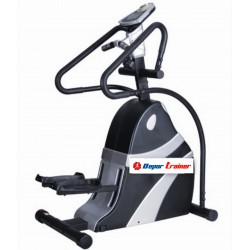 For whom?:For those who love to work their legs.
Why buy a stepper cardio machine?A recent study found that climbing 33 flights of stairs a day can dramatically increase your endurance and give you a 17% increase in VO2 max, the maximum amount of oxygen you can take in during exercise. In other words: The stairs are good for you. "The ladder forces you to engage all the major lower-body muscle groups: glutes, quads, hamstrings and calves," says Dyan Tsiumis, CPT, founder of Get Fierce Training in New York City. "Plus, you have to use significant stabilization of thecorefor as long as you are on the machine".
The best advice: "Make sure you don't use the handrails to support your body weight," says Tsiumis. "You should use them for balance and stability, not for cheating." perhaps it's thebest slimming machine at home?
TheSkillmill or the non-motorized treadmill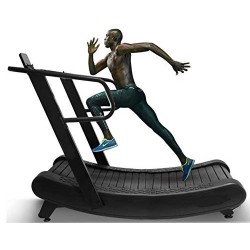 For whom?You can buy this cardio machine if you like to try new things.
Why use these cardio exercise machines?: This thing is a treadmill self-propelled (without engine), which is becoming a staple of the gyms box type. Made with a curved shape, theathletes use their own body weight to propel the belt, with no need to adjust the speed. "It allows us to accelerate and decelerate instantly without being at the mercy of lagging buttons on the treadmill" says Grant Weeditz, CSCS, an Anatomy trainer in Miami. "Plus, you're powering this machine primarily with the glutes, which means you're training to use the most powerful muscle in the body much more effectively."
The best advice: If you don't move, the belt strap won't move for you, so be willing to work. Also,you need to knowthat despite not having a mechanical speed adjustment, the machine offers the ability to customize the resistance one receives from the belt. Weeditz advises ending workouts by raising the difficulty level and giving it a burst of maximum effort. "Good luck hitting 15 MPH," he says.
The recumbent bike or recumbent bike, morecardio equipment for gym...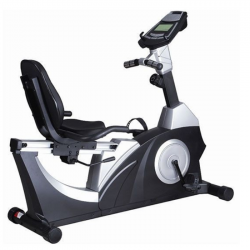 For whom?: Uh, no one?
Why use these cardio equipment for gymnasium?:They're better than nothing. (If you're on the injured list, thisis similar to elliptical machines) But no one is going togive it your all in a cardio session on a seated, recumbent spin bike. If you have the option to get up and try something else, do it.
Advice for useIf you really need a machine that lets you watch soccer with minimal discomfort, then this is the one for you. "These bikes are a good option if you play with tension and pace to challenge your body and let your legs work together: one pushes while the other pulls," says Marc Santa Maria of Crunch Fitness. He suggests using an interval structure of 30 seconds on and 30 seconds off with your favorite music.
However, once again: it is best to get out of bed a little earlier, use the treadmill without TV and then enjoy Sunday afternoon games from the comfort of your couch. You'll be glad you did.
And... there arecardio machines crossfit to buy?
Good. We know that the crossfit is an activity where training with free weights of the barbell type is a priority, kettlebells, , medicine balls..., butthere are cardio machines and crossfit at a good price in the market? Yes, but in keeping with the philosophy of this discipline, they are non-motorized cardio machines. If what you really want to do is to equip your box of crossfit o gym for crossfit, below you have thethe most common cheap cardio machines in this type of establishments.
Air bike or air bicycle crossfit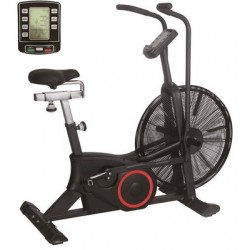 It is aboutprofessional cardio machinesthat do not have a motor. These exercise bikes incorporate a large fan and are powered by air resistance. The air bikes provide decent resistance. These static cardio machines are increasingly in demand.