El 12 de noviembre de 2012 falleció Sergio Oliva, uno de los verdaderos iconos del culturismo. DeporTrainer repasa el entrenamiento y las pruebas de este monstruo de la masa.
Recordando a la leyenda del culturismo "El Mito" Sergio Oliva
"¡Oye, baby, mira esta foto!". La pulla provenía de Sergio Oliva, y los sensibles oídos que la absorbieron fueron los de Arnold Schwarzenegger. Era el concurso de Mr. Olympia de 1969, y Arnold, que ya había triunfado ese mismo día en el Mr. Universo, había decidido descaradamente entrar por primera vez para enfrentarse a Oliva -ganador de la máxima corona del culturismo durante dos años consecutivos y ampliamente considerado como el mejor campeón del culturismo de todos los tiempos-. "Me dije a mí mismo: 'Esta noche voy a acabar con él'", recordaba Arnold en su autobiografía de 1977, The Education of a Bodybuilder. Entonces vio a Sergio. "Fue tan brusco como si me hubiera chocado contra una pared... Era tan enorme, tan fantástico. No había forma de pensar en ganarle. Admití mi derrota y sentí que se me iba la mano". Así es: el maestro de la psicología del culturismo, el hombre que arrolló a Lou Ferrigno en Pumping Iron, y cuyo nombre es prácticamente sinónimo del deporte que dominó durante tantos años, estaba... ¡enloquecido!
¿Qué gigante tiene que ser para que Arnold Schwarzenegger se sienta pequeño? La única respuesta correcta es Oliva Sergio, el refugiado negro cubano que fue dueño del Olympia de 1967 a 1969 y que sigue siendo uno de los veteranos más venerados del culturismo. Según todos los indicios, Oliva fue el primer "monstruo de masa" del deporte, una bestia de proporciones míticas (de ahí el apodo de "El Mito"), que incluía brazos de 22 pulgadas (56 cm) y muslos de 30 pulgadas (76 cm), separados por una minúscula cintura de 28 pulgadas (71 cm). Con 1,78 metros y un peso competitivo de entre 225 y 245 libras (102,5 y 111 kg), Oliva Sergio inventó una pose en la que solo él tenía el tamaño y la forma para realizarla. Llamada la pose de la "victoria", requiere extender los brazos rectos por encima de la cabeza con los puños en cuello de cisne, una postura que tiende a hacer que cualquier otra persona que la intente parezca flaca.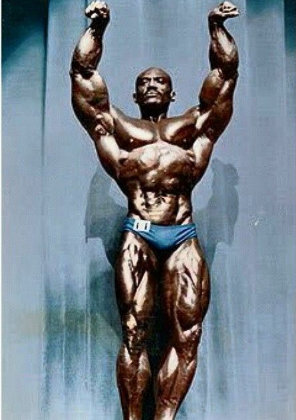 Sergio Oliva en su pose de la victoria.
La extensión de los dorsales de Oliva era tan formidable que el propio Schwarzenegger, cuyos dorsales siguen siendo unos de los más impresionantes de la historia, dijo que nunca había visto nada parecido. En su Enciclopedia del culturismo moderno, Arnold recordaba cómo Sergio se había organizado para pasearse tras el escenario con un largo abrigo de carnicero para ocultar "la mercancía". Tenía los hombros metidos hacia dentro, con un aspecto muy estrecho... Recuerdo que pensé que su espalda no parecía muy grande. Pero entonces bajó el volumen: mientras salía a la luz de camino al escenario, dijo: '¡Mira esto!' y ensanchó las dorsales". El efecto era algo así como un murciélago vampiro gigante que se abalanza para matar.
Estadísticas de Sergio Oliva
- Estatura: 1,78 m
- Peso: 116 kg
- Edad: Nació el 4 de julio de 1941
- Nacionalidad: cubana
- Mr. Olympias: 3
- Brazos: 22,5" (57 cm)
- Pecho: 59" (150 cm)
- Cintura: 27" (68,5 cm)
- Piernas: 30" (76 cm)
Levantamientos y hazañas de fuerza
- Más de 300 lbs (136 kg) en su primera cargada y envión de competición con 21 años.
- 1000 lbs totales (453,5 kg) en powerlifting (sentadilla, peso muerto y press de banca) con solo 195 lbs de peso corporal (88,5 kg) con 21 años.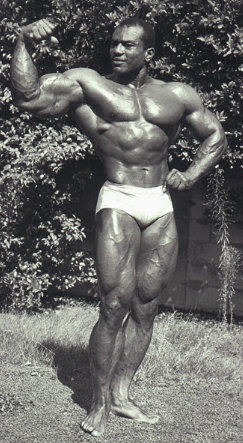 El impresionante físico del culturista Sergio Oliva.
La historia del gran Oliva Sergio: construyendo un mito
Oliva comenzó su entrenamiento en Cuba como levantador de pesas de estilo olímpico. Su capacidad atlética y su fuerza naturales le valieron un puesto en el equipo nacional, pero en 1962 Oliva desertó y fue a parar a Chicago. Allí entabló amistad con su compañero levantador y culturista Bob Gajda, que más tarde ganaría el concurso Mr. América. Gajda trabajaba para la YMCA y dirigía el gimnasio que Oliva adoptaría en su nueva ciudad. "Él me enseñó a levantar pesas y yo le enseñé a él el culturismo", dice Gajda.
Los antecedentes de Oliva en la halterofilia le ayudaron en su debut en el culturismo, en una organización que incluyó el levantamiento de pesas como uno de los elementos juzgados en sus competiciones de culturismo. "El levantamiento olímpico le dio esas columnas de músculo en la espalda", dice Gajda refiriéndose a sus erectores espinales. Años de pesados ejercicios de cargadas y arrancadas añadieron una profundidad a la espalda de Oliva que la mayoría de los competidores no podrían ni soñar con igualar. En cuanto a su fuerza, Gajda lo sitúa entre los culturistas más fuertes de todos los tiempos. "Una vez entró en el gimnasio con unas zapatillas de ducha e hizo una arrancada de 260 libras (118 kg). Su trasero bajó tanto que casi llegó al suelo".
Estilo de entrenamiento de Sergio Oliva
El don de Oliva para el levantamiento olímpico era todo menos eso: pagó el precio de su talento. Tenía los codos y las rodillas hipermóviles, y aunque le permitían estimular más el músculo entrenando con mayores rangos de movimiento que un levantador normal, sus articulaciones se estiraban y tensaban regularmente. "Después de un tiempo, no podía bloquear los levantamientos porque sus codos se dislocaban o sus rodillas se doblaban hacia atrás", dice Gajda. Esto alejó a Oliva de la halterofilia para centrarse en la competición física pura, y le llevó a utilizar las repeticiones parciales, que ahora son la marca de su estilo de entrenamiento.
Para evitar un estiramiento excesivo de las articulaciones, Oliva solía acortar las repeticiones, a veces, solo realizaba una cuarta parte del rango de movimiento. Bajaba los curls hasta que los antebrazos quedaban paralelos al suelo, o hacía press de banca y paraba la barra a varios centímetros del bloqueo. En ocasiones, Sergio Oliva hacía de tres a seis repeticiones de un cuarto de rango, seguidas de una sola repetición completa como medida de seguridad.
Sus entrenamientos llegaban a durar hasta dos horas, pero siempre a un ritmo rápido. Oliva creía en bombear sus músculos hasta que la piel casi se abriera, y utilizaba hasta seis series de 20 y más repeticiones para conseguirlo. Su forma era suelta, pero no descuidada. Mantenía la tensión en los músculos objetivo evitando los tejidos conectivos. Más tarde comentó: "La gente dice que solo bombeo las pesas. Bueno, yo no sé nada de eso, pero echa un vistazo a mis brazos y dime que lo que hago no funciona".
A medida que envejecía (Sergio Oliva compitió hasta bien entrada la década de 1980, cuando tenía unos 40 años), se hizo más consciente de su mayor necesidad de recuperación, y redujo la frecuencia de sus entrenamientos. Aunque a finales de los 60 entrenaba cinco días consecutivos a la semana, no sentía que tuviera que ser tan disciplinado en el ocaso de su carrera. "Si mi cuerpo me dice que debo descansar, que me tome un día libre, hago exactamente eso", dijo Oliva en 1985. "No me creo la idea de que hay que entrenar cinco veces a la semana. Haz lo que te diga tu cuerpo y estarás haciendo lo correcto".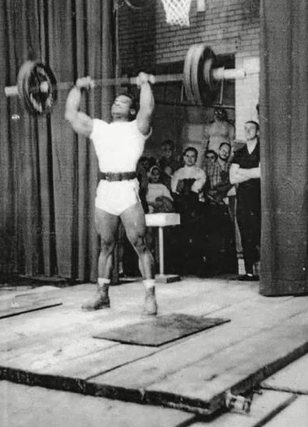 Sergio Olvia haciendo un envión.
Las dificultades de Sergio Oliva
A pesar de todo su potencial, a menudo parecía que muchos factores se esforzaban por impedir que Oliva triunfara, aparte de sus inestables articulaciones. "Tenía el cuerpo más bello de la naturaleza", dice Gajda, "y, sin embargo, todas estas desventajas al mismo tiempo". Aunque las ganancias del culturismo son impresionantes hoy en día, Oliva no podía llegar a fin de mes en los años 60 sin afrontar una sucesión de trabajos esporádicos. Como inmigrante, luchaba con el inglés, por no hablar de los prejuicios en medio del movimiento por los derechos civiles. Oliva tuvo que realizar muchos trabajos extenuantes que le restaron importancia a su formación. "Acabó trabajando en un desguace con un mazo", dice Gajda. "Es difícil ir a hacer ejercicio después de hacer eso todo el día", así que uno solo puede imaginar si Oliva podría haber sido aún más sorprendente si hubiera tenido un tiempo óptimo para la recuperación. Es una respuesta que nunca tendremos.
Además, la política del deporte seguramente influyó en muchas de las derrotas cercanas de Oliva, posiblemente negándole títulos y fama que habrían ampliado su reputación. (Gajda se ríe de que nadie iba a dar a un inmigrante cubano el título de "Mr. América"). Y luego, por supuesto, todavía había que lidiar con Arnold, el mayor rival de Oliva. Más famosas que la historia de Sergio mentalizando a Arnold son las veces en las que "El Roble" sacó lo mejor de "El Mito". Antes de un concurso, Gajda recuerda que Arnold se jactó ante Sergio de que iba a competir con 255 libras (115,5 kg). "Puso ese número en la mente de Sergio", dice Gajda. Como resultado, Oliva, que ya tenía un aspecto fantástico con 235 libras (106,5 kg), se apresuró a ganar peso para no verse superado, y acabó pareciendo blando e hinchado en el escenario. El Roble, por su parte, se presentó al concurso definido y rocos, y se impuso con facilidad.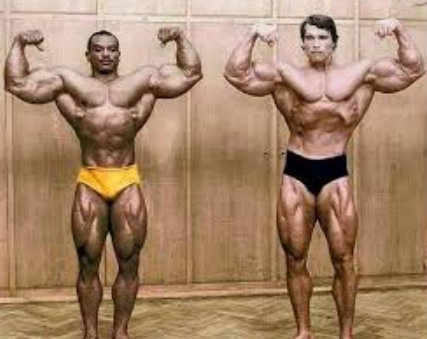 Oliva posando con Arnold.
Un mito recitado
Sergio Oliva falleció en el mes de noviembre de 2012 la edad de 71 años tras una larga batalla contra una enfermedad renal. Le sobrevive su hijo, Sergio Oliva Junior, culturista amateur de la NPC. Además de elevar el nivel de la masa muscular y el acondicionamiento, abrió un camino para los monstruos de hoy en día como Ronnie Coleman y Phil Heath. El legado de Oliva incluye ser el primer Mr. O negro y, posiblemente y más notablemente, el mayor rival de Arnold Schwarzenegger. Lo que plantea la pregunta ¿se habría convertido Arnold en Arnold si no hubiera tenido a gente como Sergio para empujarle?
Sergio Oliva y Arnold eran rivales, pero se respetaban, intercambiaban ideas e incluso entrenaban juntos en ocasiones. Aquí, El Roble vino a ver a El Mito durante uno de sus entrenamientos para preparar su regreso al Mr. Olympia de 1984 en la ciudad de Nueva York. Sergio Oliva 1984 es posiblemente el mejor culturista de la historia. Y, a pesar de lo bueno que era, podría haber sido aún mejor si le hubiera importado el culturismo de competición.
Aunque se le conoce sobre todo por haber sido tres veces Mr. Olympia (1967-69), Oliva empezó como levantador de pesas olímpico. Era el mejor peso semipesado del célebre equipo cubano de halterofilia cuando desertó durante los Juegos Centroamericanos y del Caribe de 1962 celebrados en Kingston (Jamaica). Poco después emigró a Estados Unidos, dirigiéndose al norte, a Chicago, en 1963. Fue mientras recordaba sus poses el segundo antes de golpearlas. Se apresuraba a realizar cada toma sin apenas transiciones, sin llegar a transmitir todo el impacto del físico de Oliva, el que consiguen las fotos bien hechas. Oliva también podría haber ayudado a su causa, tanto en el escenario como en la promoción de sí mismo, jugando bien con Joe y Ben Weider, que dirigió el culturismo competitivo casi sin ayuda durante su apogeo.
Pero hacerse el simpático tampoco le interesaba al hombre que llamaban "El Mito". Entrenaba como entrenaba, comía como comía, posaba como posaba y jugaba con sus propias reglas. Todo esto hacía que Sergio Oliva fuera tan condenadamente genial. Al final, porque era su propio hombre -y a pesar de ello-, Sergio Oliva se convirtió en una leyenda en un deporte que le necesitaba mucho más a él. Entrenó en el famoso Duncan YMCA de Chicago, donde llamó la atención del futuro (1966) Mr. America Bob Gajda, que animó al levantador de pesas a probar su mano en el culturismo. Aunque Oliva ya había desarrollado una intensa musculatura solo con el entrenamiento olímpico, el régimen de musculación de Gajda hizo que los músculos del cubano se dispararan. En el plazo de un año, compitió y ganó su primera competición de culturismo. Tres años más tarde, se hizo con el primero de los tres títulos Olimpia consecutivos. Su dominio era tal que nadie se atrevió a desafiarle en la defensa de su título en 1968, y en 1969 arrolló a un Schwarzenegger de 22 años.
Sin embargo, por muy dominante que fuera en los escenarios del culturismo, Sergio Oliva seguía siendo más un levantador que un culturista. A Sergio le encantaba el gimnasio. Era un toro fuerte y podía entrenar durante horas, incluso después de trabajar 12 horas diarias como carnicero. El gimnasio era su segundo hogar y el levantamiento de pesas era su respiro, su pasión y su vida. Pero el culturismo de competición es algo más que levantar peso, y el "más" no le interesaba en absoluto.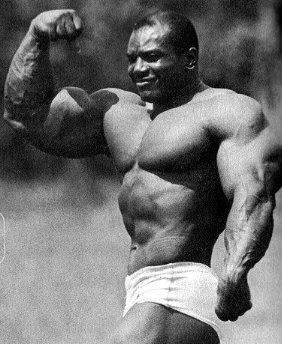 Sergio Oliva en volumen. Off-season foto.
Sergio Oliva: curiosidades
Es cierto que no hacía mucha dieta para los espectáculos. Abundan las historias sobre su prodigioso apetito y los atracones de última hora, que hacían que sus victorias estuvieran más cerca de lo que debían y que sus derrotas ante Schwarzenegger fueran aún más frustrantes para los aficionados.
También estaba su forma de posar. Mientras que Schwarzenegger presentaba su físico en una rutina pulida y diseñada para resaltar los puntos fuertes y minimizar los débiles, Oliva siempre parecía haber recordado sus poses un segundo antes de hacerlas. Se apresuraba a realizar cada toma sin apenas transiciones, y nunca transmitía el impacto total del físico de Oliva, el que consiguen las fotos bien hechas.
En 1986, su esposa Arleen Garrett intentó asesinarle con 5 disparos en el abdomen.​
Sergio Oliva también podría haber ayudado a su causa, tanto en el escenario como en el marketing simpatizando con Joe y Ben Weider, que dirigió el culturismo competitivo casi en solitario durante su apogeo. Pero hacerse el simpático tampoco le interesaba al hombre al que llamaban "El Mito". Entrenaba como entrenaba, comía como comía, posaba como posaba y jugaba con sus propias reglas, todo lo cual hacía que Sergio Oliva fuera tan condenadamente genial. Al final, porque era su propio hombre -y a pesar de ello- Sergio Oliva se convirtió en una leyenda en un deporte que le necesitaba mucho más que él al deporte.
La rutina de entrenamiento de Sergio Oliva
Aunque había muchos músculos para elegir, los brazos de Oliva eran posiblemente su mejor parte del cuerpo. A menudo, hacía un montón de ejercicios de bíceps y tríceps, como se muestra a continuación:
| | | |
| --- | --- | --- |
| Ejercicio | Series | Repes |
| Curl con barra | 6-8 | 6-8 |
| Fondos con lastre | 5 | 8 |
| Curl predicador con barra y agarre ancho | 6-8 | 8-10 |
| Extensión de tríceps con cable | 5 | 8 |
| Curl alterno con mancuerna | 4-5 | 6-8 |
| Extensión de tríceps sobre la cabeza sentado | 5 | 8 |
| Curl concentrado con mancuerna | 4-5 | 8-10 |
| Extensión de tríceps con cable con agarre reverso | 5 | 10 |
| Extensión con cable sobre la cabeza | 5 | 10 |
Palmarés de Sergio Oliva en culturismo
1965:
AAU Junior Mr America - Most Muscular

AAU Mr America - Most Muscular
1966:
AAU Junior Mr America

AAU Junior Mr America - Most Muscular

AAU Mr America - Most Muscular

IFBB Mr World
1967:
IFBB Mr. Universe

IFBB Mr. Olympia
1968:
1969:
1972:
1973:
1974:
1975:
1976:
1977:
WABBA World Championships
1978:
1980:
WABBA Pro World Cup

WABBA World Championships
1981: