TECHNICAL DISCUSSIONS OF PLÁSTICO LEVANTAMIENT
COUNTRY GUIDE:
Green: 1 kg.
Yellow: 1.5 kg.
Blue: 2 kg.
Red: 2.5 kg.
White: 5 kg.
WHY DO I USE TNCY DISCUSES TO TAKE AWAY WITH PESAS?
Count on technical discs in you gym of powerlifting / weightlifting or crossfit box it can be very useful for initiated users.
Them plastic technical discs are giant discs with lightweight weights 1 kg - 1.5 kg - 2 kg - 2.5 kg and 5 kg but manufactured to Real size of a Olympic disk competition. In this way, the bar stands at the right height and allows beginner athletes to correctly learn the moves without heavy loads.
They are the best choice for learning basic movements powerlifting, weightlifting or even crossfit.
Buy plastic technical discs It's an excellent idea, because allow the user to start in the technique of exercises like sitting, the deadlift, the military press... and of course they are 100% recommended to learn Olympic movements like: (snatch), clean and jerk (loaded and sent).
In addition, they are highly impact resistant disks. Made of high quality plastic. You can let them fall to the ground without fear during training.
Finally, they are also a recommended way to children and young people emptied in weightlifting.
If you have a gym where predominates Free weight and teaching weightlifting or powerlifting, we recommend you have some sets technical discs for your athletes.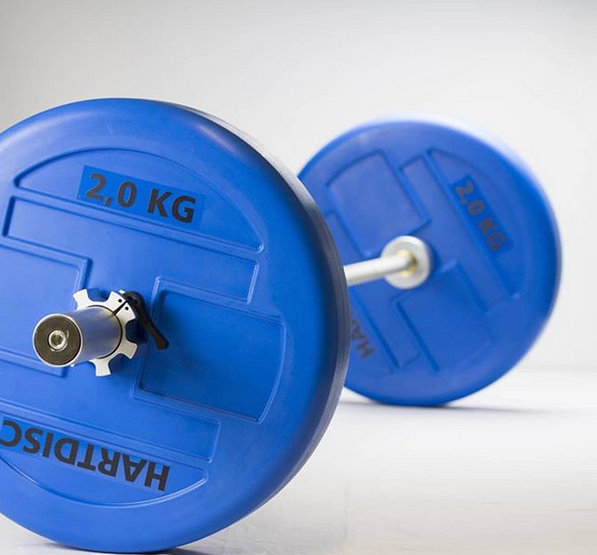 TECHNICAL DISCUSSIONS OF PLÁSTICO LEVANTAMIENTO DE PESAS. CHARACTERISTICS:
Them technical discs allow the initiates learn the correct technique at the time of lifting weights. For movements like powerlifting or Olympic exercises weightlifting.
They can also be used to start at weightlifting practicing at home.
Recommended for learning.
Color: green, yellow, blue, red, white with black letters.
Manufactured in plastic polyethylene high quality and impact resistant.
Diameter 450 mm and olympic inner diameter of 50.9 mm.
Support surface: 90 mm.
100% manufactured in Germany with high quality.
*Disks are sent from Germany in max. 4-6 working days.
From Hartdisc.
Green: 1 kg (maximum charge: 10 kg).
Yellow: 1.5 kg (maximum charge: 22 kg).

Blue: 2 kg (maximum charge: 22 kg).

Red: 2.5 kg (maximum charge: 22 kg).

White: 5 kg (maximum charge: 22 kg).