Mike O'Hearn, whose name resonates in the world of bodybuilding and fitness, is known for his imposing physique and his participation in television shows such as American Gladiators. However, his path to fame and recognition goes far beyond his muscles. Mike O'Hearn was born on January 26, 1969 in Kirkland, Washington (he is 54 years old in 2023). Below, we show you the biography and most curious facts about this outstanding athlete and how he has marked a before and after not only in his discipline, but in the world of sport.
Mike has 8 siblings (three older brothers, four older sisters, and one younger sister). His family has always been closely linked to the world of Fitness and sports. His brothers have been bodybuilders, powerlifters and martial artists (even his sisters). His father had been a bodybuilder and rugby player, and directly influenced Mike's career as a fitness athlete. Mike's mother was an artist. From a young age, Mike decided to lift weights and learn martial arts for his own self-defense.
Mike's wife is Mona Muresan, a Romanian-American national and with whom he has a son. She is also dedicated to the world of Fitness and physical exercise.
The most notable thing about Mike O Hearn lies in his physical characteristics.
Mike's Statistics :
• He is 191 cm tall

• Weighs 116 kg

• Biceps: 53 cm

• Waist: 86 cm
He holds three official Powerlifting competition records:
• Squat: 305 kg

• Bench press: 205 kg

• Deadlift: 320 kg
This man is much more than a simple athlete. He has generated a high impact for dozens of reasons!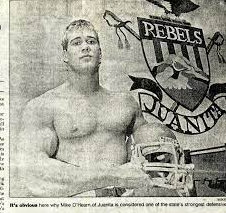 The beginnings of Mike O'Hearn
Although Mike O'Hearn is currently an iconic figure in Fitness, he had a different start in the world of sports. Initially, he stood out as a professional American football player and, in fact, played a decade for several NFL and CFL clubs. His versatility and athletic ability were demonstrated when, during his CFL career, he was selected to an All-Star team of foreign players.
One play in particular led to Mike being nicknamed "Hollywood" among his teammates and fans. During an All-Star game, O'Hearn performed an acrobatic action to catch the ball by diving over the defender to make the catch. This highlighted his exceptional athletic ability to excel in different disciplines throughout his career. Although no one could imagine it, this move would be a true before and after in his life.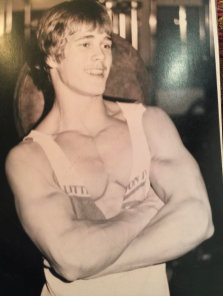 Young Mike O Hearn, 13 years old.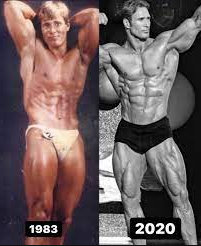 O'Hearn young and now.
Mike's Career and Income Sources
Mike O'Hearn has an extensive career as a Fitness model , having appeared on more than 500 magazine covers. His main sources of income are his work as a model and his online training . From his official website, you can purchase his Power Bodybuilding course , a program that helps develop human muscles and strength to the maximum.
He has been successful in many fields:
• Magazine model.

• Personalized training and online Power Bodybuilding course.

• He has his own podcast show called the Mike O'Hearn Show.

• He has been a film actor.

• Has its supplementation line, The Titan Crew.

• YouTube channel with more than 600,000 followers and Instagram account with more than 3 million followers.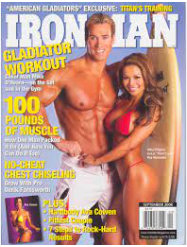 Titan in American Gladiators
Mike O'Hearn 's rise to fame came when he played the character Titan on the television show American Gladiators. During his time on the show, he demonstrated his physical prowess and won four consecutive Grand Champion championships. Imagine how impressive his career has been because this event, so prominent and striking at the time, does not currently represent one of his most important milestones.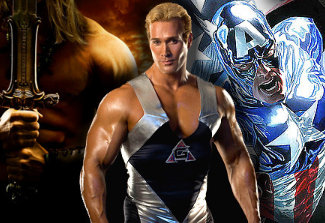 In an interview with Muscle & Fitness Magazine, the American athlete revealed that he is inspired by Rocky Balboa, played by Sylvester Stallone, as his role model. They both share values ​​such as determination, perseverance and hard work to achieve their goals. Additionally, he is a strong advocate for a healthy lifestyle and has launched his own line of nutritional products called "Myoplex by MHP."
The era of memes and criticism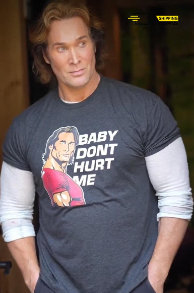 Mike with shirt from the "Baby Don't Hurt Me" meme .
Mike O'Hearn first became a meme in early 2010 due to an image of him striking an exaggerated pose that circulated on the internet. The image gave rise to numerous parodies and humorous edits that contributed to his fame as a meme. In this pose, he highlighted his massive physique in a way that seemed extravagant and exaggerated.
Despite the notoriety of his memes, O'Hearn has taken this fame with good humor and has even actively participated in the creation of some of them. To this day, Mike continues to be the target of criticism and ridicule due to his claim that his impressive physique is natural and not the result of anabolic steroid use. Some consider this claim hardly credible due to his extreme muscle size and definition. However, there is no conclusive evidence to support or refute his claims, and it is important to remember that each person has unique genetic factors that can influence their ability to build muscle.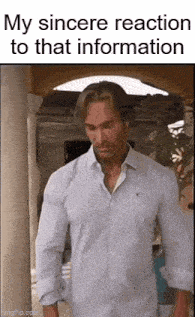 A Mike O'Hearn GIF meme .
This is a Mike O'Hearn meme: "My most sincere reaction to this information."
¿Is Mike O Hearn natural?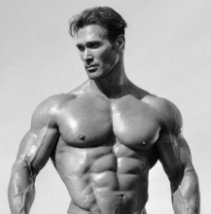 Although Mike O'Hearn is very loved by fans, many followers have expressed their discontent due to the alleged dishonesty of Mike, who throughout his life has claimed not to take anabolic substances. Everything indicates that he has done it.
The reason is that Mike has a 250+ pound physique with very little body fat for his 6'3" height, which is not possible to achieve naturally. Additionally, his body appears "sculpted," with deep muscle grooves, large veins, and extremely round shoulders (which is the typical look of a steroid user). On the other hand, at over 50 years old, it is not normal to maintain that muscular appearance, definition and size. For these reasons, it is most likely that Mike O'Hearn is not a natural . Many memes have emerged on the internet about Mike's supposed muscular naturalness. He usually acts reactive when asked about anabolics.
A detail of no small importance is that the person born in Washington jumped into the world of memes in a period in which they had not yet achieved such notoriety. That is, to be the protagonist of a meme, it was necessary to acquire a considerable impact for some reason. In this case, since he is part of the world of sports (precisely in an area with many fans), he was able to learn about the experience.
The opinion of other bodybuilders
In the bodybuilding world, opinions on recognizing the use of anabolic steroids vary. While some bodybuilders have publicly admitted to its use, others prefer not to broach the subject. In this sense, Mike O'Hearn has maintained his claim that his physique is natural. The opinion of other bodybuilders on this issue is diverse. For example, prominent figures such as Arnold Schwarzenegger and Ronnie Coleman have acknowledged using steroids during their careers.
Of course, if you look at the American's physique for a few seconds, it draws attention. If things are as he says, it is very difficult not to wonder how a person can achieve such a level of bodybuilding and a totally toned physique without the help of the slightest substance.
Although the model raises some suspicions, none of those who disbelieve O Hearn's version have the definitive arguments to prove that he actually helps himself with special substances. However, the percentage of certainty is very high. Likewise, no one denies the permanent effort and dedication , something for which O'Hearn is rightly well recognized and which has allowed him to increase his fame even more.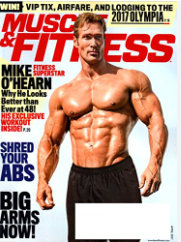 Mike O Hearn's skills and recognitions
Despite his impressive physique and several bodybuilding competitions, Mike O'Hearn has never participated in Mr. Olympia, the most prestigious competition in the world of bodybuilding. He has focused on other areas such as fitness modeling, acting and business. Mike has a large base of followers who admire him and consider him an inspiration to achieve his physical goals.
At no time did this athlete regret not having been part of Mr. Olympia. This may be because he settles for the successes he already has. O'Hearn amasses a huge fortune from his training businesses and social media endorsements. In today's Fitness world, not all success comes from reaching the top in championships. That is to say, today it is possible to be very successful simply by having a good network of followers and being popular on the internet.
Achievements :
• 2015 NPC Washington Ironman: First place

• 2015 NPC Idaho Muscle Classic: NP

• 1997 INBA Natural Universe Bodybuilding Championships: First place

• 1997 INBA Natural Universe Bodybuilding Championships: First place
Mike is a four-time Mr. Universe and California Powerlifting Champion. He has also been a California Judo Champion and Strongman. As a curiosity, Mike has a Guinness record for breaking sheets of glass with a special suit.
Furthermore, the North American's strength numbers are more than overwhelming. Apart from his three official powerlifting records, in the gym he has been seen training with the following weights, which impact both his country and the rest of the world.
Strength :
• Bench press: train with more than 200 kg

• Reverse grip bench press: moves 180 kg with great ease

• French press: 100 kg

• Bench press with 80 kg dumbbells for 17 repetitions

• Deadlift: more than 300 kg

• Barbell row: 180 kg

• Military press with 60 kg dumbbells for several repetitions

• Squat: 220 kg with enormous control over the weight

• Squat repetitions: 140 kg x 47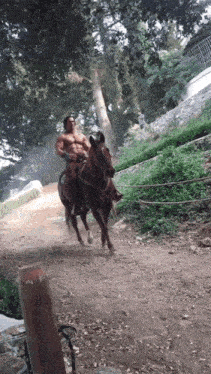 Famous GIF of Mike O Hearn riding a horse.
Other data of interest
Another interesting anecdote about Mike O Hearn is that in 2011 he was named the "most envied man in America" ​​by Men's Fitness magazine, due to his impressive muscular physique and his success as a fitness model . The aforementioned nickname "Hollywood" that he received during his career in the Canadian Football League originated thanks to his glamorous lifestyle and his red Corvette convertible.
As if that were not enough, he is also one of the most successful athletes of recent times. Mike knew how to have a leading role in the world of entertainment. More precisely, he worked in the cinema. For example, he appeared as a gladiator in the American Gladiators contest .
The fitness model also had a small role in the film Death Becomes Her in 1992 and in the film World's Finest in 2004, when he played no less than Superman. In turn, in 2012, he himself produced and acted in a 7-episode fiction series called "Alter Ego".
A curious fact is that O Hearn looks very young and appears much younger than he really is. Mike likes to train at Gold's Gym in Los Angeles, the gym where Arnold Schwarzenegger trained.
Another curiosity is that he almost signed a contract with WWE . If he had achieved it, O'Hearn would have been one of the most famous characters in wrestling.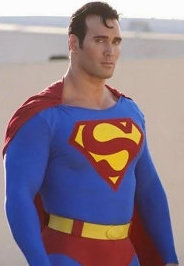 O'Hearn as Superman.
Filmography: Mike O'Hearn in movies and television series
• 1989-1996: American Gladiators, a television show where normal people competed against the best athletes. O'Hearn played the gladiator Thor.
• 1992: Death Becomes Her (small role).
• 1999-2001: Battle Dome, a television show similar to American Gladiators where he played the character Michael O'Dell.
• 2004: World's Finest by director Sandy Collora, where he played Superman/Clark Kent.
• 2008: American Gladiators as the gladiator Titan (played a gladiator character in both the original series and the new edition).
• 2008: Days of Our Lives , an NBC soap opera where Mike made a guest appearance playing a bartender.
• 2008: Celebrity Family Feud , an NBC series where he regained his role as Titan in one episode and appeared with his fellow gladiators Jet, Venom and Wolf.
• 2009: Knight Rider Revival , where he made a guest appearance as a cage fighter in episode 14 of this NBC series.
• 2011: It's Always Sunny in Philadelphia ("Hanging in Philadelphia" in Spain and "There is always sun in Philadelphia" in Latin America). In the seventh season of this series, Mike played the role of Mac's avatar in the episode "How Mac Got Fat".
• 2011: Workaholics , a series in which he played a bodybuilder during the episode "Muscle I'd Like to Flex."
• 2012: Alter Ego , a 7-episode science fiction "thriller" that Mike O'Hearn himself produced and starred in.
• 2023: TikTok meme with the song "What Is Love " by Haddaway (with the song reverbed and at slow speed).
Generation Iron also released a documentary about Mike O'Hearn called Generation Iron 4: Natty 4 Life , a film focused on the world of natural bodybuilding.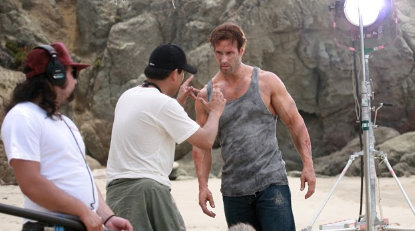 The filming of the movie "Alter Ego."
Philanthropy
Mike has invested a portion of his money in charity by collaborating with several organizations:
• Being an animal lover (especially dogs), he has collaborated with Good Dog Animal Rescue Center in Los Angeles. This organization is dedicated to caring for homeless dogs.
• He has helped the Just Keep Living organization with money and giving motivational speaking to help others achieve things they thought they couldn't do.
Are shows and movies Mike's other strong suit?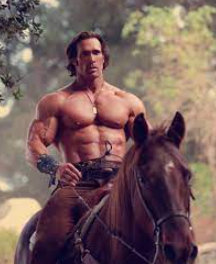 Several of his appearances caused a great sensation. It is logical that different production companies or business take advantage of its imposing image to awaken greater interest in films, series, etc. The O Hearn thing has been really very outstanding!
So, are movies like Mike O'Hearn's second job? It is illogical to offer a definitive answer, since the athlete has not commented on the matter. However, the conditions are in place to say that the series and films in which he appeared left many satisfied.
Is Mike O'Hearn a bodybuilder? Although he competed in bodybuilding in his early days, we cannot say that Mike is a bodybuilder today. In reality, he focused his career on modeling work, where he has more than 30 years of experience. And thanks to the millions of followers he has on his social media, Mike has managed to be an entrepreneur and live off his own income. His famous Power Bodybuilding training program works as a subscription.
So, although O Hearn started with bodybuilding training, he has focused on other fields such as modeling, business or acting in movies. He has also collaborated with great Fitness celebrities such as the late Rich Piana or the actor and bodybuilder Joseph Baena.
Collaboration with Rich Piana.
Do you like biographies? :
Mike O Hearn's Training Style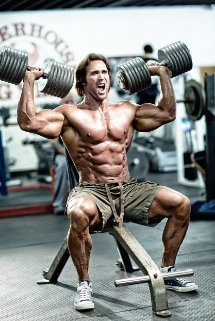 Mike O'Hearn usually trains intensely and very hard. His training style is called "Power Bodybuilding," which means focusing training on building both muscle mass and strength at the same time. Mike is not only interested in "looking strong," but also in being strong. For this reason, he focuses on doing many basic exercises, such as bench press, squats, deadlifts, pull-ups, rows, military press, French press... In addition, he uses variants of these basic exercises, such as the front squat, squat with pause or close grip bench press. One of his favorite exercises is the reverse grip bench press , which is not very common for any lifter. Mike loves to do very heavy sets of even 8 and 5 reps. He has great control over the load and his technique is impeccable. He can move heavy weights, but controlling each repetition at all times; He makes very slow descents, pauses, etc.
His style is a hybrid between Powerlifting routines and classic bodybuilder training.
You'll love it! :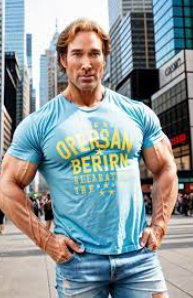 Mike O'Hearn 12 Week Training Example
Distribution :
• Monday : Chest, cardio and abdominals
• Tuesday : Legs, cardio and abs
• Wednesday : Shoulders, cardio and abs
• Thursday : Arms, cardio and abs
• Friday : Back, cardio and abs
• Saturday : Rest
• Sunday : Rest
Workout for main exercises: Incline bench press, Squat and Deadlift
• Weeks 1-4, 70% of RM : 5 sets x 4 reps
• Weeks 5-8, 80% of RM : 5 sets x 3 reps
• Weeks 9-12, 90% of RM : 5 sets x 2 reps
Cardiovascular exercise :
• Weeks 1-4 : 30 minutes 4 days per week
• Weeks 5-8 : 45 minutes 5 days per week
• Weeks 9-12 : 1 hour 6 days per week
Mike explaining the three basic Powerlifting exercises.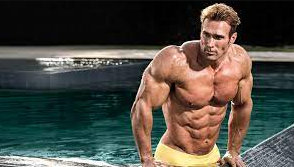 In conclusion, Mike O'Hearn is a multifaceted figure in the world of sports, bodybuilding and fitness. His versatility, dedication and passion for a healthy lifestyle have made him an icon in the world of fitness and motivation for many who seek to achieve their physical goals.
If you are looking to gain good muscle volume and strength, Mike O'Hearn can be your example to follow. His intense training with heavy loads is what has always worked for growth. Regarding nutrition, Mike has always advocated that everyone should eat what works best for them to progress. In other words, there is no one Fitness diet plan that is valid for everyone.
Mike has always taken his training in the gym very seriously. He also demonstrates great seriousness and determination outside of the gym, which is why he has achieved all the goals he has set for himself in life. Furthermore, he is a person who is always willing to help others, for example, by collaborating in charities or helping others achieve their goals. In addition to being strong, Mike is a good guy and that's something we can learn from him. Mike says that he "always gives a smile to a stranger." Not everything in life is receiving, but we must also return favors to those who helped us get to where we have arrived. We must support those who are less fortunate than us. This is the philosophy of Mike O'Hearn .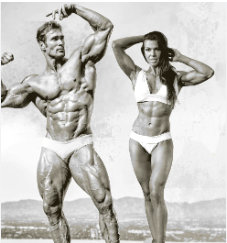 Mike, with his lifestyle based on helping others and his balanced approach to training, teaches us that if we want to make a difference in our lives and our physique, all we need is hard work, discipline, dedication and being true to the objectives. You may not achieve a body like Mike's, as genetics and certain aids come into play. However, you too can achieve amazing results if you give yourself a little time, have patience and work hard.
Thus, the legacy of the great Mike O'Hearn lives on as a reminder that, with determination and effort, impressive goals can be achieved in the world of sports and fitness. He has transcended this facet and has become a true example to follow for millions of people.