Christopher Adam Bumstead , known to his fans as CBum, is a prominent Canadian IFBB professional bodybuilder. He was born on February 2, 1995 and holds the title of Mr. Olympia Classic Physique in the men's category, which he obtained in the years 2019, 2020, 2021 and 2022. In addition, he achieved second place in the 2017 and 2018.
Throughout his career, Bumstead has maintained a strong online presence by sharing content that focuses on his lifestyle and dedication to bodybuilding. She was born and raised in Ottawa, Ontario. During her high school years, she participated in various sports disciplines, such as fencing, soccer, baseball, basketball, and hockey. She began lifting weights at age 14 and, between ninth and twelfth grade, increased her body weight from 170 to 225 pounds (77 kg to 102 kg). He stood out mainly in the development of his legs.
After considering that he had a good physical build, the Canadian met his first trainer, professional bodybuilder Iain Valliere, who was dating Bumstead's sister. Although both announced that they would stop working together, the success came not only to stay, but also to increase each year.
Why has CBUM become so popular and loved by bodybuilding fans?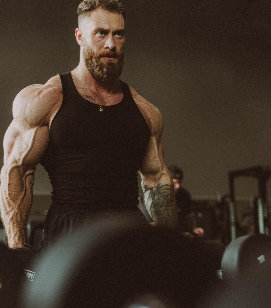 Chris Bumstead has become very popular in recent years and is very loved by his fans for a variety of reasons. Among them is the fact of presenting an imposing and proportionate physique like that of a superhero with great dorsal breadth.
On the other hand, when it comes to remembering positive moments, Bumstead is very reminiscent of the physique of classic bodybuilder Arnold Schwarzenegger. Furthermore, the athlete has always been very honest in his interviews. And beyond the performances in the sport, which are the main attraction for most, Bumstead exhibits great sportsmanship and camaraderie, as he even has friendships with his biggest rivals and has even trained with them.
It should be noted that Chris Bumstead 's main rival is the Brazilian bodybuilder Ramón Dino. Chris is also very popular for his characteristic hairstyle and mustache. It is also notable that Bumstead is performing very well as a bodybuilder despite an illness that he suffers from.
In summary, the Canadian is not just a bodybuilder nor just another athlete. In a context of high competitiveness in practically all disciplines (some more popular than others, of course), distinguishing yourself is the key. And Bumstead is and will be very difficult to match for various aspects: performances and titles won at 28 years old, future ahead, empathy with the public and the media, etc.
Bumstead Measurements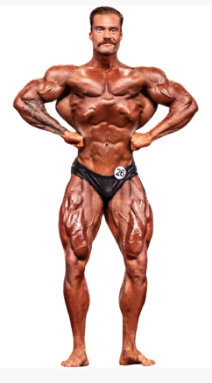 Chris Bumstead is 6'1" (185 cm) tall and weighs between 230 and 264 pounds (104-120 kg). However, this weight range varies due to periods of bulking and definition associated with his competitions. bodybuilding.
For example, in the off-season, the Canadian increases his weight to more than 260 pounds while gaining muscle mass. As? Basically, he achieves this through intense resistance training and a large caloric surplus. Before the Mr. Olympia contest (approximately two or three months before), Chris reduces his stage weight to 230 pounds. This phase of preparation for the competition involves greater energy expenditure and a strategic caloric deficit.
Date of birth : February 2, 1995
Chris Bumstead height : 185 cm
Off-season weight : 123 kg
Competition weight : 109 kg
Nationality : Canadian
Waist : 30″ (76 cm)
Chest : 51″ (130 cm)
Biceps : 20″ (51 cm)
Thighs : 30″ (76 cm)
Cufflinks : 20″ (51 cm
Chris Bumstead's illness
Bumstead was hospitalized for six weeks before Mr. Olympia 2018. Although every day and even every hour of training is essential for a bodybuilder, the then 25-year-old lay in a hospital bed with no official confirmation about his condition. his participation in Mr. Olympia 2018.
Eventually, it was revealed that the Canadian-born was suffering from IgA nephropathy , a kidney autoimmune disorder that usually causes swelling in the kidneys, legs, back and stomach. In simple words, the immune system, which normally fights other diseases, attacks the patient's body in a strange series of circumstances that, even if understood, are complex to treat and put an end to.
Needless to say, the aforementioned symptoms of this incurable disease have the potential to adversely affect a bodybuilder's career, and even a season of competition (in Bumstead's case). The story of the nicknamed "Cbum" served (and will continue to do so) as a motivational anecdote in the future, as he not only recovered to compete, but also finished one position behind champion Breon Ansley that year.
"They inserted a long needle and slowly froze it near my kidney. [The doctors] inserted a 16-gauge needle with a small clip on the end. The needle goes in and touches the tip of your kidney and shoots like a gun." These were the details that Bumstead specified regarding the physically difficult and mentally exhausting treatment.
It is evident that no inconvenience that causes physical limitations is easy for an athlete to deal with, much less for someone like Chris, whose sporting discipline requires him to constantly train with the highest possible demands. In addition, each medical visit, hospitalization or setback means losing hours of preparation. And we are not talking about friendly or amateur competitions, but disputes that even mark a before and after in the life of a bodybuilder.
Bumstead continues to deal with the consequences of his illness. That being said, he has learned to deal with her without it hindering her career path. The bodybuilder has admitted to feeling better on several occasions and will seek his fifth consecutive title in 2023. Without a doubt, although this story seems fictional, it is real. Therefore, he is not just any bodybuilder or athlete.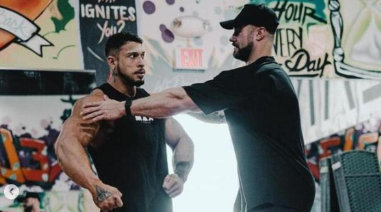 Chris teaching Ramón Dino how to pose.
Chris Bumstead Hair and Hairstyles
Chris is also very active on YouTube and Instagram, where he shares his workout routines and daily updates from his life. And his unique hairstyles both on and off stage have attracted attention. His signature style has made him a household name even outside of the fitness industry.
Specifically, Chris Bumstead has experimented with a variety of hair styles over the years; from short, spiky hair to long, flowing manes. Therefore, this has always been a topic of conversation among his followers, who eagerly await what the next style he will present will be. Below, we show you some of the styles that caused the greatest impact:
• Mullet haircut : Features a fade that goes from very short on the sides to a medium length on the top and back. It offers a fresh take on the classic mullet style of the '70s and '80s.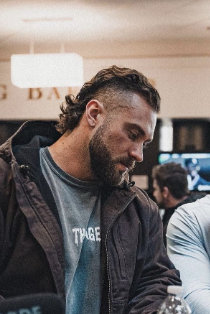 • Long CBUM Hair – In his late teens and early 20s, CBum grew his hair to shoulder length.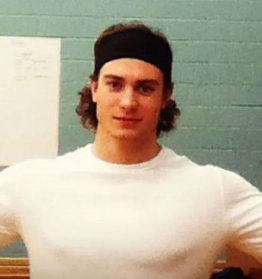 • Hair combed back with fade on the sides : CBum has shown this modern hairstyle for staging in the latest competitions and photo shoots. He achieves a flawless look with this style.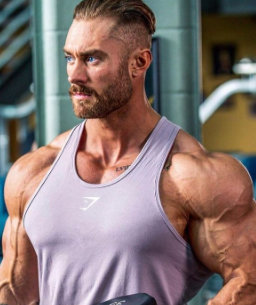 • Messy hair : following the trends of the moment, Cbum has presented this style especially on its social networks.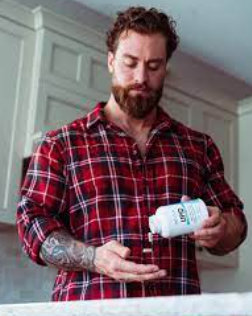 Likewise, Bumstead's old classic-style mustache has become a defining characteristic of his stage persona. He has proudly worn this classic facial hair style for every victory since 2019, paying homage to the aesthetics of golden era bodybuilders who inspire today's bodybuilders.
In the last year, Chris has also chosen to grow his full beard.
Comparison with Arnold Schwarzenegger: differences and similarities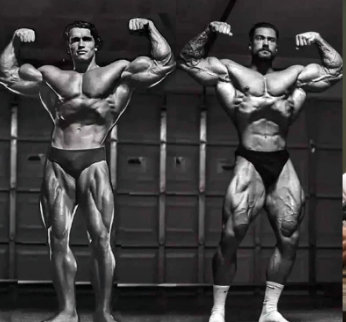 The world of bodybuilding has come a complete turn since its development in the late 19th century. Today, the sport has evolved in ways previously unimaginable, but the first name that still comes to mind when hearing the term bodybuilding is Arnold Schwarzenegger.
The first question for this case could be who could lift the most weight. Although both bodybuilders entered the same profession, it is necessary to mention that they followed very different paths before reaching bodybuilding. Schwarzenegger started out as a weightlifter when he was still a teenager. In his youth, Arnie participated in at least three Olympic-style weightlifting competitions and won the heavyweight class at the Austrian Weightlifting Championships in 1965 at just 18 years old.
During this period, the Austrian also became passionate about bodybuilding. After a successful start at the 1967 Mr. Universe in the amateur category, Arnold dedicated himself completely to bodybuilding. A few years later, he would end up earning a total of seven Mr. Olympia titles.
Bumstead, for his part, started early at age 14 and was introduced to the sport through constant training in the gym. However, he considered competing alone after meeting his friend, Iain Valliere. In comparison, both athletes would be fairly evenly matched in terms of strength, but Schwarzenegger's verified personal best in the bench press is 441 pounds (200 kg), while Chris has lifted 405 (184 kg).
Statistics
| | | |
| --- | --- | --- |
| Vs. | Chris | Arnold |
| Height | 185 cm | 187 cm |
| Weight on stage | 109 kg | 106 kg |
| Waist | 76 cm | 86 cm |
| Pectoral | 130 cm | 145 cm |
| Biceps | 51 cm | 56 cm |
| Thighs | 76 cm | 72 cm |
| calves | 51 cm | 51 cm |
Olympia Titles
| | | |
| --- | --- | --- |
| Vs. | Chris | Arnold |
| Mr. Olympia | 4 | 7 |
Strength
| | | |
| --- | --- | --- |
| Vs. | Chris (123 kg) | Arnold (117 kg) |
| bench press | 184 kg | 226 kg |
| Squat | 265 kg x 6 | 247 kg |
| Deadlift | 306 kg x 3 | 322 kg |
| Shoulder press | 63kg x 8 (dumbbells) | 119 kg (bar) |
| Barbell row | 140 kg x 12 (various series) | 120-145 kg x 12 (T row; various series) |
| Biceps Curl | 43 kg x 10 (several series on Scott bench and impeccable technique) | 110-125 kg (cheating) |
* Chris Bumstead has lifted 184kg in double bicep curls with the help of Calum Von Moger.
Maximum weight in bench press.
Is Chris "CBUM" Bumstead natural?
Based on our experience in bodybuilding, we dare to say that CBUM cannot be natural . The reason is that CBUM is a top winner in the Pro league, where no athlete can be competitive without the use of substances. Additionally, Chris is up to 24kg overweight with a competition level of fat (6% or less), which cannot be achieved naturally.
Regarding his appearance, he has a "sculpted" body with little body fat, broad and exaggeratedly round shoulders, as well as prominent veins on his biceps and other parts of the body. Chris Bumstead, however, has stated that he stays away from more dangerous substances due to his illness.
Does this mean Chris Bumstead's training can't work for me if I'm natural? You can train perfectly like CBUM if you are a natural lifter; Simply adapt the routines to your performance level. In fact, Chris Bumstead is an example to follow when training thanks to the excellent technique with which he does each exercise.
Other biographies that might interest you:
CBUM Training Style
CBum training is controlled and intelligent. The athlete is capable of lifting heavy weights in almost all exercises, but does so with complete control over the load. He doesn't employ the raw, fast style of older bodybuilders like Ronnie Coleman or Branch Warren.
We have seen Chris almost always training with typical hypertrophy routines: several exercises per muscle group and about 4 or 5 sets of 8 to 12 repetitions for each exercise. Bumstead exercises a large muscle in a single session or a large muscle with a small muscle per workout. He has also been seen training biceps and triceps together in the same session. He does the repetitions explosively with greater control and slowness on the negative side, as we have seen in his videos. He uses a medium volume of work in his routines (they are not excessively long workouts).
Among his favorite exercises are the dumbbell shoulder press, dumbbell bicep curl, preacher bench bicep curl, leg press, close grip bench press, barbell row, and heavy squat on the Multipower machine. He also does heavy deadlifts on occasion.
Bumstead wants a long career in his sport and is taking great care to avoid injury. Therefore, when he is out of season, he does softer training, moving lighter loads and avoiding muscle failure. When competitions come around, Chris trains with heavier loads and higher intensity.
Who is better then?
A well-known phrase says "comparisons are useless." Bumstead vs. Schwarzenegger is a clear example. Because? Because, despite the numbers and differences, both competed in their competitions at different times and neither is, at the end of the day, better than the other for having lifted more weight or having come out first in a more complex competition.
In short, they are two sports figures, current references for many and a true desire for thousands of people. In any case, we all hope to continue watching CBUM in bodybuilding to see how many more times he can win the Classic category.