It is not easy to have leading natural bodybuilders today. Especially on the internet, where there has been a boom in people who use doping substances or who are directly lying to us. Sometimes new gym users wonder what kind of physique can actually be achieved naturally. Reality is distorted for us because, thanks to Instagram and YouTube, we are exposed to drugged bodies more than ever.
To begin with, we clarify that it is never possible to know 100% if a bodybuilder or gym user is natural or not. To do this, the people would have to be honest and say it for themselves or undergo a laboratory test. There are cases of extraordinary and highly advanced natural people who could make us think that they are consuming substances. There are also people who are doped and have not responded well to drugs, so their body would not even make us suspicious. However, there are some parameters that in general easily give away steroid users: excessively round shoulders, veins the size of anacondas, enormous strength and achieved in a very short time or completely scratched abs while maintaining a large body weight. These mentioned parameters are never in the true natural bodybuilders who have been training with weights for a considerable time.
Do you think there is no famous natural bodybuilder on YouTube?
It is true that the natural ones are few, but we think that there are still some. We have analyzed the training time, trajectory and physique of the following YouTube bodybuilders; and we believe that their physiques are 100% naturally achievable. As we explained, you can never be totally sure, but we have faith in the following people.
Jesús Varela, a natural bench press lifter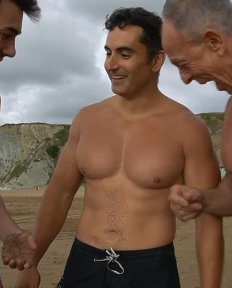 If you think that the Basques were strong, you were right. Jesús Varela Goicoechea deserves the first place on this list. He's a natural, his free contributions to the world of strength are invaluable and his bench press record is simply unbelievable. Let's talk a little bit about him. Jesús is from Bilbao, a city in the Spanish Basque Country. He started training in the gym at a very young age and discovered that he was very good at bench pressing.
The turning point in his career was when he devised an unusual, yet highly effective, workout that consisted of very explosive high reps. This system, which he dubbed "the Bilbo method," shot up his bench press record above 200 kilos. All the information he provides on his YouTube channel and social media is free. He has shared all his training secrets with us in the most humble way, so that we improve our strength and obtain a magazine torso. On YouTube he is known as "Bilbo" (a word used by the Basques to call the city of Bilbao) and his YouTube channel is "Bilbo Team".
On his YouTube channel and Instagram, he has delighted us all with the following "animal strenght":
• 227.5 kg in RAW bench press

• Over 200 kg with RAW bench press pause during competition

• Bench press with dumbbells of 70 kg each

• Weighted dips with 120 kg

• 40 kg x 30 repetitions in biceps curl

• 55 kg x 20 repetitions in the military press

• 160 kg free squat

• 100 consecutive chest dips

• 80 kg x 60+ reps on the bench press

• 100 kg x 40+ reps on the bench press

• 120 kg x 30+ reps on the bench press

• 150 kg x 17 repetitions in the bench press

• 180 kg x 8 repetitions in bench press

• Devour a whole plate of Neapolitans...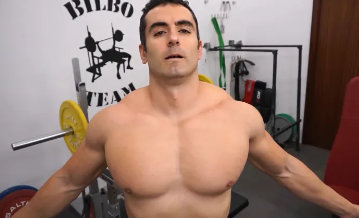 It's amazing, right? What awaits us on his channel? It's all worth it! It's very diverse. He reveals his training method and secrets, teaches us how to make cement dumbbells, interviews personal trainers, shows his strength records... In 2022, Jesús Varela celebrated his 44th birthday by proving that he could still bench press 200 kg! He has an impressive pec, an otherworldly strength and is a charming person. Jesús is a construction worker, but he always makes a little time to do his workout at the gym and boost his YT channel. His progress on the bench press seems to never stop! Follow this natural bodybuilder bench press champion on YouTube and find out everything!
What are his stats? Normally, he weighs between 85 and 90 kg depending on the season. He has a height of 1.74 m. There are not many data on his body measurements. In a video, Jesús Varela said that he had about 43 cm of biceps. He does not train the lower body with the same intensity as the torso, but his legs do not clash with the physique.
SixPackProcess, the best among natural calisthenics bodybuilders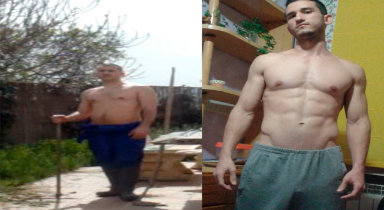 We liked Erick González González for his story of overcoming himself and the immeasurable help he has provided to all those who seek to achieve the typical muscular and defined body. For this reason, his channel SixPackProcess deserves a second place in our ranking of natural bodybuilders.
Erick is Cuban, from Havana, but he came to live in Spain, where he lives in Madrid. He captivated us with his story. He was somewhat overweight and was not happy with his physique. One fine day, he decided to change. He managed to lose fat, build muscle and, in the process, even changed his face, making it much more attractive.
What is the best of Erick? That he teaches us to train with little budget and material. Most of his exercises are done with the person's own body weight. His specialty is calisthenics and, thanks to it, he has developed a physique that has nothing to envy to that of a natural bodybuilder who trains with weights. It seems to us a most original proposal.
What awaits us on his channel? Erick will explain calisthenics exercises, high intensity training to lose fat, interval cardio, muscle definition diets... The YouTube channel is very complete. In addition, he does bulking and definition phases like any bodybuilder and shows us his transformation processes step by step. He does it all without secrets or deceit!
• Erick González is 1.65 m tall and weighs about 66 kg while maintaining a low fat percentage.

• Although he is focused on calisthenics, he has bench-pressed 250 pounds.

• His legs are not as developed as his torso.

• In a video, Erick mentioned that he reached 42 cm of arm in muscle bulking stage (with 72-73 kg of body weight).
Gymsroka, the good genetics of a natural in bodybuilding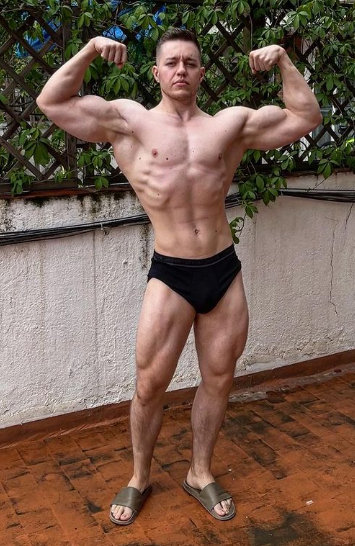 Alex Sroka is a boy from Poland, but lives in Spain, where he must have been for quite some time, given his perfect Spanish accent. He is a controversial youtuber, because on his channel, "Gymsroka" , there is a lot of criticism and gossip. He has his staunch supporters and his detractors. Sroka is liked by some and worse by others, but one fact is undeniable: his physique is naturally achievable and his genetics are good.
Gymsroka is big, heavy and has aesthetically proportioned muscles. We sense that he is a natural bodybuilder because he has trained for over a decade. We have seen his progress curve through his videos. He has reached a large size in the bulk stages of him, with some fat; and acceptable muscle definition in his cutting periods, where he's evidently lost size and strength.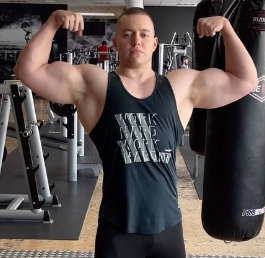 He is perhaps the biggest natural bodybuilder we are going to see here. We really consider him an example of how far good genetics can go when it comes to muscle size. What will we find on his YT channel? Above all, controversy and humor, but do not be fooled. He has also given great advice on training techniques, how to progress in the gym and how to diet while being flexible. Perhaps his light-hearted content is intended for a younger audience, but we certainly recommend watching some Sroka videos. Here are some curiosities about this amateur YouTube bodybuilder:
• He is 1.85m tall and now rarely goes below 90kg. In his best period of bulk he reached 115 kg of body weight, although with some extra fat.

• Has moved 200 kg in the squat, 160 kg in the bench press and 230 kg in the deadlift.

• Has lifted 80 kg in the standing barbell military press.

• He can do several repetitions of bicep curls with 30 kg dumbbells.

• Has done 15 reps of 50kg Z-bar bicep curls.

• His 1 RM biceps curl is 73 kg.

• His can do 21 pull-ups weighing about 100 kg.

• His biceps measure 45 cm.
IRON Masters, Veteran and Natural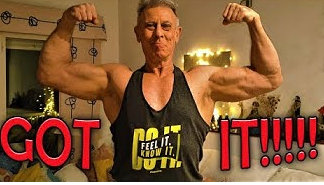 José Ángel Calleja's proposal, "IRON Masters" , has also delighted us. It's funny how he started his YouTube channel. His son was already famous on the YouTube platform with a channel about games and jokes. Little by little, José Ángel began to appear in his son's videos to show visitors his specialty: weight training. This catapulted his own YouTube channel to success.
José Ángel from IRON Masters has a degree in Physical Education and has trained with weights for more than 35 years. In addition, he has been a personal trainer for 29 years. He has even designed his own training programs, which he markets and are well received by the public.
What awaits you on his channel? Lots of fun, training tips and techniques, collaborations with other youtubers... The most remarkable thing about this natural weightlifter is his experience. He is already 60 years old and is one of the longest-serving trainers on YouTube! He is close friends with Gymsroka, with whom he collaborates, along with other well-known bodybuilders such as Madelman. Of course, be careful with José Ángel Calleja!, since he is a faithful defender of the correct technique in the exercises. His obsession seeking the maximum efficiency in each exercise is over the top!
In his youth, he had the following marks of strength:
• 120 kg in bench press.

• 100 kg incline bench press.

• 80 kg in bench military press.

• 75 kg in French press.

• 60 kg barbell biceps curl.

• About 40 or 50 pull-ups.

• 200 kg squat.

• José Ángel has mentioned his height and weight: 1.82 m and 83 kg.

• His biceps measure 42 cm.
Asier, "Pico de Oro"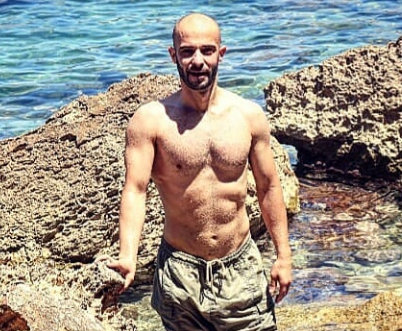 Asier is behind "Pico de Oro", a different YT channel loaded with controversy. This channel is like a kind of "newscast" that informs you weekly of everything that is happening in the world of Fitness. Nothing escapes him! Asier's touch of humor keeps you hooked on the screen.
Be careful, not everything is gossip. Asier also trains in the gym and has achieved a good physique. He is an example of what average genetics can achieve with dedication to natural bodybuilding. He practices weightlifting and bodybuilding. If you want to have a fun time, check out Asier's channel. Of course, you will enjoy it more if you are very involved in the Spanish-speaking Fitness community and follow the other channels. By the way, we also have some statistics and data from Asier:
He is 1.68 m tall and weighs between 73 and 77 kg.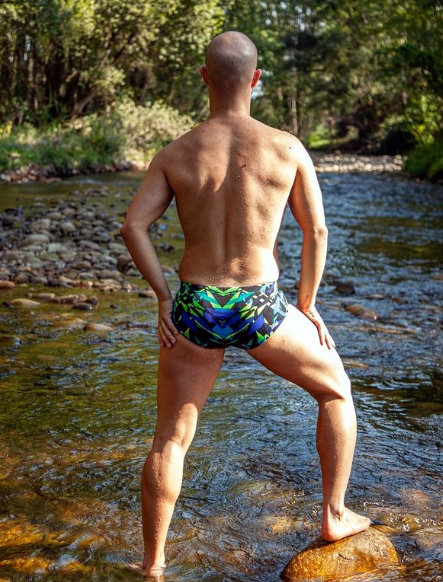 He has achieved the following feats of strength naturally:
• 145 kg in free squat.

• 90 kg in bench press.

• 125 kg in deadlift.

• 70 kg in snatch.

• 90 kg in clean and jerk.

• 41 kg in pull-ups.

• 40 kg x 2 repetitions in parallel dips.
Luxaitor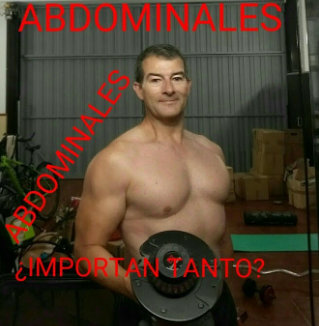 Aitor Guisasola created the "Luxaitor" channel, whose name comes from the dislocation he had in his shoulder. He is almost 50 years old and has been weight training for over 30 years! He started in the gym as a teenager, because he was somewhat overweight with which he was not happy. Since then, he has only accumulated experience with training.
Aitor is also a lawyer and has a secondary YouTube channel on legal issues; It is called "A lawyer against demagoguery". He has set up his own home gym, where he trains with his son, who has already been featured in some of his YouTube videos. Luxaitor debunks the myths and teaches you the secrets of natural bodybuilding training. We love his channel and his form. At his age, Aitor has pectorals and arms as many would like. He is a natural sportsman and we recommend seeing him. We have compiled some statistics:
• He is 1.82 m tall and weighs about 90 kg. He loses a little weight when he wants to define the muscles.

• Bench press 200 pounds for several reps.

• Lift 120 kg deadlift for several repetitions.
José Soto Herrera, from the "Natural Bodybuilding" channel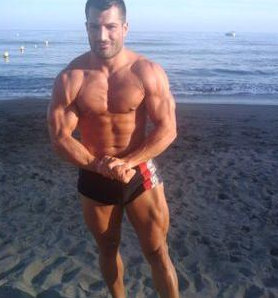 José Soto is a real natural bodybuilder, having even competed on occasion. He started his YouTube channel in 2008. He started weight training in his teens (about 17 years old). He has excellent genetics for gaining muscle mass and has accumulated more than 15 years of training. José Soto lives in Malaga, Spain, and is a personal trainer.
On his YouTube channel, "Natural Bodybuilding", he tells us the history of famous bodybuilders, teaches us his workouts and diets, the transformations of his clients, comparisons of supplements and various curiosities from the world of Fitness. The message of the channel is to bet on a natural bodybuilding and free of steroids. José Soto also has great strength, as we will see below:
• José Soto is 1.78 m tall and usually weighs between 83 and 88 kg.

• Squat: 202.5 kg

• Bench press: 135 kg

• Deadlift: 215 kg
If you want to follow natural Spanish bodybuilders, we totally recommend his channel.
Anabel Ávila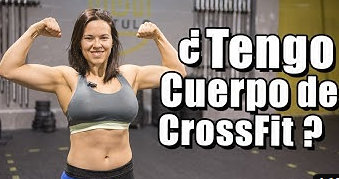 Anabel was born in Barcelona and is not exactly a benchmark among natural female bodybuilders, since she practices CrossFit. However, we wanted her to appear on the list because CrossFit shares many exercises with bodybuilding; and because her case is yet another story of overcoming someone who decided to take the step to change her body for the better.
Anabel Ávila started her YT channel in 2014. She shares strength exercise guides, training material reviews, and CrossFit news. Perhaps, you will only enjoy this channel if you like CrossFit. In this sport modality, as in bodybuilding, there is also a lot of doping. We think that Anabel presents a natural physique that many girls would like, that's why she deserves to be mentioned. Her YouTube channel has gained a good following. Currently, Anabel is dedicated to social media, a job that she combines with her family life and the role of mother. Of course, she always has time to continue training. We like her physique and dedication to Fitness.
• Anabel Ávila was born in 1987 and in a video she mentioned that she weighs 52 kg.

• Has lifted 95 kg in a squat.

• Has deadlifted 72 kg for repetitions (in CrossFit WOD).
Vadym Cavalera from Buff Academy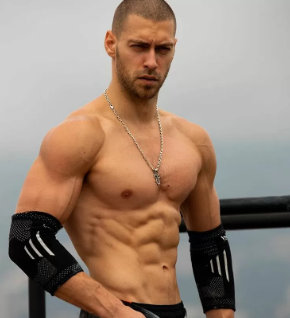 Vadym is from Ukraine, but he speaks Spanish on his YouTube channel. Vadym Cavalera is committed to calisthenics or exercises with one's own body weight. He has built a powerful physique that many would like and we believe that he has done it naturally. He started doing calisthenics at the park at the age of 12. Later, he went to the gym, but found out that he didn't like it and that he preferred to train outdoors.
At 18, he moved to New York, where he continued to train with his bodyweight on the scaffolding of a building under construction across the street from his home. He was introduced to YouTube in 2011, where he searched for tutorials on bodyweight exercises, though back then there wasn't much content yet. He had as references Denis Minin and Hannibal. Watching videos, he learned calisthenics tricks like the Muscle Up, Dragon Flag, and Back Lever .
He moved to Colombia in 2014, where he continued to improve his abilities as an athlete with outdoor training. So, he started working on social media (he opened an Instagram account). The death of his father was a turning point in his life. He decided to try harder and further his training. In 2017, he incorporated new ways of training with equipment: weight vest, kettlebell... He improved his strength much more.
In 2018, Vadym Cavalera started recording for YouTube. His channel was called "Buff Academy". What will you find in his videos? All about training with your own body weight, how to maintain a muscular and low fat body.
Education: Vadym studied Programming in Ukraine and International Business and Economics in the US. He can speak four languages ​​(Ukrainian, Spanish, English and Russian). He also has a lot of knowledge about business management and internet marketing.
Controversy: Vadym has been criticized for his radical thinking regarding conventional gym training. Vadym is simply against weight training in commercial gyms.
• He is 1.88 m tall and weighs between 84 and 86 kg. He keeps body fat low almost all the time, but at an obtainable level for a natural person.

• He can do the Muscle-Up movement with 20 kg of weight.

• He can do calisthenics movements such as dips with 60 kg of weight.
We think "Buff Academy" is one of the best channels to get the muscular physique of a natural bodybuilder in Spanish.
INVICTHOR, natural bodybuilding and humor
Víctor Domínguez started with a Fitness channel, "INVICTHOR", where he showed us his physical transformation and muscle gain. He competed on Men's Physique. His YT channel led to something that is out of the world of the gym. Today, he makes humorous videos, reactions, curiosities, criticisms or gives his opinions on politics.
Víctor went to live in Andorra, possibly to pay more favorable taxes. He has a secondary YT channel, called "Wall Street Wolverine", where he talks about business, stocks, money and current social issues. We mention him here because he was one of the famous natural bodybuilders on YouTube. Currently, he still has a good following on social media.
• He measures about 1.74 m and says he weighed about 81 kg in bulking phase. He had to lose about 13 kg of weight to define the muscles at the competition level.
Chema Menéndez, a Spanish natural bodybuilder and veteran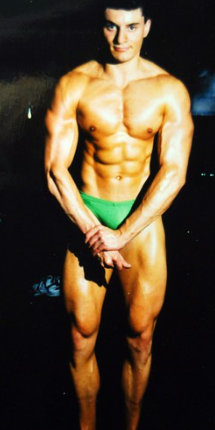 We couldn't finish this list without mentioning José Manuel Menéndez, one of the not so well known natural bodybuilders in Spain. Chema was born in 1968, in Madrid, where he was a bodybuilding instructor in various gyms. He also has personal trainer and nutrition courses.
Chema has been in natural bodybuilding competitions since 1987. He claims to have never used doping substances. He has been a finalist in several IFBB championships. Chema Menéndez is also a writer, journalist, researcher and radio host.
In his youth, he achieved a really good physique in natural bodybuilding. Today, in his 50s, he still maintains good muscle definition and continues to compete or exercise as a personal trainer.
• In recent years, he has specialized in kettlebell training routines and has written a book about it.

• He has moved away from conventional natural bodybuilding training and has opted for what he calls the "Total Gym" method. This is a kind of muscle-building machine that exercises the entire physique using the person's body weight. According to Chema, he opted for this modality due to its low impact and to prevent injuries.
YouTube is full of steroid users. That is a reality, whether we like it or not. If you were looking for references that have not used doping substances, here is a list of 11 channels of natural bodybuilders that you can follow. We have tried to find people with different characteristics: definition, large muscle volume, strength, youth, old age, etc. See you in the next article!