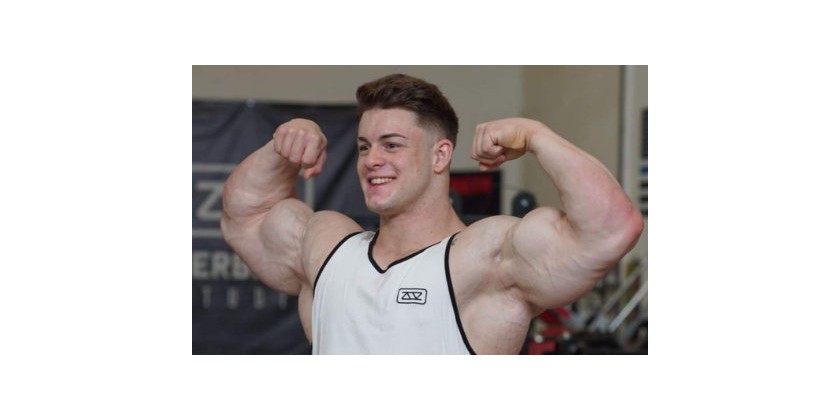 Joan Pradells has been the surprise, sensation and pride of Spanish bodybuilding in recent years. He is perhaps the most talked about bodybuilder this year. Pradells stands out for everything he has achieved in bodybuilding and strength at just 26 years of age. Know all about the acclaimed Joan in fitness, as well as the athlete's before and after . What are his strength records? How much does Joan Pradell weigh? Is Joan Pradells a natural?
Joan Pradells biography
He is today one of the best-known fitness youtubers. His career has gone through several stages, from the impressive weights he moved as a powerlifter to his recent debut as an Open class professional bodybuilder. His love for irons is indisputable, as is his passion for what he does. Pradells is a very, very heavy athlete, which has brought some problems (and also a huge strength that few humans have achieved).
Statistics of Joan Pradells Martínez
Date of birth : Year 1996
Joan Pradells height : 182 cm
Off-season weight : 125-131 kg
Competition weight : 112 kg
Nationality : Spanish
Early years and before fitness
Joan was born in Valencia and lived a generally happy childhood. He admits not having been a very good student. Of course, he has always had a stubborn behavior and is very stubborn, so he gets almost anything he sets his mind to. A young Joan Pradells started playing rugby, which was his first sporting passion.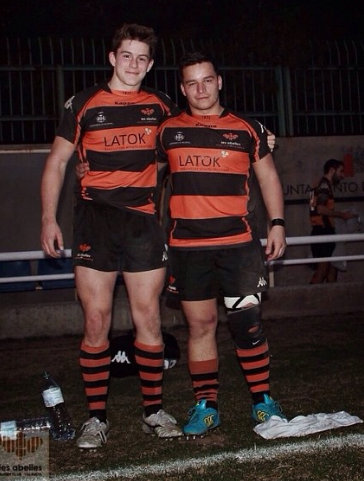 At the age of 17, he joined the gym to improve his muscle mass and strength , which comes in handy in rugby. So, he already showed some good muscular shapes and it was seen that he had excellent genetics. He would soon begin training at a private gym and go on to become a YouTube bodybuilder .
Joan Pradells gym and popularity in the YouTube fitness community
Joan loved weights and was good at strength. So, since 2017, he started uploading fitness content to the internet. In 2020, he had set up a gym in a garage with his friends, including Jordi Benlliure . This mentored Joan in powerlifting and taught his how to forcefully bring out his full potential. In the garage, where Joan was displaying considerable strength, videos of his training were recorded for YouTube.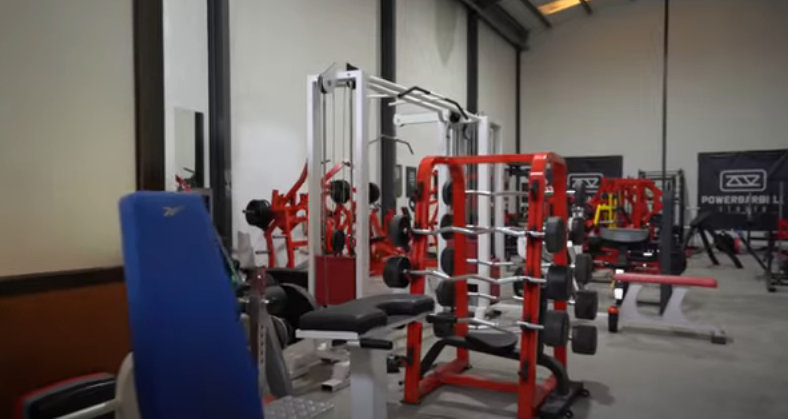 Joan's gym ship.
Later, Joan Pradells made a large investment and rented a large industrial warehouse where he placed professional gym equipment. The new equipment included professional benches and supports for pectorals and squats, Olympic bars, Eleiko discs, gym equipment with plates and Hammer style... Nothing was missing in Joan Pradells 's ship to become a champion. He moved to the ship to train with the entire team of his friends. This is where he lifted his most impressive powerlifting weights. By this time, his success of him on social media had already skyrocketed.
Pradells force marks
Joan has given us great joys in the world of powerlifting being quite young. At 25 years old and weighing between 120 and 125 kg, he has achieved the following RAW milestones:
• Squat : 360 kg (only with knee pads and belt)
• Bench press: 212.5 kg
• Sumo deadlift : 380 kg
• Sumo deadlift (variant with 8 cm platforms) : 400 kg
• Conventional deadlift : 342.5 kg
• Rowing Pendlay : 200 kg x several repetitions
• Shoulder press: 68 kg dumbbells x several repetitions
PBStudio, Joan Pradells' company
Also in 2020, Joan and his friend Jordi Benlliure created PBStudio , an online company dedicated to selling gym training equipment. PBStudio offers deadlift straps, squat knee pads, weightlifting belts, workout t-shirts, hoodies, or ebooks. This trade is accompanied by another secondary YouTube channel (which is managed by Joan and his friends). The venture has been a success, given the growing number of followers of Joan Pradells.
Joan Pradells in Myprotein
In addition to earning income from his own business, Joan Pradells is a sponsored athlete for Myprotein , the UK sports supplement giant. Pradells is an ambassador of this brand in Spain. The company offers you a good salary plus commission with the discount codes.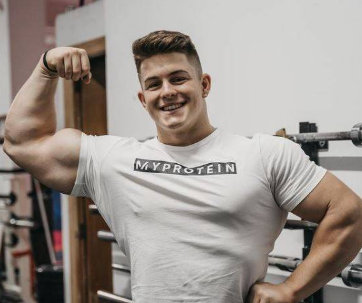 Joan's move from powerlifting to bodybuilding
With Joan Pradells, the biography would take the most unexpected turn in mid-2022. The popular youtuber announced that he was abandoning his preparations for powerlifting and that he would dedicate himself to bodybuilding. He had a lot of strength; for example, he has been known to lift 300 kg x 7 repetitions in the deadlift. In his personal gym he had broken incredible records, he had not dared to take those numbers to an official championship.
Why did you start with bodybuilding? We assume that there are several compelling reasons behind it. Bodybuilding moves more money than powerlifting. Sponsorships are better paid and aesthetics move more money than feats of strength on social networks. Also, Joan was very mentally saturated with powerlifting. Let's remember that this strength sport entails great mental exhaustion, especially at Pradells' level, who had to continually expose himself to high loads and discomfort and injuries. Bodybuilding had always been his other passion, so he decided to compete in this sport, leaving behind the inkwell to write two records that he had set for himself: 400 kg in the deadlift and 220 kg in the bench press.
The world of bodybuilding is betting heavily on Joan because his debut has been a success. The athlete has packed every competition he has attended with people. His followers flock to see him up on the dais. Now, Joan earns more money than ever. His economic stability has even allowed him to buy the old mansion of a soccer player, where he is going to move his personal gym from him.
Joan Pradells IFBB PRO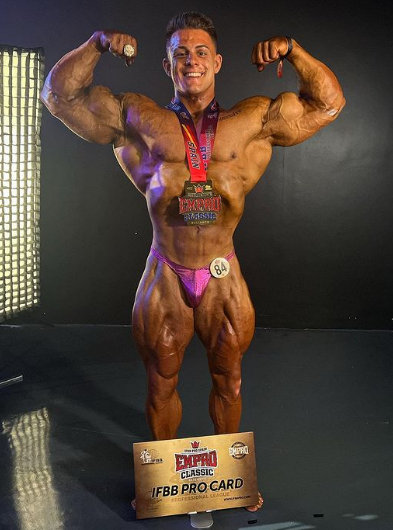 Pradells with the IFBB PRO card.
The athlete has excelled in the heaviest category of bodybuilding, Open . In this category, there is no weight limit for competitors. The biggest bodybuilders are in Open. The athlete's first two competitions (first, the bodybuilding Madrid Cup ; then, Joan Paradells was at the Empro Classic in Alicante ) were two victories in a row for him. That was how he got his IFBB PRO card from him.
At the national level, it has already stood out. Now, his dream is to make the leap to international competition. For Joan Pradells, Mr. Olympia is the goal. He can give a lot to talk about. With his 1.82m height and off-season weight of 131kg, he is on the right track. He has aesthetic and proportionate muscular forms. His waist is pretty good for a heavy bodybuilder. Joan would like to weigh more than 140 kg to become a true mass monster. His success has been so great that the media have not been slow to reach him. In Joan Pradells in La Sexta he has been interviewed to talk about his sport. Bodybuilding had never been a sport that captured the attention of the media.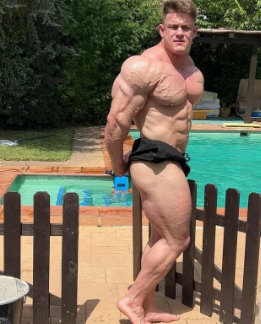 Joan presenting a remarkable bodybuilder physique in a triceps pose.
Curiosities and personal life of the Spanish bodybuilder
If you liked Joan's biography , you can stick around to learn a little more about this athlete.
Does Joan Pradells have a girlfriend?
Yes, Joan Pradells' girlfriend in 2022 is called Marta PCJ . She is one of the girls in the group of lifters who trained with Joan at the gym. Marta is a nutritionist and powerlifter. Also, she is Joan's camerawoman. She is the person who shoots and edits his YouTube videos.
A fan of USA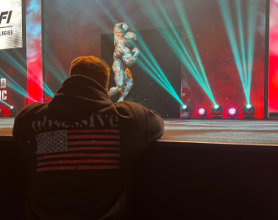 Pradells loves the culture of the United States and has traveled to the United States several times to spend time in areas such as New York or Las Vegas. His passion for the United States is reflected in the clothes he designs for his store, PBStudio, where we always see an American flag on sweatshirts or backpacks.
What is Joan Pradells Obsessive?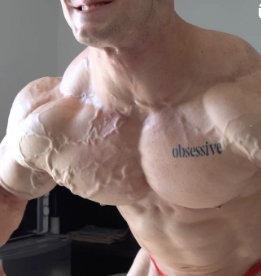 Joan Pradells Obsessive is the name of a documentary about the athlete made by Itaca Prods . It can be seen on Joan's YouTube channel. The word "Obsessive" is always present in many of Joan Pradells' products. He refers to people who are obsessed with their goals to achieve them no matter what, just like he does in the gym.
How many calories does Joan Pradells consume?
He has come to make diets of more than 6300 calories for volume. He really likes to use several protein shakes a day to get to the calories he needs.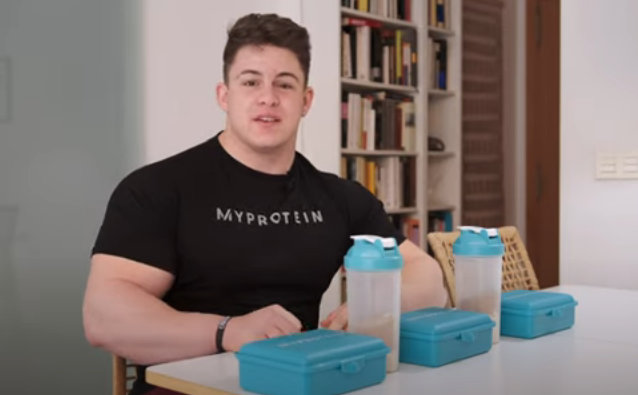 What are the measurements of Joan Pradells?
Actually, there isn't much current information on the length of Joan Pradells' arms or legs. In a 2020 video, he measured his quadriceps with his friend Jordi Benlliure's and he had about 70 cm of quadriceps . This measure has probably already increased because he now weighs 10 kg more than then. In another video from 2020, he had almost 22 inches of biceps .
Nicknames of Joan Pradells
"The Spanish Nick Walker" (because of his great muscular size and youth). "Carapiña" (only the youtuber Gymsroka has called him that).
Controversy over Joan Pradells, controversy, Jordi Benlliure, chemistry...
Like any other media figure, Pradells has been criticized and involved in controversy. The following are the best known.
Athlete's Naturalness: Pradells has claimed to be a natural at some point in his career where he already drew a lot of attention for a physique only achievable with performance-enhancing substances. This caused the discontent of some followers.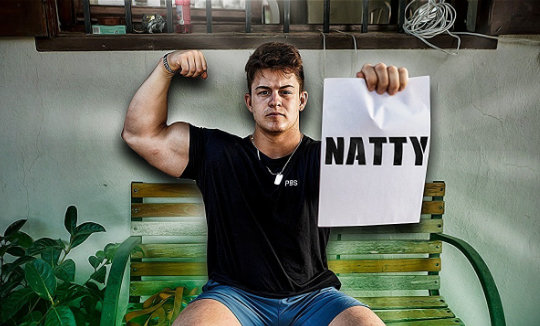 Flexa bar controversy: His deadlift records have been called into question several times because Joan bought a special bar that flexes to do the exercise. The flexa bar makes the discs located on the ends take off before the ground and facilitates the exit in the sumo deadlift. It has been questioned even by strength athletes like Strongman Tarrako. However, even with the flexa bar, the 380 kg he has lifted is real. In addition, Joan has managed to lift 340 kg in conventional deadlift with the rigid bar.
Breakup of his friendship with Jordi Benlliure : Jordi was Joan's powerlifting coach and was very important for his success. In addition, they created the company PBStudio together. Sometime in 2022, the two parted ways. Joan did not mention Jordi in a video when he won the Spanish championship, which caused the discontent of many fans, who saw Joan's ungrateful attitude towards his friend.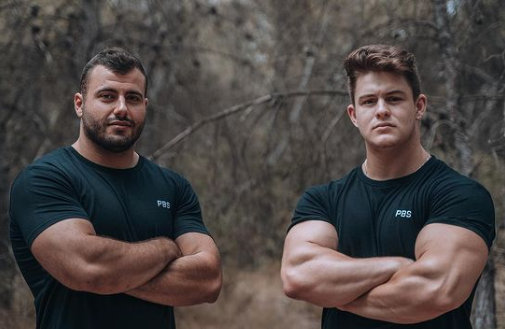 Joan Pradells with his friend Jordi Benlliure.
The great weight for the height: In many of his last videos, Joan has shown difficulties in speaking and breathing. This is due to the great weight of the athlete, who has already reached 131 kg. Fans have criticized that Joan could be gambling with his own health by pushing his body to the limit required by professional Open bodybuilding.
Joan Pradells before and after
The photos show the before and after of Joan until he weighed more than 130 kg of muscle.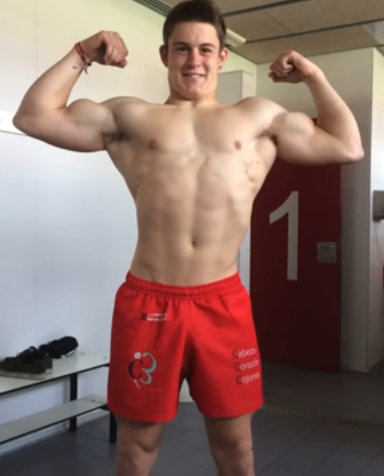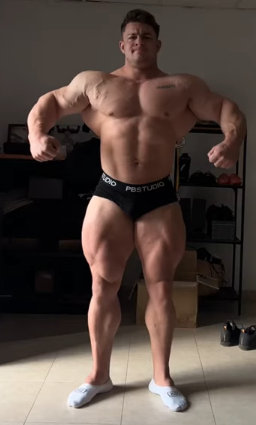 Joan Pradells training style in bodybuilding and strength
We could define Pradells' style as basic and heavy . He likes to give each exercise a lot of explosiveness and does the repetitions very quickly. In powerlifting, he has a good command of the low bar squat and the sumo deadlift; and he benches with a lower back arch, but not exaggerated.
Joan favors starting strength training with the basic exercises: squat on leg day, deadlift on back day, and bench press on chest day. He has been seen doing workouts focused on just the legs or just the pushing exercises. On quite a few occasions, he has done squats and deadlifts in the same day.
In powerlifting training, Joan began with strength exercises, worked in ranges such as 3 x 5, 5 x 5 or 3 x 8. Later, he moved on to other complementary basic exercises and finished the training with the machines and pulleys. For example, a Pradells back routine can start with a heavy deadlift; afterwards, he moves on to the heavy Pendlay oar. Finally, he finishes with pulldowns, bench rows, and machine rows.
In powerlifting, Pradells sometimes supplements the main exercises with variations. For example, he has used the following variants and complements on the recommendation of Jordi Benlliure:
• High bar squat (which is not your usual squat for strength).
• Squat with the Safety bar .
• Deadlift with platforms (5 cm, 8 cm...).
• Good morning with Safety bar .
• Bench press with pause in the safety supports .
• Squat with pause in the safety supports .
• Rowing explosive Pendlay .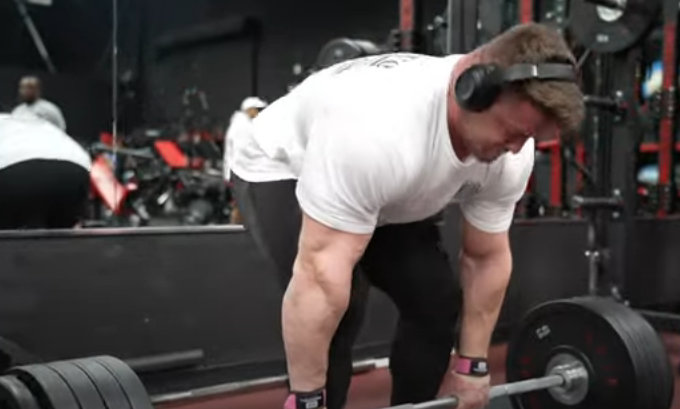 Pradells training.
Training of Joan Pradells in bodybuilding
When he started bodybuilding, we can say that Pradells made changes in his training style . He added more high bar squats and conventional deadlifts because these exercises are better for muscle mass gain than the other variants. Pradells' training , in general, is high volume , with lots of explosive exercises, sets, and reps. With his entry into bodybuilding, Joan began to use many more machines, rather than bars. This is possibly because he thus achieves better isolation. He really likes Hammer or lever machines, where he exercises biceps, triceps, rows...
Joan rarely does barbell military presses. Instead, he prefers the heavy dumbbell overhead press. He also uses heavy dumbbell incline presses a lot to work his chest.
Beyond failure ... A characteristic of Joan's training is that he often pushes the set beyond muscular failure on many exercises. For example, on a lat pulldown, he often continues to do partial reps when the strength to fully exhaust the muscle fails. It is a technique that can be devastating.
In general, we can say that Joan's style is hybrid, that he uses a high volume of work and that he is very explosive. He is not as focused on repetition control as other athletes like Nick Walker .
Trainers
- Jordi Benlliure (powerlifting)
- Fede Guevara (bodybuilding)
- Paco Bautista (bodybuilding - punctual)
Joan's physique
Joan has a huge genetic advantage for lean muscle mass gains, along with strength few lifters could match. He has a wide, stocky physique with rounded muscles. He is also very symmetrical.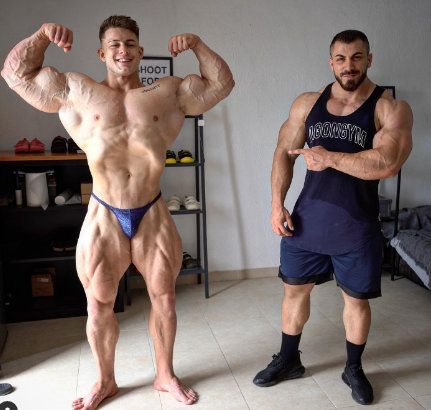 Joan with Fede, his bodybuilding trainer, showing a very heavy and incredible physique.
The best of Joan
- Shoulders and pectoral.
- Biceps and arm in general.
- Quadriceps (one of his strongest points).
- ABS.
The worst of Joan
Joan is really impressive and big. His physique has been analyzed by former professional competitors and they have only found two points to improve:
- The breadth of the back.
- The femoral.
Considering Joan's youth, these things will improve with years of training. Professionals have also recommended that he not do abdominal vacuums in the poses because he simply looks better showing off his abs.
Is Joan Pradells a natural or a consumer?
In response to the question , is Joan Pradells a natural? We think that Joan's body cannot be achieved naturally . At some point in his youth, he already began to have very thin skin (like paper) and muscles that attracted attention. His strength marks are quite high for a natural athlete. Joan has competed at over 250 lean pounds for 6', stats that natural bodybuilders don't have.
Although Joan may have used substances, his physique and strength records are not achievable for most people even if they used the same substances. He has, without a doubt, very good genetics and a persistent mind that achieves what he sets his mind to. For that, he is a champion.
Pradell's contribution to bodybuilding
Bodybuilding has always been a minority sport with little chance of making national news. Pradells has managed to gather a large crowd of followers in his competitions and has made the media interested in bodybuilding. His social work and contribution are incalculable. Thanks to athletes like Pradells and Jorge Tabet , in the Classic category, Spain can boast of competent bodybuilders at the international level.
Joan Pradells will continue his path as a PRO and on YouTube, with a channel that doesn't stop growing. We wish him the best of luck in his goals. Thank you for staying to read the biography of a renowned Spanish athlete.