A hamburger will always be nutritious and delicious. Remember that it is a product of red meat, caloric and that it is not recommended to consume regularly. However, athletes burn many more calories and can afford to eat more hamburgers. Here, you are going to meet the Kevin Bacon Burger. It is very good and is one of the most demanded. It is served in a large number of restaurants, such as London's Goiko Grill.
First of all, let's go with the Kevin Bacon burger recipe, in case you want to learn how to make it at home. Then, we will recommend some places to eat it.
How to make a Kevin Bacon burger?
Know the ingredients of this delicacy:
• Beef or pork.
• Smoked bacon.
• Slices of cheddar or American cheese.
• Crispy onion.
• Hamburger bun (size to suit the diner).
Extras:
It can be accompanied with a fried egg or jalapeños.
Methods of preparing a Kevin Bacon Burger
There are two great ways to do it. Grilled or grilled.
Grilled Kevin Bacon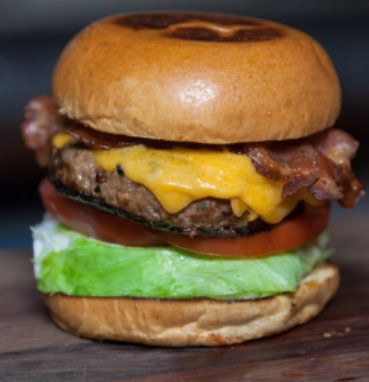 It is the traditional way. You need a grill or grill to place the whole meat on top. Give it a few cuts with the knife but without breaking it; this will help it cook better inside.
1. Put the meat on the grill. Also place the slices of bread to warm them up.
2. Fry the crispy onion separately, in a frying pan. Also fry the jalapeños and the egg (if you have chosen to include them in the recipe ).
3. You can fry the bacon or put it on the grill or grill, whichever you prefer.
4. When everything is cooked and hot, it 's time to assemble the Kevin Bacon burger. Do it as follows:
- On the base bread, first place the crispy onion (and jalapeños).
- On the onion, mount the meat.
- Put the slices of cheese on top of the meat. If it's freshly made, the cheese won't take long to melt.
- Finally, place the egg (if there is one) and then the crispy bacon.
If you arrange the ingredients in this way, the Kevin Bacon Burger recipe will be an explosion of flavor in your mouth.
Grilled Kevin Bacon Burger Recipe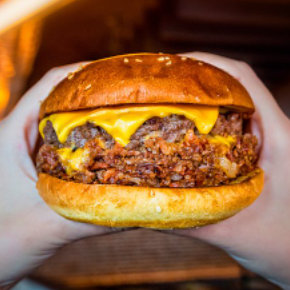 This formula is different, since we are going to chop the meat to put it together with the other ingredients on the grill.
1. Bathe the griddle with a jet of oil (better if it is EVOO). If you want a healthy dish, don't add too much oil.
2. Chop the hamburger meat and bacon. Also chop the crispy onion.
3. Put everything on the griddle, both the meat and the chopped bacon as well as the onion.
4. When the ingredients are cooked, distribute them on the base of the bread.
5. Put slices of American cheese on top of the ingredients. Then you can put a fried egg on top.
6. Squeeze the bun on top to close the Kevin Bacon Burger so it's well infused with flavor.
The burgers can be bathed in delicious barbecue sauce. And don't forget the fries!
Great, now you have it! Choose the preparation method that you like the most. Now, let's solve some frequently asked questions about the recipe.
Kevin Bacon Burger Recipe FAQ
How many calories are in a Kevin Bacon Burger?
Calories in a Kevin Bacon burger usually change depending on whether it's homemade or from a restaurant. Let's see what the nutrients and calories are like.
• Homemade Burger: 730 calories - 51g carbs (29%) - 34g fat (43%) and 50g protein (28%).
• Restaurant Burger: 875 calories - 51g carbs (26%) - 45g fat (51%) - 46g protein (23%).
We have taken Goiko Grill Kevin Bacon as a reference. Of course, if you add the fries, the calories go up.
Where to eat Kevin Bacon hamburger in London, United Kingdom and the price?
You can eat Kevin Bacon burger at Lucky Chip - Netil Market in London. You can order It by phone 020 7354 9993.
Outside of London, another interesting place where you can buy Kevin Bacon burger in the UK is Cafe at the End of the Universe restaurant. Phone number is 01925 428 587.
What´s the price? The average price for a Kevin Bacon hamburger in the UK is 8,5 GBP.
Where to eat Kevin Bacon burger in Canada?
These burgers are prepared all over Canada, but a very good and recommended place is The Works Craft Burgers and Beer. Here, you´ll find the dish named "Six Degrees of Kevin Bacon" with delicious Canadian bacon, smoked bacon, smokey BBQ, 3 strips of signature maple bacon, bacon roasted garlic aioli & bacon sauce and sticks with lettuce & tomato.
What´s the best place to eat Kevin burger in Ireland?
There is no doubt you should visit Bownest Kitchen if you are in Dublin and order a Kevin Bacon for less than 10 €. You´ll enjoy a cheesy burger with many extras: Hickory Smoked Bacon, Mature Cheddar or american cheese, crispy onion, jalapenos or fried eegs.
Where to eat Kevin Bacon hamburger in Spain and what´s the price?
Perhaps the most famous restaurant that makes the Kevin Burger is Goiko. This hamburger chain has restaurants in many cities in Spain. Maybe you can enjoy a Goiko Kevin Bacon in your area.
There is the Goiko Grill restaurant in Barcelona, ​​Madrid, Valencia, Seville, Goiko Grill in Bilbao, Goiko Grill in Malaga and many other Spanish cities.
What is the Kevin Bacon burger price? A full menu with a Kevin Bacon burger plus extras can cost around €15-20 per person.
Kevin Bacon hamburger phone: The only way to contact Giko Grill by phone is to write to his WhatsApp: +34 602220309.
The Kevin Bacon hamburger in other Spanish-speaking countries
Where to try it in Argentina? The best place to eat a Kevin Bacon burger is Palermo, a well-known neighborhood in Buenos Aires.
We love that you've read us this far! You already know how to make the Kevin Bacon Burger and a restaurant of interest to eat it. You can enjoy it now. Optionally, you can continue reading a bit of history that we have prepared for you.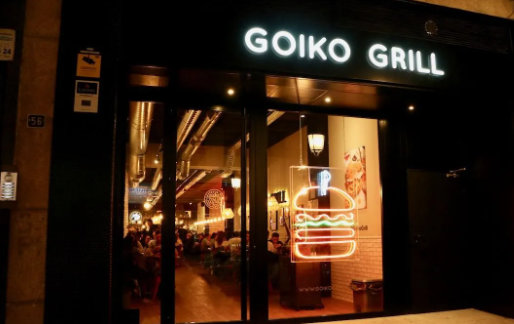 Brief history of the Goiko Grill
Goiko Grill was founded by Andoni Goicoechea, a young Venezuelan of Basque descent, in Madrid in 2013. Andoni had arrived in Madrid earlier that year to work as a resident doctor, but a change of plans led him to open, with the help of close relatives, his first gourmet burger joint.
Four years later, Goiko Grill has 25 restaurants throughout Spain, including cities such as Zaragoza, Seville and Valencia.
The company's objective for 2017 was to close the year with 26 establishments and a turnover of 21,000,000 euros.
What is the history of the cheeseburger?
The credited inventors of the bacon cheeseburger, A&W Restaurants, turned 100 on June 20, 2019.
According to the company, A&W franchisee Dale Mulder invented the bacon cheeseburger. He later became president of A&W and remains so today.
According to a 2015 Thrillist article, Mulder's customers were asking for bacon on top of their cheeseburgers, so he decided to put it on the menu.
The long-standing chain also had to mention its iconic Root Beer drink when touting its long history as a restaurant.
"Today, A&W is the strongest it's been in decades, in part because we've literally gone back to our roots: serving freshly brewed Root Beer in frosty mugs alongside American food favorites."
A&W also outlined its long history of supporting veterans of American wars dating back to World War I.
"There's a lot of history in 100 years, but our longstanding connection with veterans is a common thread," said CEO Kevin Bazner. "That's why we're especially pleased to once again support the Disabled American Veterans - DAV - as part of our celebration."
Another version of the burger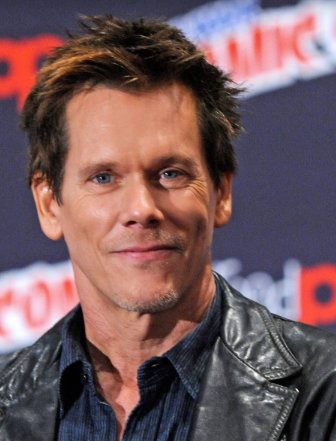 This burger is named after actor Kevin Bacon.
The Kevin Bacon is simply a new take on the classic bacon burger. Who is Kevin Bacon? This burger honors an American actor, who you will surely know from great movies like "Emblores" (of the fearsome sand worms) or "Río Salvaje" (where he played the bad guy).
The Kevin Bacon Burger is a new version of the classic that adds crispy chopped onion. You can make it yourself as we have explained or try Goiko's Kevin Bacon.