Would you like to know if it is profitable to set up a gym ? What is the budget to open a gym ? You should know that opening your own gym is an achievable dream for almost anyone with some savings and enthusiasm. But of course, it all depends on what type of gym we want to open. If we talk about a gym of about 300 m2 in a small city, this is within the reach of many people. On the contrary, if it is a low-cost chain gym of 2000 m2, the investment will be much more important. Clarify your doubts with our experts!
Is opening a gym profitable?
Yes, without a doubt, setting up a gym is profitable . These sports centers are expanding and have experienced high demand in recent decades (a demand that continues to grow, by the way). We are increasingly aware of taking care of our health and our body. In addition, gyms cover an increasingly larger audience. These centers no longer only welcome classic bodybuilding practitioners, but also boxers, martial arts practitioners, people who attend group activities... In addition, other modalities have emerged, such as Crossfit, whose initial investment is much more economical. There are also the extra services of today's gyms, such as sauna, massages and even indoor pool. Currently, in the gym there is a place for each type of public. The more sectors of the population you manage to reach, the more profitable your establishment will be.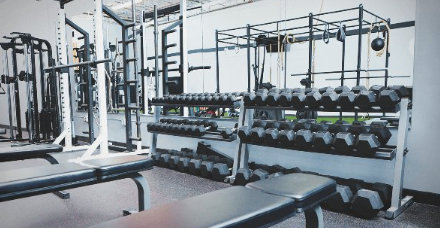 The time it takes to have a profitable gym can vary greatly, but on average it can take between 1 and 3 years . Factors such as initial investment, ongoing expenses, and success in marketing efforts can affect the timing of breaking even. The average profit margin for a gym can range from 10 to 30% , depending on factors such as size, location, and services offered. This margin is comparable or even higher than other industries, especially if the gym effectively manages its expenses and optimizes its income.
What does the profitability of a gym depend on?
The profitability obtained after setting up a gym depends on several things. We can say that the most important thing is the location, the target audience, expenses and competition . A sports center located in the center of a large city will have a good number of potential visitors on foot; However, the rent for the premises will be more expensive here and, in addition, there will be fiercer competition. A gym in a small town will have less competition, but will also potentially be less profitable.
Initial capital is a critical factor to consider. The more money you have to invest, the more machines and services you can offer, which will expand your target audience. In addition, you can pay for a larger location. Other important aspects are your marketing strategies. These are your efforts to raise awareness of the establishment and get people interested in visiting it. Then there is customer retention, which consists of building loyalty among people who have already paid for a membership to our gym.
It is important that you know that opening a gym is not usually profitable immediately. Like many other businesses, a significant initial investment is required. This may include the costs of renting or purchasing the space, renovating the space to meet the gym's needs, purchasing fitness equipment, hiring staff, and marketing to attract members. Please note that when the gym is open, it incurs recurring expenses such as rent, supplies, staff salaries, and equipment maintenance. Depending on location, competition, and the effectiveness of advertising strategies, it can take months or even years for a gym to become profitable. Achieving profitability will be the result of efficient management, good cost control and effective advertising strategies. All of this can play a big role in determining the success of a gym .
How much is the budget to set up a gym?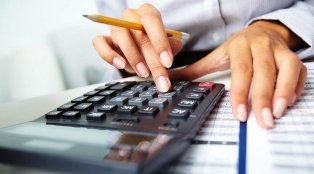 Let's be clear here: the budget for a gym can vary greatly depending on the factors that we have explained (location, size of the premises, material, competition...). You could set up a small gym in a medium-sized town or city with a budget of around €40,000 . This would be for a basic gym with major weight machines, some cardio equipment, and a group activities room. Larger gyms in cities, with more services and staff, may require up to €100,000 and even €500,000 of initial investment. It all depends on how ambitious the project you want to carry out is, but the truth is that it is quite difficult to open a complete gym for less than €40,000.
You also have to consider whether the machines will be second-hand or new. Second-hand material reduces costs considerably. You can set up your gym perfectly with used machines. A coat of paint and new upholstery can do wonders.
Another even cheaper option is to set up a gym for a personal trainer . For this, a small premises will be enough. Of course, the material will be very basic and will only allow two or three people to train per session. This will not be a gym per se, but if you are a personal trainer, it will help you start working. A basic personal trainer gym only requires a weight rack, some bars and plates, pull-up bars, a couple of benches and perhaps a tower with pulleys to train your back and arms. This investment will even be below €10,000 .
What material will be in the budget of a complete gym?
Next, we are going to present all the material and other effects that you will need to set up a gym. We will give the example of a small gym located in a town or a medium-sized city (about 20,000 inhabitants). We put this example of a budget to set up a gym because it is the project that most of the people who consult have in mind. Yes, we already know that there are larger and better located gyms, but they are usually managed by people with great purchasing power, a business history and a team of advisors who help and carry out the project. The profile of someone who wants to set up a large low-cost gym is not typically the person who consults about the budget on the internet.
Most people who want to know the budget to start a gym intend to open a simpler and more basic business. This is perhaps even your first entrepreneurship idea. The budget to start is limited and questions arise: what equipment should I buy? What are the machines I need? How much does insurance cost?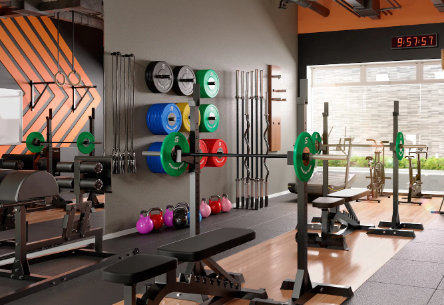 We are experts in training , so we know all the basic gym machines to get a person in shape. Our example budget will include all the most important equipment that a gym should have. We understand that the prices are for professional and new equipment (never install household equipment in a commercial gym).
| | |
| --- | --- |
| Material: | Cost : |
| Bench press | €750 |
| Flyes machine | €1000 |
| Incline bench press | €750 |
| Machine with high pulley for dorsal | €1000 |
| Machine with low pulley for dorsal | €1000 |
| Station with crossover pulley | €2000 |
| Multipower Station | €800 |
| Squat and shoulder rack | €600 |
| quadriceps machine | €1000 |
| femoral machine | €1000 |
| leg press | €1000 |
| Pulley tower for biceps and triceps | €800 |
| Horizontal rowing machine with levers | €800 |
| Machine with levers for chest | €800 |
| Machine with levers for shoulders | €800 |
| 2 flat benches | €600 |
| 2 inclined benches | €1000 |
| 1 Bench for calves workout | €400 |
| 1 Hyperextension bench | €400 |
| 1 Decline abdominal bench | €400 |
| Gymnastics trellis | €300 |
| Chest and triceps dip machine | €800 |
| multi-hip machine | €1000 |
| Dumbbell rack with 13 pairs from 2 to 40 kg | €2400 |
| 2 treadmills | €4000 |
| 2 elliptical machines | €1800 |
| 5 stationary bikes | €3000 |
| 5 long bars | €250 |
| 2 medium bars | €60 |
| 2 EZ type bars | €80 |
| 5 pairs of 20 kg plates | €500 |
| 6 pairs of 15 kg plates | €270 |
| 10 pairs of 10 kg plates | €500 |
| 8 pairs of 5 kg plates | €200 |
| 10 pairs of 2 kg plates | €100 |
| 10 pairs of 1 kg plates | €50 |
| Plates holder | €100 |
| Bar holder | €100 |
| 12 m2 of rubber floor for weight area | €360 |
| 2 large wall mirrors | €200 |
| Reception furniture | €500 |
| Music system with speakers | €100 |
| 15 step platforms | €350 |
| 8 Body Pump bars | €120 |
| 10 gym balls | €100 |
| Aerobic Dumbbell Set (4 Pairs) | €65 |
| Medicine ball set (5 balls) | €160 |
| 3 sets of elastic fitness bands | €15 |
| 3 gym belts | €75 |
| locker room bench | €160 |
| Locker cabinet | €400 |
| 8 pilates mats | €120 |
| 3 wall hangers | €60 |
| 3 massage rollers | €50 |
| 2 abdominal wheels | €15 |
| Plyometric box | €130 |
| Professional pull-up bar | €60 |
| Total: | €35,450 |
Ok, this is the budget you need when buying the equipment to set up a gym , without any traps. It's about €35,450. Does that seem like a lot of money to you? Or is it less than you expected? And we have gone downwards assuming that we are going to buy the material from the cheapest ranges. The amount could have gone up much more. We have not included shipping either, although if you buy all the equipment from the same supplier, shipping may be free.
How to open a basic gym? This is what you need to set up a basic gym. Some machines will cost you a little more and others a little less than what we have adjusted. It all depends on how you look for the material. Additionally, you may be able to get a 10 or 20% discount on the quantity if you decide to buy second-hand or from an Asian supplier. Some gym machines from China are really well priced and shipping from one continent to another is usually not expensive. Now, you must take care of finding out if the manufacturer will be reliable. In these circumstances, you may be able to get all the material for around €31,900 or €28,360.
The costs listed are for the material only. The price of setting up a gym includes some more costs at the beginning that must also be added.
Other budget expenses for a gym
Remember that equipment costs are the bulk of the budget to open a gym . The other expenses are opening licenses, security studies, the premises...
Initial expenses
• Deposit for the premises : It is very possible that they will ask you for an advance payment of 1 or 2 months for the premises (if you are going to rent an establishment). This deposit may be between €500 and €1000. In addition, it will be better that you have savings to also cover the first months of rent, while you get a client base to at least cover the expenses of your gym.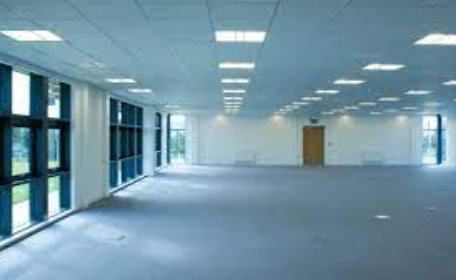 • Opening license : Those who want to know how to set up a gym in Spain have to take into account this expense, since the license is required in all communities, provinces and municipalities. An opening license is granted by the municipality where the business will be established and usually costs around €1,000. It is rare for a gym license to cost more than €1,000, as the business is not dangerous for the environment or people's health.
• Safety studies : It may be necessary to accompany the opening license with a study carried out by a professional to guarantee that the premises meet the minimum safety requirements to carry out the activity. The price of this will depend on the expert hired. The aspects that will be checked will be the existence of a first aid kit, fire extinguishers, ventilation of the premises, emergency exits and signage, training of the manager in occupational risk prevention, etc.
• Company constitution : In Spain, it is necessary to become self-employed or open a company to start any economic activity. Setting up a company requires a minimum capital of €3,000, although you do not need to open a company to set up a gym or hire a personal trainer. In fact, you can start your business perfectly as a self-employed person, which has no opening cost. You will have to take into account the costs of the agency for the paperwork at the beginning.
• Gym insurance : You will need civil liability insurance to cover any damage that third parties may suffer during the course of the activity. The price of this policy is about €200-300 per year . You can request more coverage, for example, for machines in case of damage or fire, although this is not mandatory.
Broadly speaking, these are the amounts of a gym budget . You can invest more if you want more material, such as a pair of punching bags and gloves for users, for example. Or a martial arts tatami. You decide yourself what type of gym you want to open.
How to set up a profitable business gym?
Well, we already know the investment to open a gym . If you have thought "I want to start a gym" and you are clear about this, the next step is to look for profitability. You may love training at the gym, but this is not just fun. The purpose of every business is for the company to be profitable, it is to make money. Things are simple: a gym has monthly expenses and benefits (mostly from the users' monthly membership). When the benefits exceed the expenses month after month, we can say that setting up a gym is profitable . How will I know if my business will prosper? You will have to do the numbers.
- You have to know what the gym expenses will be approximately.
- You have to establish a price for the monthly fee (or several prices; some centers choose to give discounts if they are paid, for example, several months in advance or the price for the entire year).
- You have to know the number of monthly clients (approximate) to know what fee will cover expenses and generate profits.
You have to be extremely careful when determining your gym fee. If there is a large low-cost chain nearby, it will be practically impossible for you to compete on prices. Of course, you can also offer a unique service to compete, such as excellent personal training for clients.
We return to the example of a project to open a small or medium-sized gym. The first thing is to know the expenses that this business will have.
Monthly gym expenses
• Rental of the premises or industrial warehouse : €500
• Electrical supply : €312; We base it on the fact that the establishment consumes 10 kWh per hour and is open 12 hours a day. The price per kWh is €0.13 (2023). If we open the business 5 days a week, we must multiply 10 kWh x 12 hours x €0.13 x 20 days of the month.
• Water : €60 per month, although this price will depend on the frequency with which users use the showers, for example.
• Social Security contribution : €230; This is the price in Spain of the minimum fee for a self-employed worker, although we will see that this price will rise if income increases.
• Maintenance : €100; This is an estimate that includes labor, part replacements, greasing the machines, etc., but if you are a "handyman" you may be able to avoid this expense!
• Civil liability insurance : €22
• Manager/personal trainer : €1,760; if we assume that the employee will work two shifts a day (for example, from 7:00 in the morning to 1:00 p.m. and from 4:00 p.m. to 9:00 p.m.). If we open from Monday to Friday, there will be a total of 11 hours of work per day or 55 hours per week. The coach's salary includes Social Security contributions. This is for minimum wage, but obviously this expense will increase if you decide to offer a better salary to your gym trainer. Another option is to hire two managers (one for each shift).
• Cleaning (possible expense) : €140; Maybe you need a freelance cleaner to spend a few hours a week cleaning the gym. This expense does not have to be included, since you or a family member could do the cleaning tasks yourself. And there is also the possibility of having a robot vacuum cleaner that does the job on its own.
In total, estimated expenses for your business would be €2,984 , or €3,124 if you hire some weekly cleaning.
Income needed to set up a profitable gym
Finally we know the expenses that your sports center will have. Now, it is necessary to acquire a portfolio of clients who are willing to pay the gym fee and overcome expenses. To talk about a profitable and functioning gym, the ideal would be to charge a price of €25 per month and acquire at least 200 permanent clients . During some seasons there will be more clients and at other times there will be fewer, but the average should be around 200.
If you are located in a good area and have included everything we have listed in the budget to open a gym, you should acquire this number of clients perhaps in the first 2 years of business.
200 clients x €25 = €5000 per month
With €5,000 in income we can already say that setting up the gym is profitable. Remember that from both income and expenses, you will have to deduct VAT, which in Spain is 21%, so let's do the math (we divide the figure by 1.21).
€5,000 / 1.21 = €4,132.23
€2,984 / 1.21 = €2,466.12
€4,132.23 - €2,466.21 = €1,666.02
So, is it profitable to set up a gym? Our small gym would give us a monthly profit of €1,666. To some it will seem like a lot and to others it will seem like a little, but if you set up the gym as we have proposed, the profit will be a fairly passive income . We won't have to dedicate too much time to it and we will have fulfilled the dream of owning our own gym to generate income.
We have assumed that we will set up the gym in Spain, so the Treasury will withhold 20% of the personal income tax on our income. However, it is possible that at the end of the year they will return money to us after declaring the income.
Also note that we have only considered revenue from user fees. There are a few more ways to make extra money with our gym. For example, if we rent the activity room to gymnastics, martial arts teachers, etc. Or if we decide to sell protein supplements or set up a vending machine. All of this will add up to a little more money.
If we get more customers, we can even lower the price of memberships. If we get 250 clients to come, we can charge €20 per month to reach that €5,000 of income. The point is to test different pricing strategies to find a balance between the well-being of customers and our profits.
Do I need a qualification to open a gym in Spain?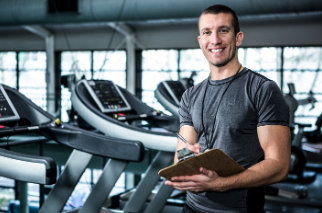 Another option to earn more money is to work in your business yourself as a manager and coach. In this case, you save the employee's €1,760 and add it to your earnings. You would have an approximate salary of €3,426, but you will have to work yourself in your gym.
There is no regulation that requires you to have a qualification to open a gym . However, it is advisable to have a personal trainer degree in order to gain the trust of clients. Obtaining this qualification usually does not cost more than about €500. A recommended qualification is the NSCA-CPT , which is international.
Are you interested?:
How much does it cost to set up a Crossfit gym?
The budget to set up a functional or Crossfit gym is much cheaper because weight machines are not necessary in this business. Crossfit activities are carried out entirely with racks, pull-up bars, bars and plates, kettlebells, jump ropes, and medicine balls. Thus, the budget for a Crossfit gym ranges between €15,000 and €20,000. The premises for a Crossfit box will also be smaller, so we will save money on the lease.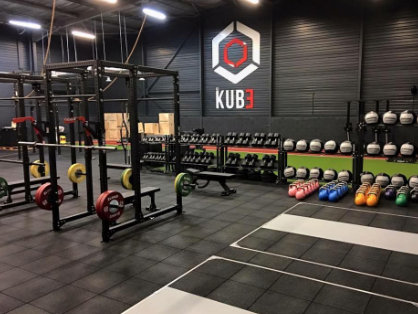 How to set up a functional training gym? Let's see what material I need to set up a Crossfit gym :
| | |
| --- | --- |
| Material: | Cost : |
| 5 racks or wall structures | €3000 |
| 5 Olympic bars | €500 |
| 2 packs of 200 kg of bumper plates | €1150 |
| 8 Olympic plates of 1.25 kg | €80 |
| 8 Olympic plates of 2.5 kg | €88 |
| 2 bumper plates holders | €200 |
| 4 pull-up bars | €240 |
| 3 sets of TRX bands | €200 |
| 4 plyometric boxes | €520 |
| 2 sets of 4 functional bags | €520 |
| 3 sets of medicine balls | €480 |
| 2 sets of 6 "slam balls" | €500 |
| 6 sets of fitness elastic bands | €60 |
| 2 professional punching bags | €400 |
| a drag sled | €200 |
| 4 targets | €200 |
| 20 professional jump ropes | €240 |
| 2 combat ropes | €80 |
| 4 abdominal wheels | €30 |
| 5 agility ladders | €30 |
| 2 pairs of gymnastics rings | €60 |
| Crossfit stopwatch | €100 |
| 16 pilates mats | €240 |
| 2 striking hammers | €80 |
| Stand with 12 pairs of dumbbells | €2000 |
| Set with 8 pairs of kettlebells | €1100 |
| Music system with speakers | €100 |
| Total: | €12,398 |
• A set of bumper plates should include 4 x 5 kg plates, 4 x 10 kg plates, 2 x 15 kg plates, 2 x 20 kg plates and 2 x 25 kg plates.
• A set of 6 slam balls could be 4kg, 6kg, 8kg, 10kg, 15kg and 20kg.
• You can get some free material for your box. For example, you can get 2 large tractor wheels at any vehicle scrap yard.
With this material, you can set up a basic Crossfit gym . As you can see, the budget is about €12,398 for new material. However, the budget will increase if you also want to add reception furniture, lockers, some mirrors or even a rubber floor for your premises.
| | |
| --- | --- |
| Material: | Cost : |
| Reception | €500 |
| Mirrors | €200 |
| locker room bench | €200 |
| box office | €400 |
| Hangers | €60 |
| 60 m2 of rubber flooring | €1800 |
| Total: | €3160 |
With these utilities, we would have to add €3,160 more to the budget for a Crossfit gym . As we have seen, setting up a Crossfit gym is cheaper than opening a conventional gym. In addition, functional training is a trend, so this type of sports center will be in good demand if it is well located.
How to open a basic gym for a personal trainer?
The last case that we are going to see is a good way to start with your first gym when you have a low budget. It involves opening your own small personal trainer gym for individualized sessions or small groups. You don't need much material! You won't require too much space either. Your place may be much smaller and cheaper. You can set up a gym in a garage to do perfectly personalized workouts.
Don't think that setting up a personal trainer gym means making little money! Keep in mind that you may have fewer clients compared to a conventional gym, but the price you can charge for individual sessions will be higher . It is possible to charge up to €60 or €80 per hour! About 20 clients with a couple of weekly sessions each will already give you a good salary. What material do I need?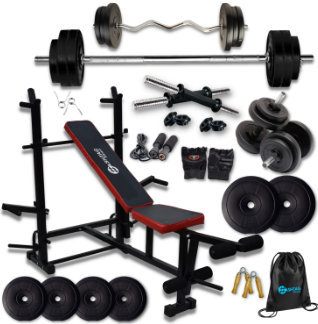 How to set up a personal trainer gym?
| | |
| --- | --- |
| Material: | Cost : |
| Professional power rack | €400 |
| 1 long bar | €50 |
| 1 EZ bar | €40 |
| 2 pairs of 20 kg plates | €200 |
| 1 pair of 15kg plates | €45 |
| 2 pairs of 10 kg plates | €100 |
| 2 pairs of 5 kg plates | €50 |
| 2 pairs of 2.5 kg plates | €25 |
| 2 pairs of 1.25 kgplates | €8 |
| Pair of adjustable dumbbells from 2 to 40 kg | €450 |
| Set of 6 kettlebells (2kg to 24kg) | €300 |
| Adjustable professional bench | €550 |
| Tower with high pulley and low pulley for loading plates | €500 |
| Chin-up bar | €60 |
| Set of 5 medicine balls | €160 |
| 1 gym ball | €10 |
| Plyometric box | €130 |
| A simple exercise bike | €300 |
| 1 set of fitness elastic bands | €15 |
| 2 abdominal wheels | €15 |
| 2 pilates mats | €30 |
| 12 m2 of rubber flooring | €360 |
| Mirror | €100 |
| 2 massage rollers | €30 |
| Total: | €3928 |
For just under €4,000 , you can set up your own personal training center to practice your profession. Maybe you can rent a garage or premises for around €200-250 per month. As we explained, obtaining the personal trainer certificate can cost you around €500. It would also be a good idea to take a nutrition course. The budget of a gym to start as a personal trainer is really low. A few savings will be enough for you to start doing what you like most. The list we have provided is indicative; You can remove material, if you see that you are not going to need it, or add the accessories and elements that you need. Charging the client around €50 per session is a good rate at first.
The prosperity of your business will depend on your coaching skills. If you train customers well and people are happy, word of mouth will do the marketing work. Maybe you get such a large client base that you need to expand the business!
Frequently asked questions about setting up a gym
Do you still have doubts about this venture? Stay and read the answers to some of the most frequently asked questions !
How to open a gym in Spain?
In Spain, to open a gym you will need the following:
- An opening license for the premises (with its corresponding security studies).
- Register as a self-employed worker or establish a company. Pay the corresponding taxes (Social Security contribution, as well as 21% VAT and 20% personal income tax withholding in the Treasury).
- Take out civil liability insurance for the gym.
- (Recommended) Have a certified personal trainer qualification or hire someone who has this certificate.
The legal requirements to be able to have a commercial gym change according to the country or region. Check what taxes you must pay or what licenses you will need in another country where you intend to set up the gym. See how to open a gym in Chile, Peru, Mexico, Panama, England, France, Germany, Portugal, Italy and other countries. A gym can be a profitable business in any region of the world.
What are the requirements for a gym?
They are the following:
- Have your own or rented premises, preferably in an area with good foot traffic or where there are plenty of homes.
- Obtain the relevant licenses to operate the premises.
- Register as a self-employed worker or company in the country.
- Have an initial investment of between €40,000 and €50,000 at least to buy all the material and cover the initial expenses, or request a loan for that amount.
- Study the competition in the area (for example, if there are low-cost gym chains that could harm us) to analyze weak points and see what we can offer.
- Prepare a business plan: what prices are we going to establish; how we are going to promote ourselves, attract and retain customers; How many clients do we need for income to exceed our expenses...
- Study what fixed and variable expenses we will have in the business.
- Analyze how many clients we could bring to the gym and what monthly fee we should charge.
- Take out civil liability insurance for the operation of the business.
How much does it cost to set up a low-cost gym?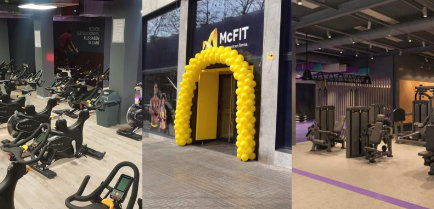 Low-cost gyms belong to large franchises, which grant permits to open their commercial brand centers in different cities and countries. A low-cost franchise gym requires a much larger initial investment than a neighborhood or town gym. We are talking about at least €100,000 . Additionally, franchise owners will likely require that the city where the gym is located have a certain number of inhabitants, and it may even be necessary for the gym manager to have previous experience managing other companies. Setting up a low-cost gym in a big city is a riskier investment and is not for everyone.
Setting up a gym is profitable
We hope you have understood what to take into account when opening a gym . It's good to make your dreams come true, but it's not advisable to start a crazy business. In sum, you need a capital of about €40,000 to have a basic commercial gym. To set up a gym, you have to add about €2,000 more in initial expenses to the price , such as the deposit for the rental premises or the permits to open a gym . For the business to be successful, you will have to study your location, the competition and the rates very well. A gym can have up to €3,000 in expenses if you want a manager to run the business for you. Your work should focus on getting around 200 permanent clients willing to pay a monthly fee of around €25 . This will leave you a profit of around €1,666 per month after deducting VAT.
We have also explained how to open a functional gym , whose material is cheaper and you can buy for about €15,000 . Setting up a Crossfit box is also a profitable option because this sport is in demand. Finally, you have the option of opening your own personal trainer gym in a small premises or garage. How much does it cost to set up a gym of this type ? Only about €4000 !
Yes, it is profitable to open a gym , but it is not a dream without work. Any company requires time and care to function. If you're wondering how much money I can start a gym with , you already know the answer. You already know the steps to follow. It's time to get out the calculator, make the budget, and get to work to make it all work.