Without a doubt, weight in boxing plays an important role. A boxer's weight may be the most important advantage, along with skills, in determining success in the ring. So does weight matter as much as some people think? Why are there different weight categories?
In boxing, in general, weight is of great importance, but to a certain extent. If we talk about the weight differences within the category, here the weight may not be so relevant. If we refer to the differences in weight between two different categories, then weight does matter, a lot. There is quite a bit to talk about weight classes in boxing and weight differences.
Why weight is a great advantage in a fight
Fighters often run the risk of not being able to fight if they do not show the correct weight on the scale before the fight. Why is it like this? Because in a fight like boxing matches, the advantage of being heavier can determine whether you win or lose. Boxers often go through a very rigorous phase called "weight cutting" , which is often dangerous. "Cutting weight" means losing a few pounds through dehydration and other methods to achieve the required weight in the category before a fight.
Weight loss is a common practice in combat sports. It is believed that losing a few kilos gives the boxer an advantage because he will be fighting in a boxing weight class lower than his natural weight. So, as we can see, body weight plays an important role when two fighters in the same weight class face each other. Learning how to lose weight quickly can be useful for boxers who want to start competing. There are several ways to do this.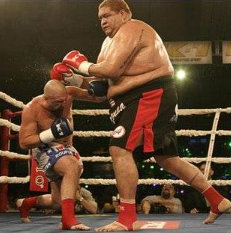 The difference in boxing weight between two different categories can be even more important. There is a reason why very few boxers try to fight outside their weight class. And not just boxers, but also kickboxers and MMA fighters. The reason is that they would be at a disadvantage if they fought a larger and heavier opponent.
• Heavier opponents are usually able to hit harder .

• They can also use their size to keep you in line.

• Also, another advantage of being bigger and heavier is that the fighter will be more intimidating.

• Often, a heavy fighter can approach and load his entire weight against the lighter opponent (this practice is very common in disciplines such as boxing). This can actually tire out the lighter fighter because he will not only be carrying his own weight but also the weight of a larger opponent.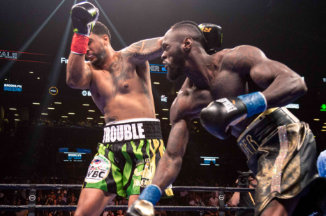 Is only muscle weight advantageous in a fight?
No. Even if a fighter has a high body fat percentage, the extra fat weight is also advantageous. Body fat is able to cushion shock and protect the body from damage. For this reason, a fighter with 22% body fat might have more impact resistance than a fighter with 12% body fat. For this reason, even Roman gladiators had a high percentage of fat, which protected them against blows and cuts in the coliseum.
On the other hand, a heavier individual would lose agility compared to another lighter fighter.
The men's boxing weight classes
A little history...
The first known boxing match took place in England in 1681. The rules were simple: two men had to fight until one was knocked out or lying on the ground. In principle, boxing categories by weight did not exist. Until the end of the 19th century, there were no weight classes in boxing. This all changed when the Queensbury Marquise rules were introduced in 1867.
The new rules codified many aspects of the sport and introduced weight classes. The goal of the weight classes was simple: to create more level combat and ensure that fights were fought between competitors of similar size. It wouldn't be fair to pit a 59kg man against a 113kg man, would it? Weight classes have been a part of boxing ever since and today play an important role in who fights who. Currently, there are 17 different weight classes in professional boxing. Weight classes range from flyweight (48 kilos) to heavyweight (over 90 kilos).
• Why were 17 categories established? At first, there were 8 body weight categories. However, these became 17 so that the boxers did not have to make such sharp weight cuts (which put their health at risk).
• The main bodies that regulate professional boxing are the WBC, WBA, IBF and WBO . Both these and the rest of the bodies that regulate the sport have reached unanimity and agree on the weight limits. Only the World Boxing Council decided to add one more category, which would be between cruiserweight and heavyweight. No other organization has decided to include this last category.
Let's look at each weight category in boxing in pounds and kilos, ordering the list from the lightest to the heaviest. The following are all the types of weight in boxing .
1. Strawweight
• You can weigh up to a maximum of 47.6 kg (105 lbs) .
This category is especially booming in women's boxing, as there are more women who fit into this weight limit (although also some male fighters, especially South Americans and Asians). This is the minimum weight category and was created between 1987 and 1990.
2. Mini flyweight
• From 47.6 kg (105 lbs) to 49 kg (108 lbs) .
Although this category was created in the 1920s, it was later eliminated. The World Boxing Council brought it back in 1970.
3. Flyweight
• From 49 kg (108 lbs) to 50.8 kg (112 lbs) .
Historically, this had been the lowest weight class in boxing. The first champion of this division was Sin Smith in 1911. The British Boxing Federation awarded him this title.
Example of a flyweight fighter in boxing.
4. Super flyweight
• From 50.8 kg (112 lbs) to 52 kg (115 lbs) .
Super flyweight is more common in Latin or Asian boxers. There are many short boxers who can maintain these weights. The WBC adopted this weight category in 1980. Later, the WBA would do so between 1981 and 1983. One of the best historical boxers with the super flyweight is Johnny Tapia.
5. Bantamweight
• From 52 kg (115 lbs) to 53.5 kg (118 lbs) .
The first bantamweight fighters in boxing fought in 1889. In 1910, this weight category increased by two kilos (current weight).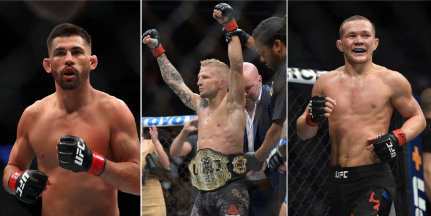 Bantamweight boxers.
6. Super bantamweight
• From 53.5 kg (118 lbs) to 55.3 kg (122 lbs) .
The first attempt to create this category was in 1920, in the United States. However, it failed. Then, in 1976 the WBC gave importance again to super bantamweight. The category was recognized by the WBC in 1976 and by the IBF in 1977. A famous boxer in this weight class is Filipino Manny Pacquiao.
Manny Pacquiao.
7. Featherweight
• From 55.3 kg (122 lbs) to 57 kg (126 lbs) .
This boxing weight category is one of the most famous in the history of the sport. The featherweight category in boxing was not definitively established without disagreements. For example, in the United Kingdom, this division had the current weight limit. However, in the United States I was six kilos lighter. In 1920, unanimity was achieved and England's weight limit was established.
8. Super featherweight
• From 57 kg (126 lbs) to 59 kg (130 lbs) .
The super featherweight boxing category had difficult beginnings. It was made known by the Walker Law in 1920. Ten years later, the New York Athletic Commission would recognize this weight division as official. The category fell into disuse from 1933 to 1960, but later regained its status.
9. Light weight
• From 59 kg (126 lbs) to 61.2 kg (135 lbs) .
The lightweights were in the 8 classic boxing categories. Fighters like Mayweather and Pacquiao have triumphed in this weight category, although many other boxers have wanted to stand out in it. According to the United States media, Roberto Durán has been the best lightweight kg boxer.
10. Super light weight
• From 61.2 kg (135 lbs) to 63.5 kg (140 lbs) .
This division appeared in the 1930s in the United States. The category appeared and disappeared until 1935. Carlos Ortiz was the first known champion in this category. The WBA recognized this weight division in 1962 and the WBC in 1963. They took a long time to recognize the super lightweight division, which has been hotly contested.
11. Welterweight
• From 63.5 kg (140 lbs) to 66.7 kg (147 lbs) .
Boxers in this weight range perfectly combine speed and power. For this reason, it is said that the welterweight category in boxing has the most complete fighters. There is even the UFC welterweight . This category is historic and has had recognized fighters such as Hearns, Durán, Mayweather, Leonard, Robinson or Trinidad (the oldest in the category, since he participated for 6 years and 8 months).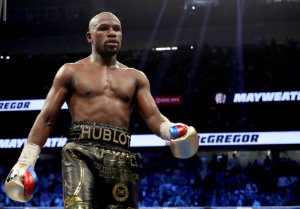 Mayweather, famous welterweight boxer.
12. Super welterweight
• From 66.7 kg (147 lbs) to 69.9 kg (154 lbs) .
This category was created in Austria in 1962. The first body to recognize it was the WBA. In the 70s the category was recognized by the WBC; and in the 80s, by the IFB and WBO. Mayweather, De la Hoya and Pacquiao have been in the super welterweight category, which was not one of the first to exist, but it has been quite important at the end of the 20th century and the beginning of the 21st.
13. Medium weight
• From 69.9 kg (154 lbs) to 72.6 kg (160 lbs) .
This division boasts great champions and a great history. Great middleweight references have been Canelo Álvarez, Sugar Ray Leonard, Sugar Ray Robinson, Roberto Durán, Tommy Hearns, Marvin Hagler or Sergio Maravilla Martínez. It is thought that this category already existed even in the middle of the 19th century, when boxing was still done without gloves. Middleweight has always been one of the boxing categories that we know today.
14. Super middleweight
• From 72.6 kg (160 lbs) to 76.2 kg (168 lbs) .
It was 1970 when discussions began about whether a category should be created between middleweight and light heavyweight. All organizations would recognize the super middleweight category as official in the 1980s. Thanks to the clashes between boxers Nigel Benn and Chris Eubank, the category gained fame in the 90s. A great champion of this division is the Mexican Canelo Álvarez .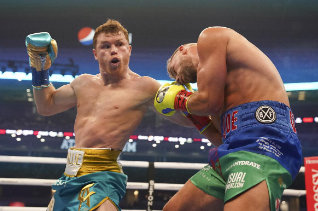 Mexican boxer Canelo Álvarez has competed in the welterweight, super welterweight, middleweight, super middleweight and light heavyweight classes.
15. Light heavyweight
• From 76.2 kg (168 lbs) to 79.4 kg (175 lbs) .
In the light heavyweight category, the weight limits are being adjusted. Since there is not much difference between the maximum and minimum limit, boxers' weight cuts are safer. The lower the weight, the lower the margins. This is another of the most famous divisions in boxing.
16. Cruiserweight
• From 79.4 kg (175 lbs) to 90.7 kg (200 lbs) .
The cruiserweight category was originally created by the WBC. Later, the other boxing organizations accepted this category. Initially, it allowed weights up to 86.1 kg (190 lbs), but was later expanded to 90.7 kg (200 lbs). This category was included with the aim of reducing the enormous differences that existed when moving up to heavyweight. This has not been one of the most successful categories.
16.1 Bridger Weight
• From 90.7 kg (200 lbs) to 101.6 kg (224 lbs) .
The World Boxing Council wanted to create this category to avoid large weight differences in the heavyweight division. This is a "bridge" category between the cruiserweight and heavyweight division. Therefore, the name of this division is "Bridger"; also by a six-year-old boy named Bridger Walker, who defended her little sister when she was going to be attacked by a dog. The Bridger weight was created in November 2020. Its first champion was boxer Óscar Rivas in 2021. This category has not been very popular and no other organization (aside from the World Boxing Council) uses it.
17. Heavyweight
• From 90.7 kg (200 lbs) with no upper weight limit .
In this boxing category, there is no upper weight limit. It is only required to exceed 90.7 kg (200 lbs). From here on, there are no limitations. It is, therefore, a controversial boxing division, as some athletes can have an advantage of even 20 kilos in weight over others. For example, boxer Tyson Fury has a weight of 120 kg (264 lbs) for a height of 2.06 meters. The heavyweight category has existed since the 19th century. At that time, the entry limit was 77.1 kg (170 lbs), but the entry weight had to be increased because the boxers were getting bigger. The heaviest world boxing champion in history was Nikolay Valuev, a 2.13m and 146.9kg Russian. In the WBC, the heavyweight class starts at 101.6 kg (224 lbs). This is so that the limit matches the Bridger weight division entered.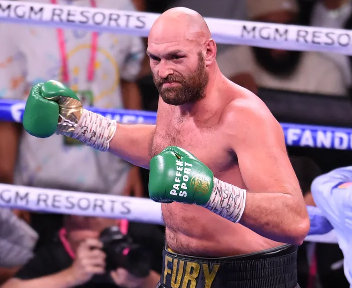 Tyson Fury, one of the biggest heavyweights in men's professional boxing.
It is normal for some fighters to change categories throughout their careers. For example, boxer Gervonta Davis weighing about 60 kg (132 lbs) has gone through the super featherweight, lightweight and super lightweight categories.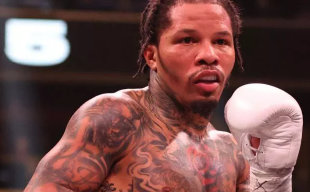 Gervonta Davis.
Weight categories in women's boxing
Unlike what happens with boxing weights in the men's categories , there is no unanimity on the weights for women's boxing . There is no universal agreement among all regulatory bodies on what weight limits should be in women's boxing. However, the divisions in amateur boxing are usually the following:
| | |
| --- | --- |
| Flyweight: | Up to and not more than 48 kg (106 lbs) |
| Bantamweight: | Up to 51 kg (112 lbs) |
| Featherweight: | Up to 54 kg (119 lbs) |
| Light weight: | Up to 57 kg (126 lbs) |
| Light welterweight: | Up to 60 kg (132 lbs) |
| Welterweight: | Up to 64 kg (141 lbs) |
| Middleweight: | Up to 69 kg (152 lbs) |
| Light heavyweight: | Up to 75 kg (165 lbs) |
| Heavyweight: | Up to 81 kg (179 lbs) |
| Super heavyweight: | More than 81 kg (179 lbs) |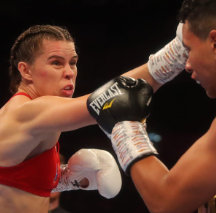 Example of lightweight boxers fighting.
Olympic boxing weights
Olympic men's professional boxing weights are organized a little differently. The categories in the Olympic Games are reduced.
Olympic boxing weights for men
The list is based on the 2020 Tokyo games.
| | |
| --- | --- |
| Flyweight: | Up to 52 kg (115 lbs) |
| Featherweight: | Up to 57 kg (126 lbs) |
| Light weight: | Up to 63 kg (139 lbs) |
| Welterweight: | Up to 69 kg (152 lbs) |
| Middleweight: | Up to 75 kg (165 lbs) |
| Light heavyweight: | Up to 81 kg (179 lbs) |
| Heavyweight: | Up to 91 kg (201 lbs) |
| Super heavyweight: | More than 91 kg (201 lbs) |
Olympic boxing weights for women
There are 5 weight divisions for women in Olympic boxing (list based on the 2020 Tokyo games).
| | |
| --- | --- |
| Flyweight: | Up to 51 kg (112 lbs) |
| Featherweight: | Up to 57 kg (126 lbs) |
| Light weight: | Up to 60 kg (132 lbs) |
| Welterweight: | Up to 69 kg (152 lbs) |
| Middleweight: | More than 75 kg (165 lbs) |
Exceptions of weighing more to win a fight
So does weight matter in boxing? Let's look at the evidence. It is undeniable that size does matter in boxing. The larger fighter usually has the advantage in terms of reach, strength and weight. However, there are many examples of smaller boxers winning against larger opponents.
A look at boxing history shows us that weight is not always the determining factor for success. Some boxers such as Sugar Rey Leonard, Pernell Whitaker and Roberto Durán won world titles despite having low boxing weights for their respective categories. There are also many examples of larger boxers fighting smaller opponents. Wladimir Klitschko, for example, had quite a few problems with the "little men" of boxing during his career. However, he was and remains one of the greatest.
• Usyk vs. Joshua : In a match between Oleksandr Usyk and Anthony Joshua, Usyk was considered the smallest fighter to enter the fight. He has never fought in a heavyweight division in boxing before and Joshua is one of the biggest men in the sport. But Usyk came prepared and took advantage of the advantages he had against Joshua. Usyk was able to dominate Joshua for 12 rounds to become the undisputed world heavyweight champion. What's more, we think Usyk is an incredible fighter. We are facing a powerful boxer and one of the fastest heavyweights in the world.
• Canelo vs. Han : This was another example where weight played an important role. Khan is naturally a smaller fighter and was at a disadvantage in terms of reach and power. However, Khan made excellent use of his speed and mobility and won several rounds against Canelo. Only in the final rounds did Canelo's superior weight and power begin to show and he finally managed to stop Khan in the sixth round.
Does height matter in a boxing fight?
Yes, height also plays an important role. Often, heavier fighters are also taller than their lighter counterparts. This gives larger fighters several advantages. In boxing, weight and height can play an important role in both attack and defense. Taller fighters usually have a longer reach. A longer reach can give you an advantage when aiming your blows. A tall wrestler's longer arms can also make it harder for an opponent to hit him. A heavier fighter may have more power in his punches. This can make it more difficult for the opponent to absorb the blow.
Weight and height in boxing can also be protective factors. A taller wrestler can use the reach of his limbs to keep his opponent away. A heavier fighter can use his body mass to cushion an opponent's attacks. Of course, these are just general trends, as there are always exceptions to the rule. Ultimately, each fighter must discover how to use his weight and height to his advantage.
In which boxing classes do weights have the most influence?
Does weight still matter in boxing? There is no definitive answer to this. In the lightweight categories of boxing , where the fighters are more evenly matched, weight can be the deciding factor. Even a difference of a few kilos can favor a heavier boxer.
On the other hand, in higher weight classes, where fighters' weights can vary considerably, it doesn't matter as much. Some believe that the heavier boxer automatically has the advantage because he has more power. In fact, the heavier boxer can deliver a stronger blow. However, he will also tire more quickly and may not have the same agility or speed as his lighter opponents. In the end, it all depends on each boxer and how he uses his weight to his advantage.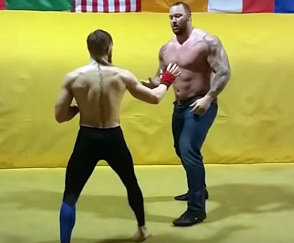 Lightweight boxing fighters
Smaller boxers do not have the same punching power as their heavier opponents. As a result, knockouts are not seen as much as in heavyweight boxing. But don't be fooled, even the smallest boxers can knock you to the ground if necessary.
Lightweight boxers focus much more on speed and technique . They can't end a fight with a single punch like heavyweights can. For this reason, we see that fights in the lower divisions are usually fought with better technique . Little fighters need to develop their killer skills to be competitive. At the end of the day, skill and technique are often more important than weight.
What is the most famous category of boxing weights?
The most common weight class for boxers is heavyweight . This is a professional boxing weight division in which fighters weighing over 210 pounds (15 stones or 95 kilograms) compete. The limit has changed over the years, but the International Boxing Federation finally set it at its current level in 1987.
How can I win a fight against a heavier opponent?
Taking down an opponent who is heavier than you can be quite difficult. However, you can use your lower weight and greater speed to your advantage to be successful. Use the following tips to win the fight.
• Don't be nervous : When faced with someone bigger and stronger than you, it can be easy to feel overwhelmed. However, it is important that you remain calm and composed so that you can make the right decisions and maintain control of the battle. If you stay relaxed and fast, you have a better chance of winning.
• Use the advantages of your light weight in boxing : If you weigh less than your opponent, you can also use your weight to your advantage. You can use your speed and agility to stay out of your opponent's reach and deliver quick blows (even if they have less power). You probably won't win by knockout. Therefore, it is necessary to have a plan of attack ready to help you win through "points". The more punches you throw, the more points you earn. Even if your blows don't cause much damage, you have to find a way to oppose your opponent.
In the video, Mike Tyson poses a great challenge to a much larger opponent, José Ribalta.
• Use aggressiveness to your advantage : To win the battle weighing less, you must be the aggressor. You have to be the one throwing the punches and dictating the pace of the fight. As we already explained, it hits a lot. Combine blows to the head and body.
• Employ the correct technique : Even if you are smaller and weaker than your opponent, you can still take him down if you have better technique. Make sure you throw your punches the right way and aim for your opponent's weak areas. You definitely have to know what to aim for. Let's recap just in case. Aim for the opponent's jaw or liver. No matter how strong and big the adversary is, these places are vulnerable areas for all people.
• Don't stop practicing hard : There is no better way to prepare for a fight against a bigger opponent than to train hard. Train your heart so you can run laps around your opponent. You will be able to tire him out by throwing a lot of volume of movement at him. Your fitness level must be at its maximum if you want to have even the slightest chance of winning.
Have you heard the expression kilo by kilo?
Kilo by kilo (or pound by pound) is a term used to measure the relative strength of boxers. The idea is to compare fighters from different weight classes against each other and see who wins in a theoretical fight. There are a few different ways to calculate the pound-by-pound rating. Measuring a boxer's relative strength comes down to looking at a fighter's record, the quality of the opposition and his accomplishments in the ring. Some observers also take charisma into account in their calculations. The term "pound by pound" is believed to have originated in the early 20th century.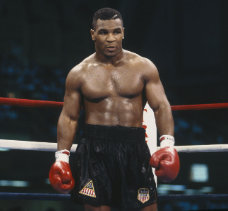 Mike Tyson (1.78 m and 99 kg (218 lbs)) has been one of the most charismatic and well-known heavyweight boxers.
Although the expression is believed to have first appeared in newspapers in 1927, today it is commonly used by boxing fans and experts when discussing the greatest fighters in the history of the sport. In 2003, "The Ring" magazine compiled one of the most famous kilo-by-kilo lists. The magazine listed the 50 best boxers in the world regardless of their weight class. Floyd Mayweather Jr. topped the list, followed by Manny Pacquiao , Bernard Hopkins, Roy Jones Jr. and Marco Antonio Barrera.
Pound-by-pound rankings can be a fun way to compare different fighters and debate who is the best in the business. However, you should always take the data with caution. It's impossible to know exactly how fighters of different boxing weight types would match up in a real fight.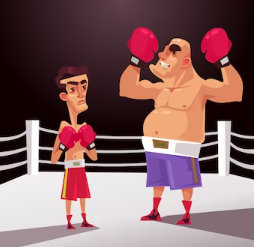 Weight in professional boxing matters, but...
The truth is that weight matters in boxing, but this is just one of many factors. Range, speed, power and technique also count, influencing who wins and who loses. As they say: "It is not the size of the dog in the fight that matters, but the size of the battle that the dog can put up fighting." So, while weight in boxing is important, it is not everything. The best fighter is the one who can use his natural strengths and overcome his weaknesses to reach the top.