Would you like to follow Body Pump classes ? This famous activity combines cardiovascular exercise with muscle work. It is very complete and will help you stay in shape or lose weight. Learn everything you should know about the activity and where to practice it.
The Body Pump workout is done at a fast pace. The activity is performed with barbells. The program is specifically designed to help you get lean, trim and fit. A Bodypump class combines motivating music, great instructors, and scientifically proven moves to help you reach your goals. Body Pump instructors will help you get in shape much faster than if you did it on your own.
How are the Body Pump classes?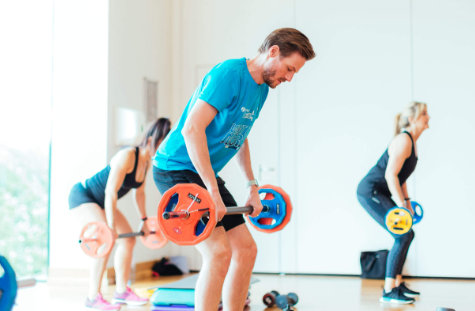 What is the Body Pump ? In this activity, the so-called Rep effect is used . This has been shown to help build lean, athletic muscles by lifting light weights with high reps , rather than heavy weights with low reps.
Necessary material for a Body Pump class
To develop the class, you only need a bar and special weight plates for this activity. The Body Pump bar usually weighs about 2 kg. The complete Body Pump kit usually includes two 5kg plates, two 2.5kg plates and two 1.25kg plates. Depending on the exercise to be performed, more or less weights will be used.
The most modern Body Pump sets have discs made of plastic, colored, with hand grips and geometric shapes. The colors can be orange (5 kg), green (2.5 kg) and yellow (1.25 kg).
Of course, a Pump gym specialized in this activity will make all the weights and bars available to you. A personal trainer will explain the steps for each participant to do the basic movements with the equipment (such as the chest press).
As for Body Pump clothing, you will only need to wear comfortable exercise clothes and sturdy sneakers. If you're going to pump at the gym , take a sweat towel and a bottle of water with you. This is also a good idea, since the classes can be intense .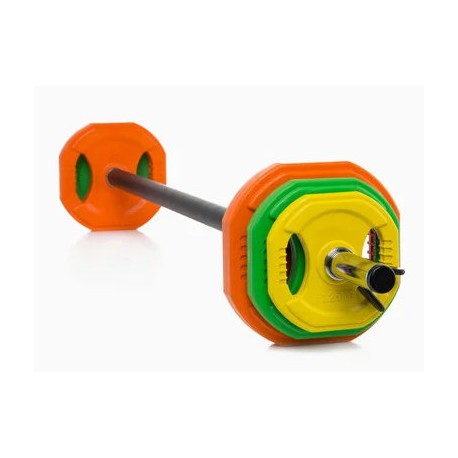 Body Pump weights.
This is a Body Pump class at the gym
A Body Pump class lasts about 60 minutes and has a fairly simple structure, but this does not mean that it does not require work and effort. The company that developed this exercise program is Les Mills . Every three months or so, Les Mills releases a new routine. In the Body Pump a complete routine is always divided into ten different parts where different muscle groups are worked to the rhythm of the music .
The fact that all Body Pump classes have the same structure, made up of ten sections that change every three months, means that practitioners can measure their progress in the quarter and see how they have improved, what has been their weight loss or volume and how they've been doing during those weeks.
• The first part of the class is known as the "track" (music track). As in all other forms of exercise, this first part is a kind of warm-up to prepare the whole body for the work ahead.
• Then each section focuses on a specific muscle group . Specific exercises are adapted to the bodybuilding area. Although this can vary somewhat, the usual order is as follows: legs and buttocks, chest muscles, back and buttocks, triceps (arms), biceps (arms), legs, shoulders, and abdominal muscles.
• Just as the routine begins with a warm-up music track, the Body Pump ends with a stretch and relax section. The tenth track ("track 10"), which lasts five to ten minutes, is designed to relax all muscles after training to prevent injury.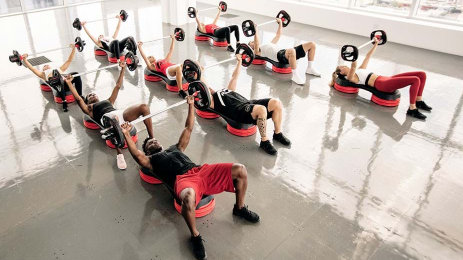 Body Pump class at the gym.
What benefits do Body Pump classes have?
The main benefits of the Body Pump are that it helps to lose weight, build muscle or tone the body. This activity can help you reach your fitness goals quickly.
• The Body Pump class combines cardiovascular exercise with muscle training. This activity makes the training hour go by faster thanks to the rhythm of the music. It is a fun and motivating way to exercise. The classes are recommended for lazy people who don't want to go to the gym.
• Bodypump is a collective activity. If you decide to practice Pump in the gym , you will attend a class where you will interact with other people or you will be able to go with your friends.

• Trains the whole body in full.

• Develops and tones muscle mass.

• Helps you burn calories to lose body fat.

• Improves posture.

• This activity reduces stress, improves your well-being and mood.
We will also talk about the Body Pump and its benefits for women . This is one of the activities that can be practiced during pregnancy . This is because the weights used are light and do not pose a risk to the mother or baby. A Body Pump instructor or trainer will be able to tailor a routine for the pregnant woman. It is always important to consult your doctor before doing any activity while pregnant. The state of pregnancy must also be communicated to the coach.
Where can I attend Bodypump classes?
Keep in mind that not all gyms offer this activity. Check the services of the sports center well before signing up for the gym. Your gym should have a room for collective activities and specialized trainers in these activities. In most medium and large cities, there will be gyms with Bodypump classes . The easiest way is to type in Google "Body Pump classes near me" and see where the nearest center is. As we already told you, the only material you will have to bring will be a towel, comfortable clothes and a bottle of water; the gym will provide you with the material for training.
How much does a Body Pump gym cost? Normally, Body Pump classes are included in the price of the gym, which is usually between €20 and €30 per month in most cities. You will be able to do the training and also use the rest of the gym equipment and machines. Maybe you can attend single classes; You will have to consult how the collective activities of the sports center work to clear up any doubts.
For example, one chain of fitness centers that offers Body Pump is VivaGym . This gym is open in many large cities.
Can I do Body Pump classes at home?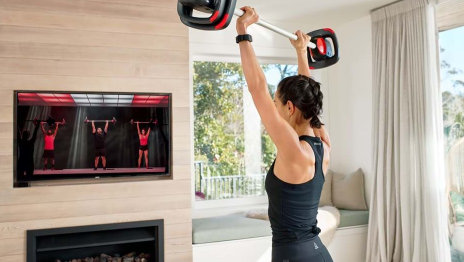 If you can't find a gym near you that offers these workouts, you can follow your Body Pump classes at home . The easiest, fastest and free way to do it is to follow the classes on a video platform. On YouTube , you have an infinite amount of content to follow a complete Body Pump class. And if you are looking for something more specialized or personalized, payment web pages with online Body Pump classes are also available . If you are enthusiastic about the activity, it may be worth investing in this.
The downside of doing the Body Pump class at home is that you lose the social factor of the workout. Unless you're staying with your friends, you'll have to train by yourself. Some people prefer the company of other group members at the gym. However, if you do Body Pump with online classes, you will not have schedules and you will be able to decide at what time of day to carry out the activity. Sometimes we don't have a gym nearby that offers these collective activities or we simply don't have time to go. Therefore, training at home is a good option.
Example of a complete Body Pump class in English:
Questions about Body Pump classes for beginners
Clarifies the most frequent doubts of beginners about the training of Body Pump . The following section of questions is of interest to you.
How often should I go to Body Pump classes for visible results?
You will find that the Bodypump is a really intense exercise that challenges all the major muscle groups. For this reason, you should probably limit yourself to no more than two or three workouts per week , with at least one day of rest in between. If you combine it with a good cardiovascular workout a couple of times a week, your body will get toned and shaped very quickly.
Do I have to be strong to practice Body Pump?
Bodypump classes have options to suit almost everyone. If you're new to this workout, you can start with very low weights, or even just a barbell, and do nothing more than the first four or five sets for the first few sessions. This will help you build a foundation of strength and fitness from where you can begin to increase the weights you lift.
How much weight should I lift during a Body Pump session?
The goal of these workouts is to lift light weights quickly while doing high repetitions. It is totally unnecessary to lift heavy weights during class. However, it is important that you progress steadily. As soon as a particular weight becomes too light and you don't feel the full effect, you should lift more weight. However, if you're pushing yourself too hard and your technique starts to suffer, you should take a break or perhaps reduce the amount of weight you lift.
The Body Pump instructor will indicate the recommended weights for women . Starting with the bar and a 5-pound plate on each side will be fine for most exercises if you're a beginner. It is especially important to adapt the weights if you are pregnant.
Follow the following Body Pump class tips for beginners :
• Use light weights so you can focus on learning good technique.
• In the early rounds, focus on timing and using the full range of motion.
• After you've done a few exercises, check how tired you feel at the end of each circuit. Ask yourself the following questions: "Could I do a few more reps?" If the answer is "no", you are using the correct weight. If you feel like you can continue, you should increase the weight.
• Remember that we are all different. Find the weights that work best for you, and then gradually increase them over time.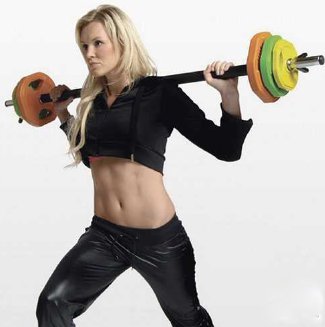 Is the Body Pump cardio or strength?
It is both things at the same time. The activity is a session of about an hour where you train with a barbell to do typical bodybuilding exercises, which improves your strength and general body tone. The exercises are executed with a fast rhythm and a high number of repetitions during the hour of duration of the activity. This improves endurance and cardiovascular capacity .
The Body Pump 122 plays 10 songs during 55 minutes of training. In each song, you have to focus on a different muscle group. The movements that are done in the Body Pump exercise table are taken from bodybuilding: squat, clean and jerk, deadlift, bicep curl, lunge, shoulder press, barbell row and others. Some exercises are also done with body weight such as push-ups or crunches.
Can I download a Body Pump routine in PDF?
Here we leave you two links to download complete Body Pump classes in PDF . They show you the table of Body Pump exercises that you have to perform, as well as the songs. However, in the Body Pump, the exercises in the routine should ideally be followed on video. It's okay to download the Body Pump workout in PDF to take a look at it, but we always recommend playing a video to do this type of workout. Everything is simply easier and more comfortable.
- Body Pump workout routine in PDF 96.
- Body Pump workout routine in PDF 111.
Does Body Pump help you lose weight?
Although an average of 400 calories can be burned during a 55-minute Body Pump workout , researchers now recommend evaluating the impact of the exercise in addition to the immediate calorie burn. The long-term benefits come from increased muscle mass, because when you increase muscle mass, the extra muscle increases your metabolism, which improves your body's ability to burn calories efficiently even when you're not exercising. Therefore, the Body Pump does help you to lose weight and lose fat . In fact, it's one of the best workouts you can do to achieve that goal.
People who claim to have lost weight or strengthened their bodies with the Body Pump before and after :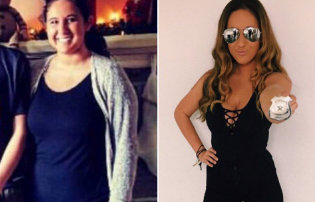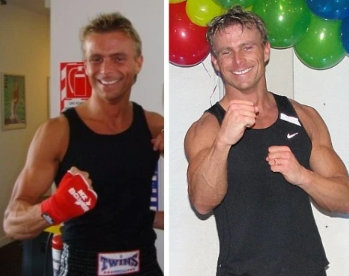 Does the Body Pump guarantee visible results?
Body Pump is truly one of the best resistance workouts. Various studies have shown that Bodypump produces a much greater lasting physiological response than a normal class of cardiovascular exercise. Therefore, the Body Pump can be described as a more intense exercise stimulus. This is backed by research that highlights that fast Body Pump resistance training requires more energy than lifting heavy loads at slower speeds. Studies also show that the Body Pump can help athletes improve strength, power, and speed. There is also evidence that the Body Pump exercise with high repetitions and low loads can increase bone density and reduce the risk of osteoporosis.

Les Mills is the brand that has created the Body Pump workout.
Conclusions
Researchers have recently named strength training as the most life-changing form of exercise. In addition to getting stronger and improving your fitness, groundbreaking research links regular strength training to a longer, healthier life. There is evidence that strength training can improve heart health much more than cardiovascular exercise, and studies show that high-repetition strength training can strengthen bones. And if you want to lose fat, strength training is key to maintaining a healthy weight in the long term. Loss of lean muscle tissue during weight loss increases the risk of regaining lost fat. The Body Pump helps to lose weight correctly because it improves muscle mass while losing fat. Take advantage of the Body Pump, its exercises and benefits.
Attend Body Pump classes and improve your muscle tone, cardiovascular endurance and physique. You already know how a class works and the ways to access this activity! For whom do we recommend it? For people of all ages who are just starting out with physical activity, people without much time to train or who want to socialize and have fun while doing intense physical exercise.