The McFIT gym is a German brand of "low cost" training center chain. McFIT makes gyms accessible to all audiences. The brand has more than 250 Fitness centers open in Germany, Austria, Spain and Italy.
McFIT is one of the largest "low cost" gym chains in Europe. At McFIT customer service is a priority. For this reason, the brand has opted to open more centers, lengthen the hours and offer a variety of training modalities. The company facilitates live courses and special events to enhance the training experience for its millions of users. More than 500 employees make up the company's staff.
Have you ever tried the McFIT offers?
The McFIT GmbH chain was founded by Rainer Schaller (owner of McFIT). This company had a turnover of 160 million euros in 2010, given the popularity that physical care and health had acquired among the population. McFIT's headquarters are in Schluesselfeld, Germany. However, the gym company has expanded and now operates in more European countries. The brand has opened the following training centers in different countries:
• Germany: 164

• Spain: 37

• Italy: 31

• Poland: 13

• Austria: 12
Does the McFIT logo catch your attention ? What does the logo mean? It's a drawing of a treadmill with the words "McFIT" and the slogan "Einfach gut aussehen", which translates to "Just look good" .
The company has collaborated with sports scientists to develop its own concept of training based on weight training and exercise combined with a healthy diet.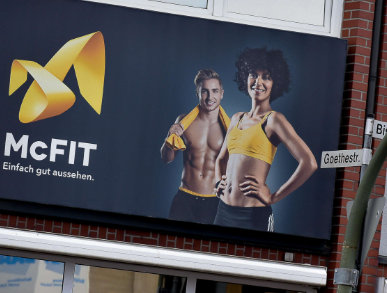 How is the McFIT membership system and the prices?
The chain has established a simple pricing policy: at McFIT the registration fee is €29.90 per month if the 12-month membership is contracted. For this price McFIT gives you access to all areas and showers. There are also contracts for 1 month and 6 months. What will you find in a McFIT gym ?
• Cardio machines: stationary bikes, treadmills, elliptical trainers, ergometer rowing machines...

• Bodybuilding machines: To work back, chest, arms, legs, shoulders...
• Free weight: dumbbells, kettlebells, Olympic barbell, Olympic discs, weight benches, power racks...
• Collective classrooms: Boxing, stretching, abs, quick training, circuits, stretching, gymnastics, aerobics...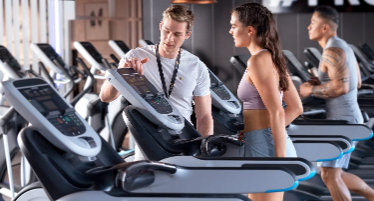 Most of the McFIT clubs in Germany, Italy, Austria, Spain and Poland are open 24 hours a day, 365 days a year. You can bring your own drink to this gym . Until February 2011, McFIT offered a free magazine, but did not provide additional services such as a wellness area or classes (eg aerobics).
McFIT was the main sponsor of the Love Parade music festival from 2006 to 2010. The founder, Rainer Schaller, became the sole owner of the Lopavent GmbH organization when the original organizers left the company. After a stampede that killed 21 people and injured hundreds at the festival, Schaller announced that the Love Parade would no longer be organized. Schaller died in a plane crash in Costa Rica in 2022.
The McFIT brand also runs a sports modeling agency, McFIT Models , which claims to be the largest sports modeling agency in Europe. The successful German fashion designer Michael Michalsky supports the agency as artistic director. In 2015, McFIT began designing affordable gyms , especially for smaller cities. Around 30 of these fitness centers, with monthly membership fees of less than €10, are set to open by 2015. In 2018 , McFIT is also a premium brand under the name "John Reed". In 2019, there were already 257 franchise gyms.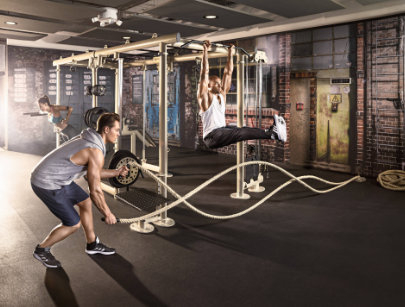 McFIT frequently asked questions
If you are interested in this Fitness center, we will help you solve some of the frequently asked questions about the McFIT gym chain.
Can McFIT enrollment be cancelled?
You can pause the contract for 6 months by communicating it in writing.
How many days a year is a McFIT gym open?
The McFIT gym is open 365 days a year. The hours of each McFIT gym may change.
What to take to the gym?
Bring sneakers and a towel. If you are going to shower, you must bring some flip flops. You can bring your own bottle of water with you.
What is the price for a gym day?
If you only want to try the gym, you can pay at McFIT the price of one day with the daily pass , of about €15. In addition, you will be able to do a test training during the coaches' schedule. If the gym convinces you and you decide to sign up, they will discount the price of the daily pass in your McFIT membership.
Are there personal trainers at McFIT?
Yes. The trainers are available from 10:00 in the morning until the gym closes. They will be able to help you if you are new and want to know how to do the exercises. Outside of trainers' hours, there are also supervisory staff to assist you.
What are the McFIT hours?
In McFIT the schedule depends on the gym in each city. Hours may vary slightly from one establishment to another. For example, from 6:00 to 23:00 at night or from 6:00 to 00:00. The McFIT chain does not yet offer 24-hour gyms.
What are the prices of McFIT?
• €29.90 per month for 12 contracted months.

• €34.90 per month for 6 contracted months.

• €39.90 per month for a contracted month.
What is the price of the personal trainer at McFIT?
The personal trainer is included in the gym fee, but if you want to enjoy this service, you will have to go to the gym during the trainers' hours (from 10:00 in the morning).
Does the McFIT gym offer a student offer?
To enjoy the student offer , you need the International Student Card (ISIC). You will have a €10 discount on the monthly fee.
What do McFIT customers think?
In general, in McFIT the opinions are good. People highlight this chain of Fitness centers for its low price and because it has all the necessary material to train. In addition, it offers the assistance of trainers.
Rainer Schaller, the owner of McFIT.
Get to know the McFIT gym
If you are a major gym chain in Europe, it is normal to think about how to move operations abroad. The mission of the McFIT group is to provide all the solutions that people need for their physical lifestyle. McFIT fitness club chains cover low-cost and premium offerings. The company also has a nutrition brand and offers personalized fitness at home through its own apps ( McFIT app ). The company even has its own fitness modeling agency.
McFIT was founded in 1997 by Rainer Schaller with the goal of making fitness training accessible to everyone. The first McFIT gym opened in Bavaria, Germany with the slogan 'Fitness for All' . In the 20 years since then, the chain has grown to 250 clubs in Europe. Although the general philosophy has remained much the same (make fitness accessible ), the offer has evolved. In 2012, McFIT introduced a new concept: 'Home of Fitness'. The price was still low, but the offer now looked and felt superior. The franchise incorporated modular training systems into gyms and, for the first time, offered group training in the form of cyber-workouts .. A finales de este año, todos los clubes de la marca cumplirían con la normativa Home of Fitness.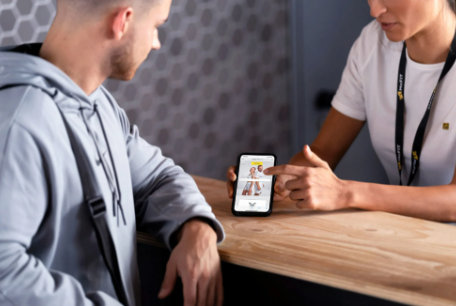 The company still has plenty of room to grow, even in Germany, where most of the clubs are. Currently only 12% of the population is dedicated to Fitness , but the market does not stop growing. McFIT's position in the market is very strong. McFIT is the largest low-cost gym company in Germany. The firm wishes to continue growing in this sector. The company doesn't spend too much time looking at what the competition is doing. The group focuses its energy on developing its brands and taking them as far as possible.
Apart from Germany, this chain of "low cost" gyms has great potential throughout Europe. The market is changing as interest in a Fitness oriented lifestyle grows. More clubs have opened in Poland, Italy and Spain. The parent company is called McFIT Global Group . The managers are thinking of expanding the company even outside of Europe, given the importance it has acquired in Europe. At the moment, nothing is decided.
The growth of McFIT
Another McFIT brand is HIGH5 , a small functional gym brand that launched in Berlin in April 2015. The idea behind HIGH5 was to make gym training more accessible. McFIT was already affordable, but HIGH5 is half the price of McFIT – just €9.90 per month.
It seems that commercial gyms are not doing discounts. They're like sports training rooms at US universities, and they attract the right customers. People don't really come to the McFIT gym for the price. People come because they really like the sport. For this reason, the "low cost" brand of McFIT has not cannibalized the main brand.
In April 2016, just one year after the first HIGH5 gym opened, McFIT Group introduced its next big release: virtual classroom content under the Cyberobics brand . When the company launched the Home of Fitness concept in 2012, it recognized the huge potential of virtual training back then. He decided early on not to work with live trainers, but to create group fitness rooms with virtual training content. The idea was quite simple: the instructor was showing exercises and giving advice on a white background. Despite this, the idea was very successful and involved many more people than our classes, especially women.
In 2014, McFIT decided to develop a new virtual product. The firm wanted e-learning to be more of a user experience, so it incorporated experience from the attractions industry. The team went to New York to film two exercises with celebrity trainer David Kirsch on a rooftop overlooking Manhattan.
As soon as the new classes were introduced, the group rooms in the gym filled up. McFIT found a new formula for virtual training: working with the best personal trainers in the US in the most amazing places in the world. This was the beginning of Cyberobics. Licenses for the Cyberobics brand are also available to non-competitors and to all operators in countries where McFIT does not exist (eg UK).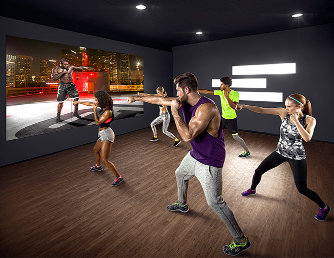 McFIT's new franchises
Cyberobics also operates in other markets such as hotels. A small Cyberobics room only needs 40 square meters, or one Cyberobics TV channel in the room. Large German hotel chains want to integrate Cyberobics into rooms with 10 short exercises that can be done in a small space with no equipment. If you want to do a longer exercise, you can go to the Cyberobics room. This is a great opportunity, since hotel gyms are usually pretty boring.
Corporate wellness is another area the brand is working on. Its Fitness for Business program has three parts: special rates for club memberships, home workouts offered through the Cyberobics On Demand app, and in-office Cyberobics units. The good response from users has been overwhelming.
The company also plans to launch its own Cyberobics clubs. The first women-only club is in Berlin. The establishment covers an area of ​​1400 square meters and offers three rooms for Cyberobics, cardio and circuit training, functional training and personal training, as well as a wellness area, spa, bistro and children's room.
The concept has been franchised and sold as a boutique club model without the wellness, spa, bistro or kids' lounge facilities. The franchise will only require around 350 square meters and has potential both in Germany and internationally.
McFIT gym creates the right training atmosphere
John Reed Music Fitness Clubs is the newest gym brand in the group's portfolio. The brand opened its first club in Bonn, Germany in mid-2016. It's all about design-led gyms, with flavors and cultures from around the world: Buddha statues are commonplace. A gym even has a traditional Indonesian wooden house and a balcony.
Founder and CEO Rainer Schaller loves to travel. In all of his travels, he has collected impressions, memories and inspiration. In early 2016, he came up with a new concept that bundled all these memories into one McFIT gym. The CEO asked the design team to find objects for the gyms. Therefore, in the clubs there are many souvenirs from places like India and China. Every gym is different.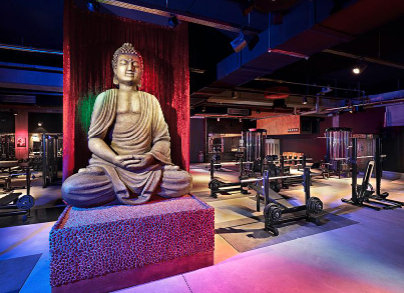 The company does not believe that its gyms are aimed solely at young people. Training is not a question of age, but of how you feel and what you expect from life. The goal of John Reed Gyms is to create a feeling, an atmosphere that you want to go to because it's visually stunning, the music is good, and you meet great people to work out and hang out afterward by sitting in the room or maybe, playing billiards It is the only club on the McFIT list that has a truly social space.
Music is the key to the concept. In the gym, contemporary music is played, not classical or jazz. DJs play twice a week in all the clubs. The gym has its own John Reed radio station, which only plays very upbeat and energetic music: pop, R&B, rap, hip hop and electro. This gym is not for those who don't like music. If you like music, it's a great place.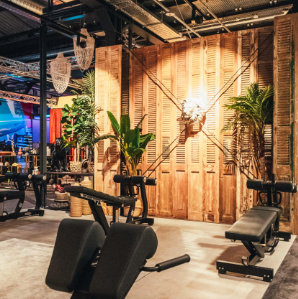 Innovation in McFIT Fitness centers
John Reed's story is an example of the dynamism of McFIT Global Group. John Reed's idea was conceived in January 2016. The initial meeting was held in April or May. Three months later, the first club of this brand was opened. The most exciting thing about the business is the energy, drive and speed to get projects off the ground, to get ideas and make them happen. The team is very flexible and dynamic in their work.
The company does not know where it will be in five years. Perhaps the company has new ideas for other club concepts, or perhaps it opens 300 John Reed gyms around the world. It's hard to say! But the situation is exciting and interesting.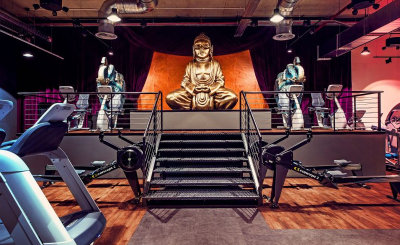 Brief history of McFIT gyms and their brands
• McFIT : It is the grandfather of the cheap fitness club chains. McFIT was founded in 1997 by Rainer Schaller, who opened the first club in Bavaria, Germany. His mission to make fitness accessible to everyone resonated with the community and the chain grew rapidly. There are about 250 McFIT clubs in Europe (all owned by the company) in Germany, Austria, Italy, Poland and Spain.
• HIGH5 : This brand of the group was launched in Berlin in 2015. HIGH5 is a functional training model with a reduced space. The goal is to make gym training more accessible. It only costs €9.90 per month, half the price of McFIT. Currently, there are 16 gyms in Germany.
• John Reed Fitness Clubs : This brand was launched in 2016. This great premium brand is expanding fast. The brand is inspired by different cultures from around the world and is highly rated. As the name suggests, it also has a strong focus on music. There are several John Reed clubs in Germany, Austria, Italy, Hungary, Switzerland, and the Czech Republic.
• Cyberobics : McFIT has invested millions of euros to produce market leading virtual content. It released this content to the market under the Cyberobics brand. It has also opened a World of Cyberobics concept store in Berlin, where the public can try out the lessons.
• Qi2 : This is the nutrition brand of the McFIT group, offering a range of products (drinks, shakes, bars, supplement powders and tablets) for men and women, as well as a special range for elite athletes.
• Home Training : The original McFIT LOOX app features videos and expertise from over 100 experts, and allows users to customize their workout plans. The new Cyberobics On Demand app is available to Sky home customers via Sky TV.
• McFIT Modeling Agency : Europe's largest sports modeling agency is part of the McFIT Global Group.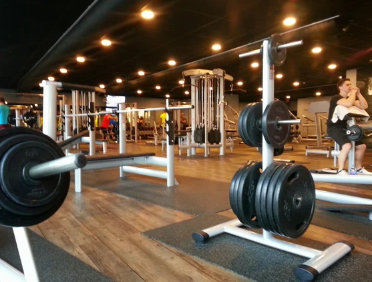 McFIT costs little money per month. What is truly astounding, however, is the price of John Reed. Despite the excellent facilities, John Reed's prices start at the same level as McFIT's, provided a long-term contract is signed. With the basic membership, you can only train at the John Reed club you are registered with. The Silver card, with a two-year contract, allows you to train at all John Reed clubs, as well as all McFIT clubs and all HIGH5 gyms.
The slightly higher priced Gold card allows you to train at all gyms and bring a friend with you on each visit (it can also be a different friend each day). Gold members can also book small group training sessions (included in their membership) and get discounts on Qi2 food products.
Finally, after having been a Gold member for at least two years, you become eligible for Platinum membership (which cannot be purchased). These members can bring two friends with them and get even bigger discounts on Qi2.
Where does McFIT have gyms in Spain?
McFIT gyms are in all major cities and provinces in Spain. You will easily find a McFIT gym in Granada, Alicante, Vigo, Santander, Albacete, Valladolid and Coruña .
Get to know the McFIT gyms in the areas of Madrid:
• Ventas.
• Nuevos Ministerios.
• El Carmen.
• Santa Maria de la Cabeza.
• Plaza Nueva.
McFIT gyms in Barcelona:
• Lesseps.
• Clot.
• La Farga.
Are you going to start training in a big city? Find your nearby McFIT gym ! You will not regret the experience that this "low cost" chain will give you or its price.