Why is the demand for the crossfit store in Madrid increasing ? There are about 2,600 gyms spread across Spain. Gym members were some 4.3 million in 2020, even despite the scourge of the pandemic. In the Fitness sector, new business models have appeared. An example is CrossFit, a different way of training with weights. Some gyms are low cost, and are only worth about 20 euros. Other gyms, such as crossfit gyms, offer a more qualified advisory service. Therefore, these can cost more than 60 euros.
Why have crossfit stores in Madrid become popular?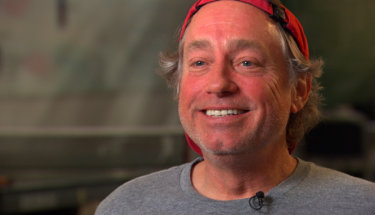 Greg Glassman, the creator of CrossFit.
The CrossFit franchise is worth over $4 billion. Crossfit is a type of functional training that combines weightlifting, muscle building and strength exercises, as well as movements to improve agility, flexibility, speed, power and coordination. In crossfit, several different exercises are executed during a series until reaching a certain time. Exercises can include plyometric jumping, jumping rope, squats, ball toss, pull-ups, sandbags, bars, kettlebells... Crossfit is an effective and result-oriented functional training method . The bet aims to create a feeling of community among customers.
The CrossFit brand is American. For this reason, the United States concentrates 72% of the crossfit gyms. In Spain, there are about 600 crossfit gyms . You can open a functional training gym without a problem. However, in order to use the CrossFit brand, you will have to pay the franchise to the owner. The fee for using the trademark is about $3,000 per year. Thanks to affiliated gyms, the CrossFit brand generates $45 million annually.
Spain represents 4% of the total income of the franchise (with 1.8 million euros). The crossfit gym is called a box. How much does it cost to set up a box in Madrid? Normally, the investment moves between 75,000 and 250,000 euros. In large gyms in cities with more than 1,000 square meters, the investment can exceed half a million euros in some cases.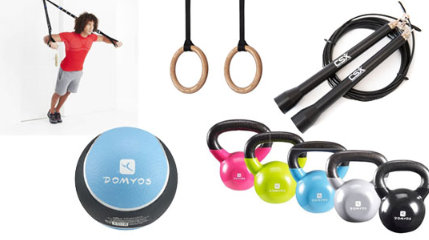 CrossFit doesn't just make money from franchise gyms. The brand also offers courses to become a crossfit trainer , which is a mandatory requirement to open an official box. In addition, there are trainings to become a judge of the "Crossfit Games" , which are the official competitions of the brand and another of its sources of income.
This sport has more and more followers all over the world. If you think of opening a gym, you need to find a crossfit store in Madrid to buy the material. What can the store provide you?
What do crossfit stores in Madrid offer?
Look for a crossfit store in Madrid like Depor Trainer , with extensive experience, trustworthy and recommendable. CrossFit was founded in the year 2000. Therefore, it has been so long that there are already several stores with excellent quality standards in America and Europe. In the end, the quality of the training materials achieves the satisfaction of the clients.
Other examples of crossfit stores in Madrid are Singular Wod and WodBox , which have an excellent price-quality ratio. These stores provide hundreds of sports equipment products , which are used for various activities such as gymnastics, crossfit or running.

The advantages of a crossfit store in downtown Madrid
CrossFit's official sponsor was the Reebok brand . However, CrossFit signed a new contract with Nobull . In some crossfit shoe store in Madrid it is common to still find Reebok shoes to practice the activity. The CrossFit company has also worked with other sports equipment and apparel brands, including Rogue, Goruck, US Army, and Whoo.
The physical crossfit store in Madrid does not have to prioritize any particular brand. In the establishment, you will find all kinds of cheap and high-quality crossfit materials . The crossfit equipment is professional and intended to be used often. The equipment is valid for crossfit and other sports and activities. It is designed for the long duration and profitability of the gym. Of course, you have to be aware of discounts and offers . Visit the crossfit outlet in Madrid to find the material you want at half the price.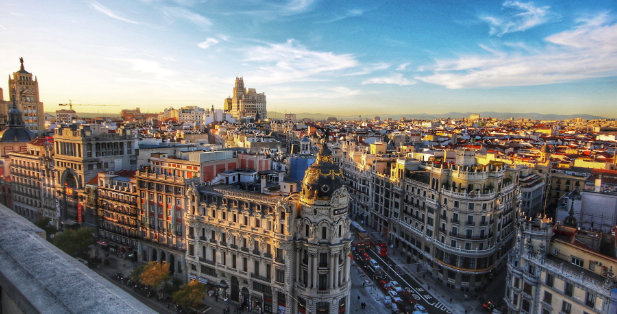 Physical crossfit stores in Madrid adapt to current needs. The shops offer outlet areas to buy cheaper material. You can also buy your sports equipment from the website .
You will find the variant or size of the crossfit product that you need. Depor Trainer, Singular Wod or WodBox always have a large stock for you to purchase your favorite item. There are crossfit shoes in Madrid, jerseys, wristbands , competition clothing, rubber discs, Olympic bars, jumping blocks, targets, throwing balls...

The materials of the crossfit outlet in Madrid
The mission of the outlet section is very clear: to bring the latest material to the public at a reduced price to ensure the best training concept . Since the year 2000, the stores have incorporated the latest technology from the world of Fitness .
"Our sector, the world of training and physical health, is constantly growing . We have evolved by following the latest trends and listening to the experts. The store has incorporated technological innovations such as the "Air Bike" stationary bicycle or the rowing machine that works with water. Currently, training as a concept is of great value to the public . We help people."
In the current context, technology and addiction to electronic devices abound, which encourages a sedentary lifestyle. A crossfit store in central Madrid plays a very important role . It not only seeks economic benefits, but also to promote sports with new activities.
Physical activity and sports, even if practiced as an amateur, are essential for our well-being. A crossfit shop in Madrid is much more than an establishment of crossfit products . The business is involved in a very complex issue that favors a large part of society.

What material can be bought in a crossfit store in Madrid?
The wide range of products varies according to the function, utility, size and other qualities of the articles. To practice crossfit, there are a total of seven fundamental categories.
Cardio equipment for crossfit in Madrid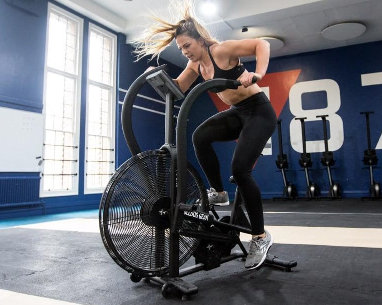 There are different stationary bikes , which vary according to the design, format, size, quality of the material and level of comfort they offer. Some exercise bikes are suitable for novice users, while others are more suitable for experienced athletes or CrossFit professionals.
There are stationary bicycles with various prices, but offers are frequent in the store . The store provides cheap and high-quality crossfit products in Madrid . Cardio products are very present in homes and gyms, where they are in high demand. The A ir Bike for crossfit is perhaps the most used exercise bike in the pits. Other popular products are the new motorless treadmills, ski machines, rowers and ergometers.
Equipment for strength training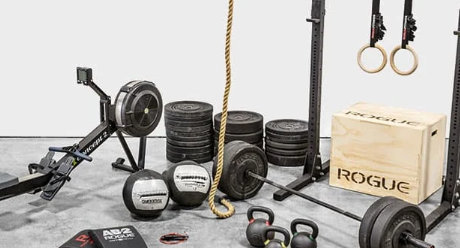 In this category, you will find the weights, supports for the bars and protection materials, which are necessary to do bodybuilding and strength activities . There are also discs, Olympic bars and their safety collars, adjustable benches and special crossfit clothing. How useful are these products? The answer is up to you. Depending on the exercises you practice often, you will need some crossfit accessories or others to train with the intensity you require. Decide what crossfit products you want to buy in Madrid and how to take advantage of them.
What can you buy in crossfit equipment in Madrid to exercise the muscles?
- Olympic bars for crossfit .
- Pliers, closures and rings for Olympic bars .
- Normal Olympic discs .
- Bumper or rebound discs (they are the typical ones that are usually used for crossfit).
- Medicine Balls, Slam Balls and Wall Balls .
- Chalk to improve grip (can be liquid or powder) .
- Russian weights or kettlebells.
- Parallel bars to train the pectoral and triceps .
- Ballasted sandbags .
- Gymnast rings .
All these materials are available in the crossfit Madrid stores .
Recovery Accessories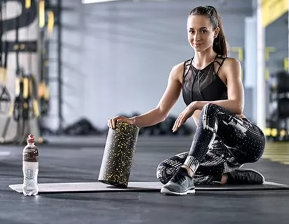 In this category, you will find mats, stretching benches and other very useful accessories, such as small and large rubber balls, which can even be used to work the muscles . In addition, massage accessories and others are sold that will provide you with greater convenience and comfort during your physical activity.
If you are new to crossfit, you can do without these items. However, they help you to correctly stretch each muscle and achieve the necessary relaxation for your subsequent recovery. In time, they will come in handy. Remember that recovery is just as important as training. Frequent use of recovery items ensures better work and performance. The positive results of using these products will be evident in the medium and long term.
Material for functional training in Madrid
Functional training products are used to perform certain exercises (for example, push-ups or abdominal crunches) in a more comfortable way. Thanks to the crossfit products from the Madrid store , you will prevent injuries and muscle pain. The functional accessories will help you to perform the exercises correctly. You will achieve greater efficiency.
Functional equipment includes kettlebells, sandbags, rings, and fighting ropes . Find them all in crossfit Madrid store .
Gym items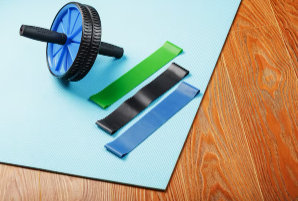 These products are mainly gym mats, precision discs and adjustable bands. Or they optimize the different movements of the body during gymnastic exercises . These materials are also widely used in functional or crossfit training, so take a look at the offers.
Specific accessories for crossfit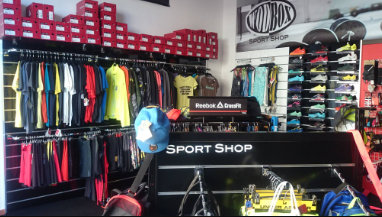 These products are aimed at the athlete or practitioner. You will need to dress appropriately to practice the activity. Are you looking for crossfit clothing in Madrid? So, visit a downtown store like WodBox. There, you will find the t-shirts, sweatshirts, pants or leggings and shoes for crossfit. Also backpacks, protection belts, gloves and street straps, skipping ropes and wristbands. If you don't know which item is the most advisable for you, consult with a store expert. You must indicate what kinds of exercises you do, their intensity and your level. Enjoy a Reebok Crossfit store in Madrid and also other brands such as search Adidas and Under Armour . In the store, there are all the accessories and crossfit clothing for men and women you need.
Structures and supports for crossfit in Madrid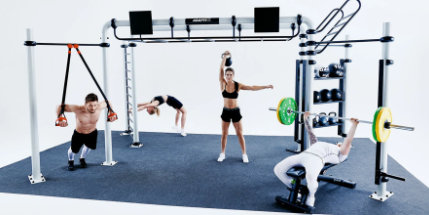 The structures and supports are elements that allow you to train or store heavy objects such as bars and large discs . Brackets allow you to fit a large number of accessories in one place. The supports are also useful to provide security and establish better order , something quite necessary in commercial gyms.
If you still don't know where to buy cheap crossfit equipment , our crossfit store in Madrid is the best option for you. What are you waiting for to check it out? Ask for expert advice!