Among the professions related to Fitness and good physical shape, there is the security guard . Do you need to be in the gym to be a good security officer? What requirements and skills do you need?
Private security guards do much more than sit at a desk and monitor people coming in and out of a facility. They are the first people a company's visitors see. Therefore, the first requirement is to show a friendly attitude and have good communication skills. Private security is necessary at many events . For example, at concerts, festivals and football matches. It can be a very sociable and enjoyable job for the right person. In addition, it opens up many opportunities for you. If you are interested in this job , here is everything you need to know before starting your career as a security guard.
What functions do security guards do
The function of a security guard is to protect the people and property of your contracting company or client. It has the great responsibility of preventing before an incident occurs. When there are no violations in a place, it means that the guard is doing his job correctly. The following functions are an essential part of this job.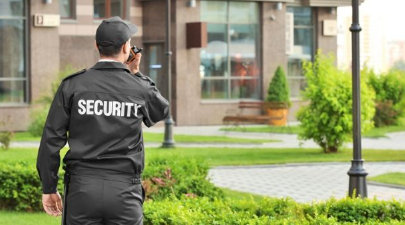 The security guard has to prevent incidents from occurring
This professional guarantees the safety of buildings, valuable objects and people. He is more important than we think, because a company's success or failure depends on his good work. The guard also collaborates with the police and other state security bodies. He has to be one of the most trusted people in a company.
Must be a highly visible professional
The purpose of a security guard is not to be hidden, but to be visible to scare away criminals. If there is clear surveillance, people think twice before attacking a site. So, the security manager has to be very visible. In this way, he will be able to dissuade criminals who intend to steal, injure or do damage in the place that the guard must defend.
Watchman role
Security guards must remain alert to any strange event. They also have to pay attention to unusual sounds. His job is prevention. To do it well, they must be alert, listen, and watch . They must be wary of any activity that could take them away from their position. Sometimes a distraction may be planned to divert the practitioner's attention.
Be a good observer and informer
The security officer is tasked with accurately observing and reporting any incidents he witnesses. How should the agent act when a violation has occurred?
- The first step is to stay calm.
- You must observe the events well to remember them.
- You must report to the police or supervisor according to company policy.
Ask for help
In a dangerous situation, such as a mugging, robbery or assault with a deadly weapon, the private security guard will need help to apprehend the suspects. You will need to ask the police for help quickly. This is one more part of your job. Even the most experienced police officers must ask for help in dangerous situations to stop criminals.
Capacity for teamwork
Sometimes the security guard has to work as a team when he is responsible for upholding certain rules and policies set by his client. The professional can perform the following tasks:
- Require the employees of a company to show their identification card to enter the building.
- Inspect or record workers leaving the facility.
- Supervise that safety regulations are complied with and notify dangers (blocked exits, slippery floors, fire-fighting measures...).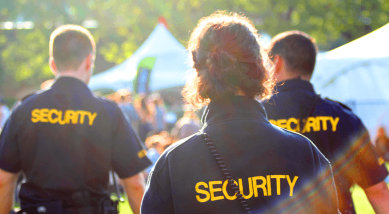 What skills and aptitudes are needed to be a security guard?
Private security guards must do everything possible to offer their clients a first class service. A team of security guards must be made up of well-trained and professional employees. Not only experience is necessary, but also certain highly desirable qualities in a person wishing to work in private security companies. Know the essential traits that every team member should possess.
• Customer orientation and treat people in a polite but assertive way.

• Ability to work well with other people.

• Pay close attention to detail.

• Have a deep knowledge of the world of private security.

• Be patient and calm in tense situations.

• Being able to monitor their own performance and that of co-workers.

• Efficient use of computers and other portable devices to do basic tasks.

• Concentrate, and be alert and paying attention to the environment.

• A good guard can take criticism and work efficiently under pressure.
How to be a guard or security officer: the requirements
To be a security guard, the requirements vary depending on the country. However, in most places, at least being of legal age and a criminal record check will be required . Let 's see how to be a security guard in different interesting countries to work for.
Requirements to be a security guard in Spain
If you are interested in working in security guard companies in Spain , you must meet the following requirements :
• You must be of legal age.

• Possess the nationality of a country of the European Union.

• Have basic higher or equivalent studies (ESO).

• Have the necessary physical and psychological capacities to carry out the profession.

• Not have a criminal record for intentional crimes.

• Not having been expelled from the Armed Forces or Security Forces and Corps.
In Spain, you have to pass the theoretical tests for a security guard with a course. This is the only way to obtain the Private Surveillance and Security Professional Certificate and the Professional Identification Card (TIP) . This will allow you to work as a security guard with full guarantees and a good salary.
In addition, in Spain you are required to pass physical tests , which include doing a number of pull-ups, throwing a medicine ball, vertical jumping, and running. The marks to beat to verify physical aptitudes vary according to the age or sex of the applicants. The physical requirements for men and women are different, for example.
Unlike other countries, such as the United Kingdom, in Spain there is no security guard course that enables you to also work as a nightclub doorman . To carry out this profession, you will need the access control certification , whose course is done separately.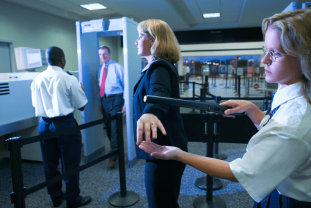 Security guards working at the airport.
How to become a security officer in the UK: requirements
In the United Kingdom, there is a security officer license , to work as a guard or watchman; and the door supervisor license ("door supervisor"), which qualifies to work as a doorman in nightclubs.
In the UK, the door supervisor license allows you to work as a security guard and as a nightclub bouncer . However, the security officer license is not valid for working as a bar bouncer. To expand your employment options in the country, it is better to take the door supervisor course.
The requirements to be a security guard in the UK are not difficult. You must have reached the age of majority, have no criminal record and successfully pass a theoretical-practical course of about 4 days. You can do it at any of the companies that offer training in the country, such as Get Licensed . In the practical part, you do not have to pass any special physical tests. You just have to learn some self-defense techniques, for example, to get a troublesome person out of a nightclub. You will also have to pass some theoretical exams with multiple choice questions after taking the course.
If you have successfully passed the exams and do not have a criminal record, you will have to apply for your security license at the official body. In the UK, private security licenses are issued by the Security Industry Authority (SIA). You will have to pay the fees and wait for a while until your license is processed. Your SIA card will be sent to your home. You will need to display this card on your arm or around your neck when performing your duties.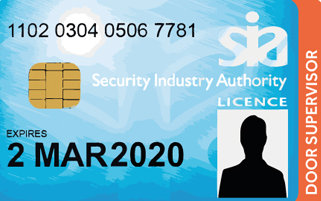 SIA private security license in the United Kingdom.
Requirements for private security officers in the United States
The dream of many people is to work in private security in the United States. The process here is somewhat complex because the requirements are different according to each State. There are a few things that are typically required in all states:
• To be 18 years old or more.

• Submit a certificate to ensure that you do not have a criminal record.

• Have US citizenship or legal right to work in the US.

• Know how to speak and write American English correctly.

• Take a security course approved by the State Government where you go to work. The course can be online.

• Present an identity document that includes a photograph.

• Pay the license fees.

• Present all the documents that the State requires by mail or online.
Despite this, each State has an organization that controls private security courses and issues licenses for its guards, so you will have to check with the Government of each State.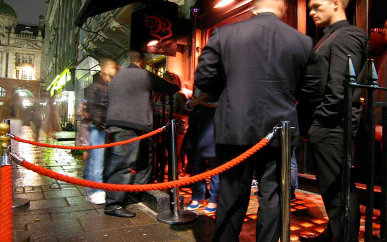 Portero de discoteca o controlador de accesos.
The daily tasks of the security guard
The private security guard can perform a wide variety of tasks, which will depend on the place where he works. It is very common for you to take care of the following things:
• Patrol the premises and secure windows, doors and various entrances.

• Know how to control video surveillance cameras.

• Know how to respond to alarms.

• Correctly store money and other valuables in a security vehicle.

• Control scanning equipment and devices, for example, if you work as an airport security officer.

• Control workers and visitors at the entrances and exits of a building.

• Monitor the boundaries of various important facilities. For example, airports, industries, stations and power plants.

• Know how to check luggage.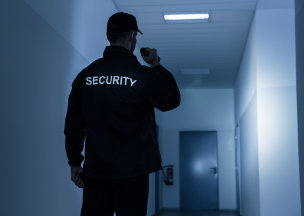 Guard with flashlight patrolling inside a building.
In many countries, security guards are agents of the authority with the same consideration as any other state security body for legal purposes. There are even armed security guards . In some specialties, you have to do target practice; for example, in escort or bodyguard.
Types of security guard and job opportunities
The licenses that we have mentioned are used to provide a basic security guard service . However, there are many types of vigilantes and officers. There are many fields where you can specialize and make your career in the profession. Of course, other job roles will require new specific licenses.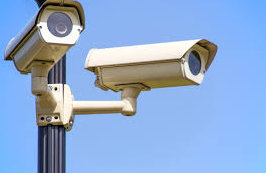 CCTV surveillance cameras.
• Assistant of security. It is the only position that does not usually require a license. However, their duties and salary are very limited. He's not a proper security guard . You can work in certain buildings and facilities providing support tasks.
• Guard to guard objects and money in transit. He works on security vehicles like vans.
• Specialist in CCTV or video surveillance circuits. He is expert in security cameras to keep an eye on.
• Safety on the front line. They are nightclub doormen, guards and agents who work directly with people.
• Access controller. It works at the doors and entrances of events, bars, concerts and places of recreational activities to control the entry and exit of people.
• Sworn guard. It is the classic bodyguard or private escort , a position of great responsibility whose objective is to offer protection to specific people. Sworn guards often require a different license, training in self defense and the use of weapons.
• Security boss. If you have already accumulated several years of experience, you can become a head of security to lead a team. You will have a higher salary.
• Security director. This professional is in charge of directing and managing a security company . Typically, it requires several years of experience in the industry, unless you have decided to open your own private security business.
• Explosives watcher. It is in charge of the storage, transport and distribution of explosives and dangerous merchandise. It requires a special approved license.
• Rural guardian. It exercises surveillance and protection functions in rustic farms and agricultural facilities. There is also a game warden for country hunting areas.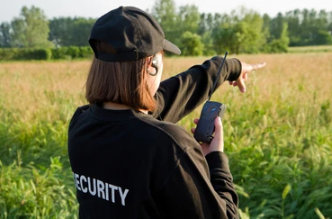 Rural security guard.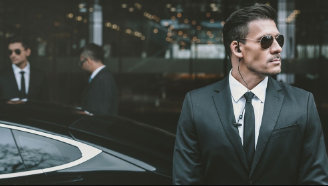 Escort the sworn guard.
The 14 security guard specialties
Within the basic role of watchman, there are 14 specific areas that you can dedicate yourself to professionally. Get to know them:
Airports.

X-ray machines.

Malls.

Hospitals.

Sporting events and public shows.

Historical and artistic heritage.

Internment centers and other security units.

ports.

ships.

Surveillance with dogs.

Security transportation.

Urbanizations, polygons, transport and public spaces.

Alarm services.

Nuclear facilities and critical infrastructures.
In which places do security officers and security guards carry out their work?
Over time you can be, supervisor, superior or head of security. You can get a more qualified job position as a security director, to move on to do management tasks. You can also become a zone security manager, to have responsibility for stores, offices or other facilities in a region.
Another specialization is a consultant, who advises companies on certain security means (escort, anti-terrorist measures or conflict management). Finally, you could undertake to create your own security guard agency or work for companies that develop and sell security systems (for example, biometric or surveillance equipment).
Work environments are very different. You can look for employment in this sector according to your tastes. Security guards for events work at fairs, concerts, theaters, festivals... An industrial security guard will carry out surveillance work (day or night) in factories, department stores or industrial buildings. Other places where there are security guards are supermarkets (such as Mercadona ), airports, shopping centers or hospitals . If you like the rural environment, you can also monitor rustic farms.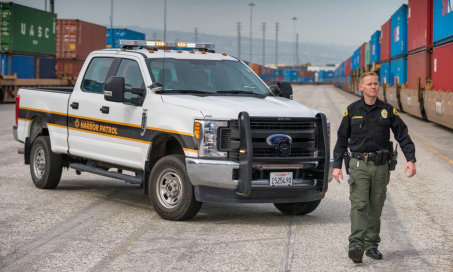 Security officer with his vehicle in a port.
As security guard jobs await you in many different places. Keep in mind that your work environment can be physically demanding. On many occasions, you will be outdoors and facing the weather conditions. Some watchmen and guards have to wear a uniform .
What salary does the security guard have?
If you are interested in this industry, surely one of the things you most want to know about the security guard is what salary you can expect. Let's see an approximation for a basic guard post:
• Spain : About €15,000 a year is the salary that is usually assigned to a basic position. The salary will depend on the place and the company where you work. It is between €750 and €1,900 net per month. It must be considered that this profession has interesting bonuses for dangerousness, night work, activity or transportation, which increase the base salary.
• UK : £18,000 (without experience) and £32,000 per year (with experience). You will work 37 to 48 hours per week. Keep in mind that many positions require working on weekends, holidays or at night.
• United States : A security officer will earn between 21,000 and 50,000 dollars depending on the State.
These are just three examples. The salary of a security guard varies according to the cost of living in each country.
Security guard companies
Although a client can independently hire their own guards or guards, security professionals typically work for private companies. These companies or agencies work as intermediaries to provide security guard services to other companies: event organizers, hotels, museums, industries, nightclubs, construction companies, office buildings, neighborhood communities, shopping centers...
If you have already obtained your security guard license, you will normally submit your job application to security guard agencies or companies . They will take care of paying you and sending you to the workplace. Let's see examples of agencies in countries like Spain, the United Kingdom or the United States.
• Spain: Prosegur security guards SL , Securitas Seguridad España SAU, Eulen Seguridad SA, Ilunion Seguridad SA, Prosegur Servicios de Efectivo España SL, Loomis Spain SA, Movistar Prosegur Alarmas SL, Grupo Control Empresa de Seguridad SA or Garda Servicios de Seguridad SA
• Reino Unido: GS4, Vision Security Group Ltd., Loomis UK Ltd., First Security Guards Limited, TSS (Total Security Services), Professional Security, Secure On Site Security (SOS), Advance Security (UK) Limited o Ultimate Security Services Ltd..
• Estados Unidos: Prosegur, Allied Universal, G4S, American Hawk Security, Brinks, Epic Security, National Security and Protective Services, Securitas o GardaWorld.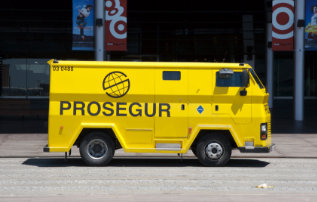 Private security vehicle of the company Prosegur.
International
There are companies that work globally offering positions to licensed guards in all parts of the world. One of the best known companies is G4S . This company offers employment in the United States, England, the United Arab Emirates, Colombia and more countries. It is a great alternative for adventurers who want to live the experience working in another country.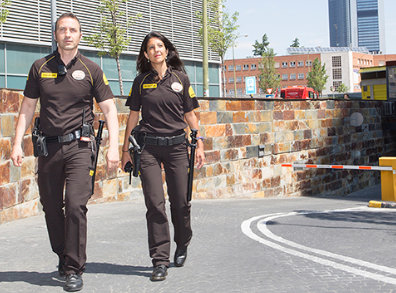 Guards from the security company Prosegur on patrol.
Should I go to the gym and stay in shape if I am a security guard?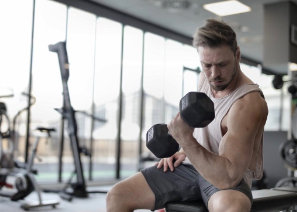 In some countries, like Spain, you will have to pass physical tests to dedicate yourself to this profession. In other countries, the requirements are not so great to obtain the license. In any case, good physical condition always comes in handy for security guards and nightclub doormen. Good physical shape is a quality that everyone can obtain, you just have to work on it regularly. A security guard must be in good shape, as his job involves many physical challenges. It may require patrolling large areas, staying up all night, or chasing down a thief. Maintaining a good state of health positively influences the speed of reaction of the guards and helps them to stay focused on their work.
Security guards should exercise regularly. They also have to take care of their diet because. Only if they are well prepared physically will they be able to defend themselves and ensure the safety of others when emergencies arise. A good security guard should have the knowledge and experience required for the job. Certain qualities will be necessary to better perform surveillance tasks. Among the best qualities of a guard are honesty, integrity and observation skills.. Communication skills, a conciliatory attitude and being empathetic are also essential. These skills help security guards to effectively solve problems and prevent danger. Also, remember that recruiting companies value more hard-working, motivated people who are flexible and know how to work with colleagues.
If you have a high level of demand with yourself, you will be the best security officer to successfully protect any business, property or event. For this reason, your physical form and your mental abilities are also the most important tools of your work.