HOW MUCH CAN I LIFT ACCORDING TO MY WEIGHT
Hello readers, and greetings to all. If you recall, in one of our previous articles, we looked at the potential strength gains for the average lifter in the squat , bench press , and deadlift . In case you haven't read it, I'll leave it here:
HOW MUCH STRENGTH CAN YOU GAIN NATURALLY?
In this post, we would like to continue with the topic discussed in that article as a second part, delving a little more into the aspects that will determine our genetic potential , as well as the progress curve of an average natural lifter .
To do this, we are going to divide this post into 3 main points:
1. THE RELATIONSHIP BETWEEN STRENGTH AND THE GENETIC MUSCULAR LIMIT .
2. CURVE OF PROGRESS IN STRENGTH FOR AN AVERAGE NATURAL LIFTER .
3. NATURAL ELITE ATHLETES IN THE PAST AS A POINT OF REFERENCE.
We hope that the work behind this article is worthwhile and provides you with useful information. It is worth mentioning that the article is based on the average user who trains, and does not have to be adjusted to each individual case. Each individual is unique and there are certain people with extraordinary genetic conditions, just as there are others who are going to have it a little more complicated in this sport. We do not intend to offer this information as absolute truth for any particular case, but to serve as a general orientation guide with which you can better assess your results. If more, we go with the points to be discussed.
1. THE RELATIONSHIP BETWEEN STRENGTH AND THE GENETIC MUSCULAR LIMIT
As we well know, the maximum strength of an individual is closely related to their body weight. And more specifically, with the muscular or lean weight of the individual. Generally speaking, the more weight in muscle mass you possess, the more maximal strength potential you can develop. If you train and eat well, in the long run you will become heavier and this will allow you to load more kilos on the bar.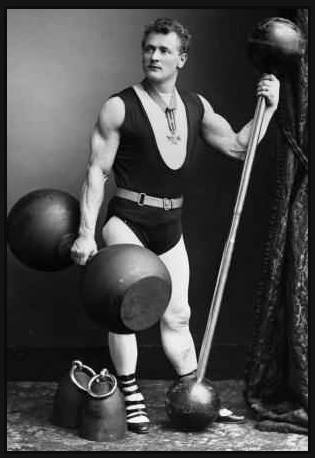 Now, the genetic muscular limit is also closely related to our height and structure. In other words, how many pounds of muscle we can gain is determined by genetics.
Generally speaking, a natural male will find it very difficult to exceed his height in body weight while maintaining a very lean and defined physique.
To give a practical example: It would be necessary to take the subject's height (say 170 cm as an example) and subtract 100 cm (1 meter). The resulting figure would give us the approximate weight that that person could reach muscularly with an optimum point of definition naturally.
170 cm - 100 = 70
In this case, a 1.70 m male could weigh about 70 kg with a low percentage of body fat and visible muscles. The margin would be a couple of kilos above or below that figure depending on the point of definition and dryness.
Maybe 72kg at 12% fat, or 70kg at 10% fat, or maybe 68kg at 7% in certain cases with good genetics. But it is clear that someone of 1.70 m will not be able to weigh 80 or 90 kilos with 10% fat, at least not without using doping substances.
The problem with becoming too heavy naturally is that weight gain will inevitably be accompanied by pounds of fat that will be totally counterproductive.
It won't pay off for a veteran athlete to get fatter, since that doesn't mean they'll get stronger. Often, he will see how that extra fat gain has not given him as significant an increase in strength as he had hoped. What's more, it's possible that he even decreased his relative strength due to the extra weight gain.
In the following guide for natural bodybuilders , we will expose different heights with their corresponding maximum weight that could be reached by a natural in a competitive state. By competition status, we mean a very low fat percentage , around 7% or less.
We already have a guide to where the potential for muscle development lies for a natural athlete. Although we could expand more on this aspect, we will do so in other articles.
What about the force? What parameters could we consider to assess a good level of strength in a natural athlete?

For this, we will take the main basic exercises: squat , bench press , deadlift and military press , and we will establish relative strength indices that we consider acceptable and naturally achievable for the average lifter. In this way, they can be taken as a reference to assess the level of strength of an athlete.
- INTERMEDIATE LEVEL : It is what can be expected from the athlete who has trained constantly for a period of between 1 and 2 years.
Squat: 1.5 x bodyweight
Bench press: 1.1 x bodyweight
Deadlift: 1.75 - 2 x bodyweight
Military Press: 0.75 - 0.8 x body weight
Chin-ups: 10
- ADVANCED LEVEL: Athlete who has trained for a period of several years. Normally more than 5 years.
Squats: 2 - 2.4 x bodyweight
Bench press: 1.5 - 1.8 x body weight
Deadlift : 2.5 - 3 x bodyweight
Military Press: 0.9 - 1 x bodyweight
Chin-ups: 15-20
An athlete who has reached the intermediate level target marks will already have quite decent muscle mass. On the other hand, those who are consistent and go above and beyond will find themselves somewhere in the advanced level after a few years...and typically, an advanced athlete's strength marks tend to match their genetic muscle limit as well .
In other words, if you've been training for several years and your marks are around +1.5 x your bench press weight, +2 x your squat weight, and +2.5 x your deadlift weight..., it's very likely that you're already getting close. to your genetic muscle growth limits .
Of course, at that point you can continue to improve the rockiness and detail over the years, but it will be very difficult to add significant pounds of clean muscle. As you can see, the genetic muscle limit is much closer than many people think. As much as magazines and videos want to convince you otherwise, the reality is that in about 5-7 years of hard and constant training you will have almost exploited your growth potential. Also the strength gains will be diminished with progress and the years and it will be more and more difficult for you to add more kilos to the bar.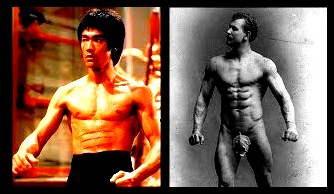 Most training individuals aspire to achieve a lean and aesthetic physique as well as a strong and functional one. Next, we will take an average 1.75m tall male as an example and see what stats one would expect after several years of training at a very advanced level. Having a competition physique at 7% fat with good muscle tone is very difficult for almost anyone, so for our example we will set a weight of 75kg at 10% fat. We believe that this is an acceptable, functional and sustainable level of definition for most people.
In this way, the boy in our example could one day have statistics similar to these:
- MUSCLE GROWTH POTENTIAL:
Height: 175cm

Weight: 75kg

Fat: 10%
- STRENGTH GAINS:
Squat: 180kg

Bench press: 135 kg

Deadlift: 225kg

Military Press: 75 kg

20 Pull-up Chin-ups
As you can see, it's not bad at all. And getting there is going to be quite a challenge for most average natives.
2. STRENGTH PROGRESS CURVE FOR AN AVERAGE NATURAL LIFTER
Next, we are going to look at what the typical path an average natural athlete would take from being a novice to becoming an advanced lifter over the years. Basically, we will start from the idea of ​​the previous point, but in a much more extensive and developed way.
A lot of people ask "how much weight can I lift in the gym?" . How much should I lift in each of the basic exercises: squat, bench press, deadlift, and overhead press, and how long should it take me to get there.
These are, without a doubt, good questions, since the numbers will serve as important reference marks when it comes to assessing and following our progress as we become bigger and stronger.
One of the main indicators to assess progress is called relative strength . It is a measurement that indicates how much you are able to move in certain compound exercises in relation to your own weight.
We're going to dive into the benchmark numbers to give you an idea of ​​where you're at and which exercises you're most stuck on. And more importantly, what expectations can you have for later.
We will again take our 75kg natural lifter as an example and show a realistic progress curve through the different levels. Note that the markings given for the basic exercises are for 1 REPEAT MAX.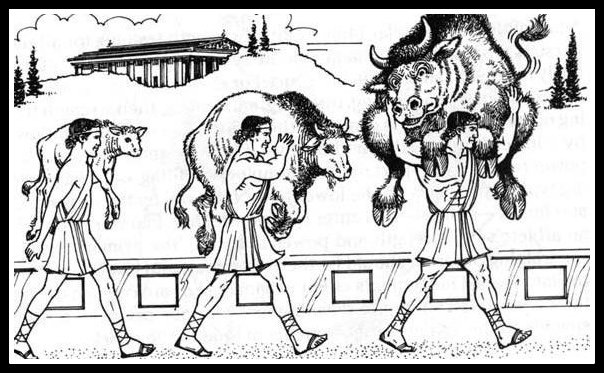 BEGINNING LEVEL OBJECTIVES:
After a period ranging from 6-12 months, an average individual should be able to achieve the following goals:
-Squat: 1.2 x body weight (90 kg)
-Bench Press: 0.9 x body weight (67.5 kg)
-Deadlift: 1.5 x body weight (112.5 kg)
-Pull-ups/Chin ups: 1-10 reps
-Military Press: 0.6 x body weight (45 kg)
INTERMEDIATE LEVEL OBJECTIVES:
After 1-2 years of proper training, an average male should be able to achieve the following:
-Squat: 1.5 x body weight (112.5 kg)
-Bench Press: 1.1 x body weight (82.5 kg)
-Deadlift: 1.75 x body weight (131.25 kg)
-Pull-ups/Chin ups: 10-12 reps
-Military Press: 0.75 x body weight (56.25 kg)
ADVANCED LEVEL OBJECTIVES:
Minimum, it requires about 5 years of constant and adequate training. The average male should be able to achieve these goals:
-Squat: 2 x bodyweight (150 kg)
-Bench Press: 1.5 x body weight (112.5 kg)
-Deadlift: 2.4 x body weight (180 kg)
-Pull-ups/Chin ups: 15 reps
-Military Press: 0.9 x body weight (67.5 kg)
HIGH-ADVANCED LEVEL OBJECTIVES:
Average individuals with 10 or more years of training might be able to achieve the following milestones:
-Squat: 2.5 x body weight (187.5 kg)
-Bench Press: 1.9 x body weight (142.25 kg)
-Deadlift: 3 x bodyweight (225 kg)
-Pull-ups/Chin ups: 15-20 reps
-Military Press: 1.15 x body weight (86.25 kg)
IMPORTANT CONSIDERATIONS ABOUT TARGET RECORDS
Although the statistics we have proposed above can be useful to help us assess our progress, they should not be taken as absolute truth either.
Every person is different, and while some are naturally good at certain exercises, they may be comparatively weak at others .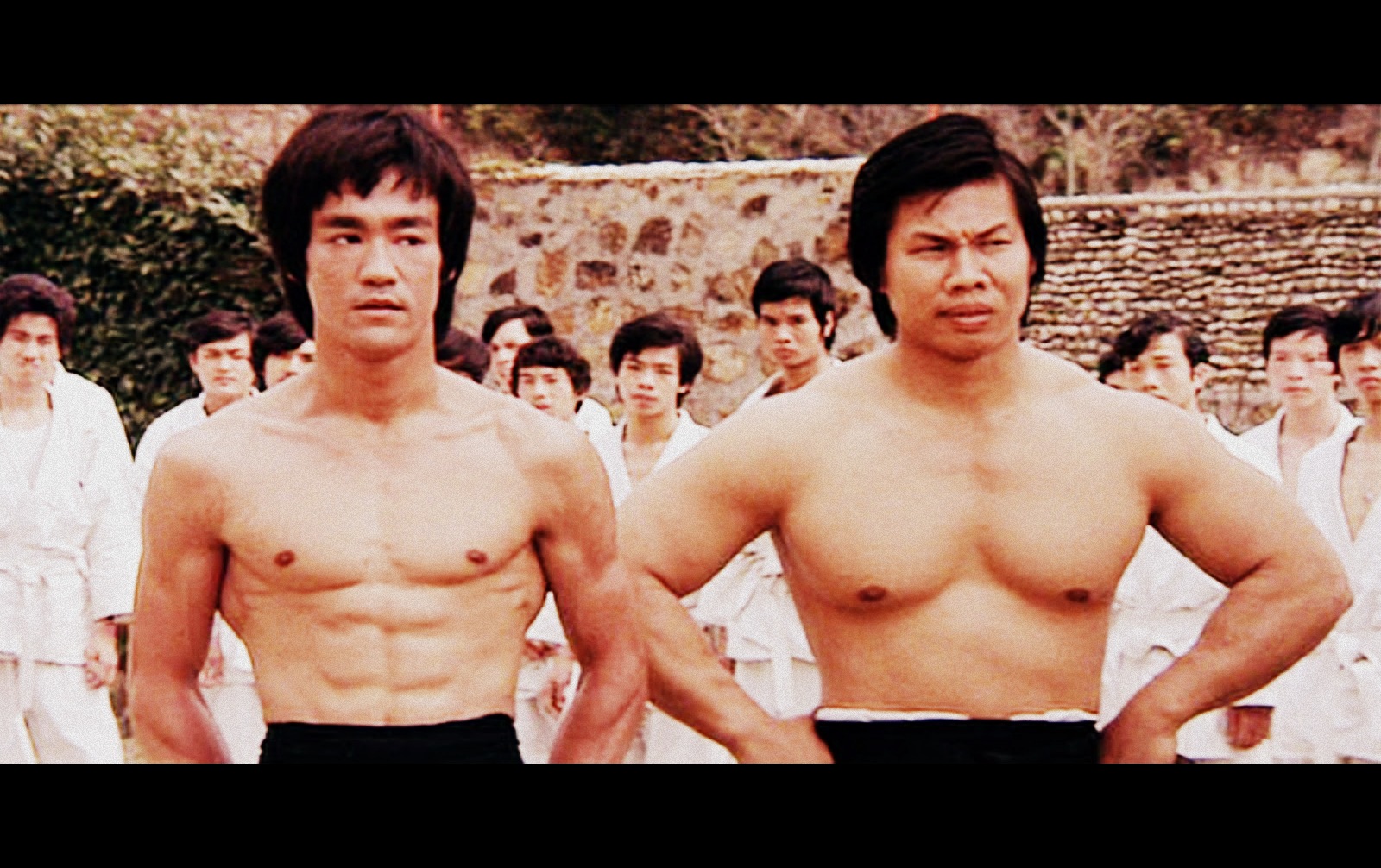 For example, guys with long arms tend to do well on the deadlift and struggle on the bench.
The squat is usually easier for people with short thighbones compared to those with long thighbones.
Heavier guys with higher body fat percentages will have a harder time pulling up compared to the other four exercises.
That said, the given parameters can serve as a useful reference and help you find out if you have any muscle group that is disproportionately stronger or weaker than others.
Finally, you also don't need to reach the Advanced or High-Advanced level to have a lean and muscular physique.
In fact, most athletes will show good muscle tone once they reach the intermediate level, which may well be possible in 1-2 years.
If you want to tell us your strength goals, you can leave them in the comments ;).
3. ELITE NATURAL ATHLETES IN THE PAST AS A BENCHMARK
To end our extensive article, we would like to mention another curious method to analyze the strength potential achievable in a natural way. We found it on the blog www.masfuertequeelhierro.com under the name "How much can I aspire to lift" and we found it very interesting, since it compared the strength of an elite athlete before the appearance of steroids .
The question we should be asking ourselves is " what were strength recrods like before people started taking steroids ?"
Nowadays, we have tons of videos on the internet of people with impressive strength records. Some of these users are very young and in their 20s. The problem is that today it is very difficult to know who is using steroids and who is not. Most consumers do not want to openly recognize it for commercial, social and economic reasons (because they are sponsored by brands, not to lose followers on YouTube and social networks, etc.).
For this reason, we cannot take these marks lightly as a reference of realistic targets for natural ones. What we can do is have the reference of elite athletes who competed in strength before steroids began to be used. For example, John Davis (see photo below) was the athlete proposed on the www.masfuertequeelhierro.com blog.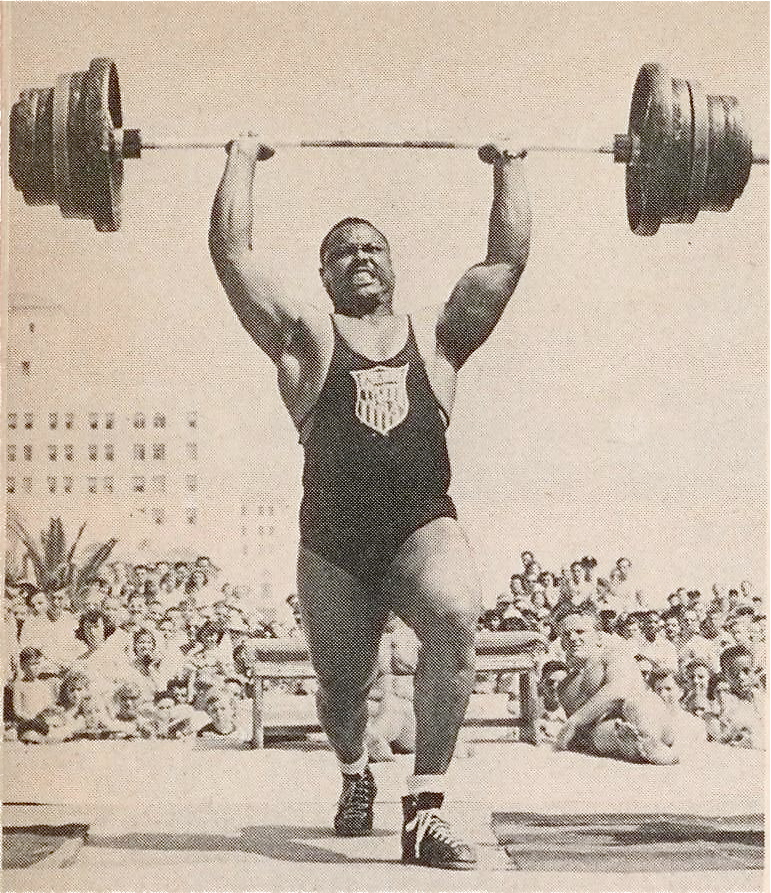 John Davis was a strongman who competed from 1937 to 1956, a time when steroid use was not yet widespread. He made the best record of it in the 1950 Olympic clean and jerk lift of 182.72 kg. It is unlikely for the time that he used steroids at that time, so we can say with a high degree of confidence that his marks were achieved naturally.
What were the marks of John Davis ...?
John Davis reached a weight of 105.90 kilos and his marks were the following:
SQUAT: 250kg x 3, 238.63kg x 8, 227.27kg x 10
BENCH PRESS: 193.20 kg
DEADLIFT: 320.45kg
Others:
CLEAN AND JERK: 170 kg
CURL WITH BAR: 97.72 kg
Now, we will compare the weights moved by Davis in relation to his body weight (105.90 kg).
- SQUAT: 250 x 3 would be equivalent to an RM of about 265 kg = 2.5 x body weight
- BENCH PRESS: 193.20 kg = 1.8 x body weight
- DEADLIFT: 320.45 kg = 3 x body weight
As we can see, Davis' marks fit perfectly with those of a natural high-advanced athlete.
Considering that Davis was a world-class athlete, with excellent genetics and years of lifting weights behind him, what makes you think that you, as an average genetics user, can top these stats?
Chances are the John Davis markings are too much for just about anyone. Many will only get to 1.5 - bench press, 2 - squat and 2.5 - deadlift and from there, they will resist putting every pound on the bar.
[CLICK HERE TO SEE THE VIDEO OF JOHN DAVIS LIFTING THE WORLD RECORD OF 182 KG IN THE CLEAN AND PRESS]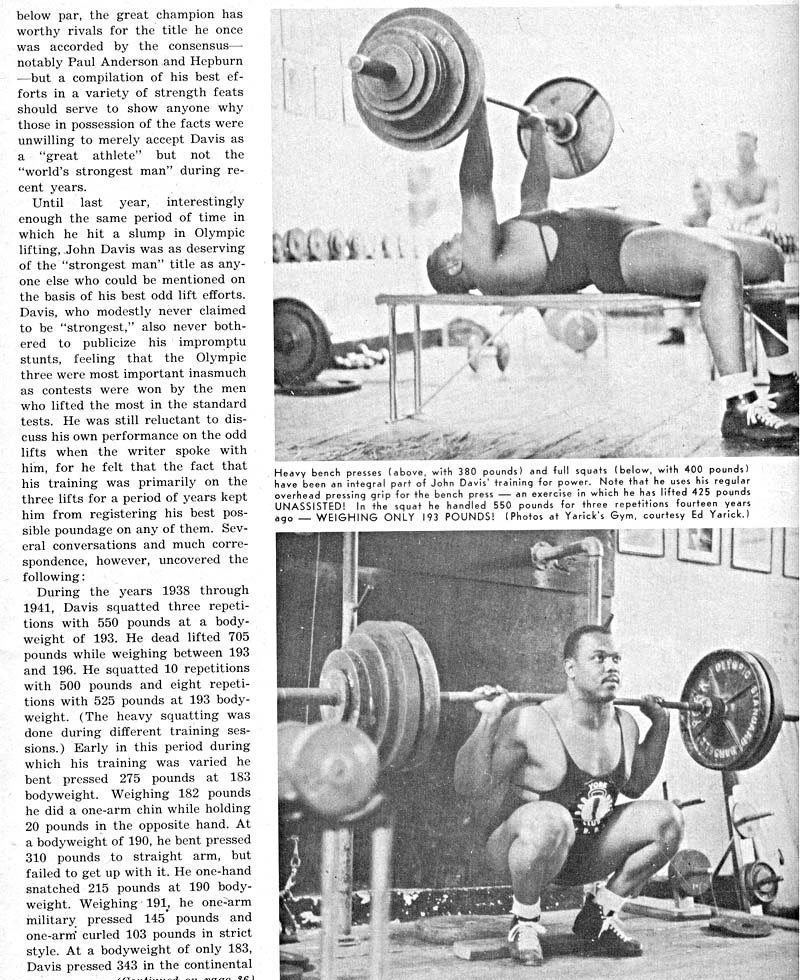 Gaining strength is not an easy task and even less naturally . If you haven't had much idea about realistic strength goals until now, we hope this guide has been of great help to you. Do not forget that today you will see many exaggerated records and you should not take each case lightly, since many will be false natural ones that create false expectations in people.
We hope you liked this article! and..., what about the girls? Do not worry, because we have prepared a future article on strength dedicated exclusively to them ;).
Greetings to all!